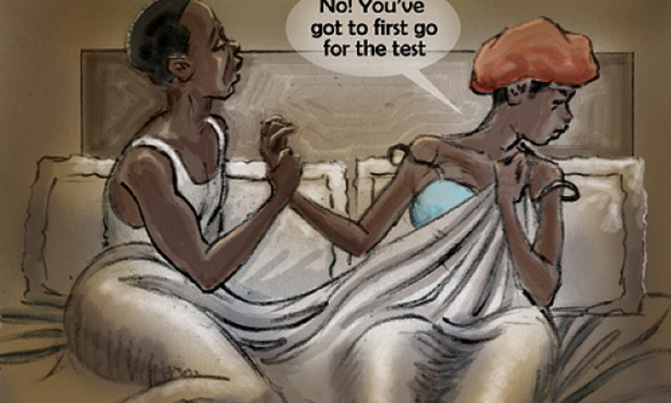 Men have become increasingly elusive when it comes to testing for HIV/AIDS. To some, the suggestion of an HIV/AIDS test can lead to a quarrel or even physical violence. In such cases, some women seek other ways to find out
Sunday Vision
Men have become increasingly elusive when it comes to testing for HIV/AIDS. To some, the suggestion of an HIV/AIDS test can lead to a quarrel or even physical violence. In such cases, some women seek other ways to find out, as Hope Sande  writes.
 
Susan's story

When I got married in 2001, I was so happy and thought it would be a bed of roses. I was getting married to the man I loved, respected and prayed for everyday.
We both had great jobs and a year later, we had our first child. Things could not get any better for both of us.
In 2006, five years later, my marriage hit the rocks when my in-laws started demanding for a second child. I did not take it seriously until one night when my husband asked: "Is something wrong? How come you are not conceiving?"
All I told him was that children come from God.
His words stayed in my mind for months. I had not imagined he also wanted a second child that bad. 
From the time my son turned three I had been trying for another child, and could not tell why I was not conceiving.
I visited a doctor who confirmed all was well, but the pressure was too much, I was stressed all the time. One time, someone even doubted that my husband was the father of our first child and asked me: "If your husband managed to get you pregnant for the first child, then why not now?"
My family became my consolation. My husband had turned against me. His behaviour dramatically changed. He always came home late and some nights never returned; he became rude and always looked for reasons to complain. All I did was pray.
I started hearing rumours of my husband's infidelity, but I ignored it all.
In 2009, I conceived and felt like the weight of the world had been lifted off my shoulders. I was so happy, but it never changed my husband's behaviour.
He tried to be there for the birth of our daughter, but when she was a year old, things became worse. I remember one evening there was no milk for the baby and he claimed he was going to buy it, only to return the next day empty handed.
From that time, I knew I had to take care of my children, I became like a single mother. With my family's help, I did all I could to take care of my children and not to stress myself.
My husband was posted to work upcountry. We would see him once in four months, if we were lucky. He would come with luxuries for the children. Even when he would visit, he would not spend the night.
I got used to the lonely life and worked hard for my children until last year in 2012, when he moved back home.
He apologised for neglecting me and the children and said he wanted things to be better. Thinking my prayers were answered, I believed him, only to learn that he had lost his job.
I had to take care of my family, pay school fees for my children and pay rent. It was overwhelming, but I grew up in a good family that believed in faith.
Much as I tried to let go of our problems, it was still hard to trust him again. We had not had sex for close to three years and now he wanted things to be normal again.
I refused to sleep with him and demanded that we first go for an HIV test which he laughed off and ignored. The following week, he still insisted, but I maintained that I would only sleep with him after an HIV test.
"It seems you have been sleeping around so if you want to test, go and test. I know I am fine," he told me.
A few months ago, he developed a persistent cough, lost his appetite and started losing weight. He always complained of stomach ache and I advised him to see a doctor.
He assured me all was well and got some medication, but he was not getting any better. I decided to confide in his brother who seemed not to know any more than I did. He told me he would convince my husband to go to the hospital.
Then he dropped the bomb: "Did you know your husband has a three-year-old son with another woman?"
I asked my husband about it and he confessed with unending apologies, saying he was ashamed to tell me, that is why he had kept it a secret.  The child is younger than my last born.
One night, his health worsened and he called his brother who rushed him to hospital. He was admitted. The next morning, when I went to see him, my husband told me it was just high blood pressure, but my gut told me something was not right.
I decided to go behind his back and ask the doctor to find out his HIV status. The doctor would not comply until I told him my story, but made me promise to stay calm, whatever the results. He also told me not to reveal the results to my husband.
When the results came out, the doctor called me to his office and said: "I am sorry, it is bad news. Your husband is HIV-positive."
Up to now, it feels like a dream.This is the man who still wanted to have sex with me. If I had given in to his demands, I would have been infected.
I confided in his brother about the HIV results. He told me my husband knows about his status, but made him swear not to tell me, until he (my husband) was ready to tell me himself.
I do not know what to do; I cannot confront him because I do not want to let him know that I went behind his back.

Expert opinion
Ruth Senyonyi, a counsellor with Bank of Uganda, says, the right thing for every couple to do is for both parties to know their HIV status. Visit the clinic together and test.
Going behind the spouse's back might not necessarily be a good idea, but when there is evidence that the other party might have been exposed to HIV and is not willing to cooperate and go for a test with you, something must be done.
Senyonyi adds that suspicion between couples spoils the relationship. People should learn to be open to their partners. If you got exposed to HIV, instead of keeping quiet and infecting your spouse, go for a test together and find a way to move forward, whatever the results.
Keeping quiet about it is being selfish.
Charles Kigundu, an HIV specialist with UNICEF, says it is good and healthy to get to know your HIV status, as well as your spouse's, but it is not ethical to test your spouse for HIV without their consent, even when it is for the best. You can be sued for that.
"If you feel that your life is at risk and your partner cannot be convinced, then it is better to get a court order."
Going behind his back might not be the best option because in case he finds out, it might result into violence.
 
She secretly checked his HIV status