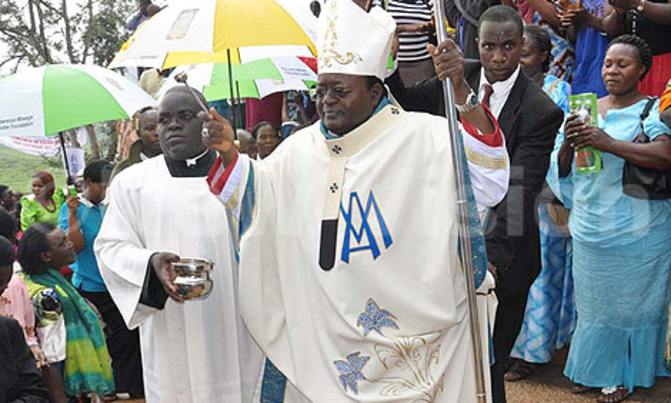 Kampala archbishop Dr. Cyprian Lwanga hits hard on those who start "confrontational utterances against the Catholic Church".
By Juliet Lukwago           

The Archbishop of Kampala Archdiocese, Dr Cyprian Kizito Lwanga has blamed some Christians who abominate their religion after getting involved and achieving recognizable political positions.

"It is deplorable that some of our fellow Christians tend to detest and sometimes completely forget about God as their creator and their religion after achieving high political positions," he said.

He made the remarks while leading hundreds of Christians in a holy mass at the Queen of Peace Shrine, Kiwamirembe on Thursday to mark Assumption Day – a day on which Mother Mary is assumed to have ascended into heaven.

During his homily, Lwanga went on to place fault on some people who go about places criticizing other peoples' religions, particularly the Catholic religion, under the guise of preaching the Gospel.

However, he urged the faithful not to get discouraged by such criticisms, but instead continue praying to God and asking the Virgin Mary to intercede for them.

"When such people start confrontational and provocative utterances against the Catholic Church, you should not retaliate, but continue to pray to God to give you more courage in strengthening your faith, because anyone who preaches against the Catholic Church is ignorant."

He urged the faithful to always exercise maximum humility and take the example of the Virgin Mary, who was not from a humble background and exhibited humility and simplicity.

The prelate announced that from then on, his archdiocese would be marking Assumption Day at Kiwamirembe, also known as the hill of apparitions. Assumption Day is celebrated by Catholics across the globe on August 15 of every year.

Lwanga said Kiwamirembe has become a much sought-after meeting point for faithful wishing to hold their private prayers every day.

The site, at the top of the hill off Entebbe Road in Kajjansi, was dedicated to the Virgin Mary 25 years ago and subsequently named Kiwamirembe.

The Kampala archbishop narrated how Kiwamirembe pilgrimages started off during the liberation war of 1979.

Many people lost their lives and property and some thought that God had forgotten them, he said.

But during that period of desperation, Fr. John De Bernard, who was the parish priest of Lweza, prayed to Mother Mary, pledging to erect a shrine and dedicate it to her if peace was restored in Uganda.

And so it was after the war.
On his part, the auxiliary bishop of the Archdiocese of Chicago, USA, Joseph Perry (right) hailed the wonderful work the Catholic Church is doing in Uganda.
He advised Christians to surrender their lives to God, their creator in whatever they do.

Lwanga said registration of Christians who would like to attend the canonization of the late popes John Paul II and John XXIII is underway in the chancellor's office.

This followed the approval by Pope Francis of the canonization of the deceased pontiffs.
Lwanga: One who preachers against Church is ignorant