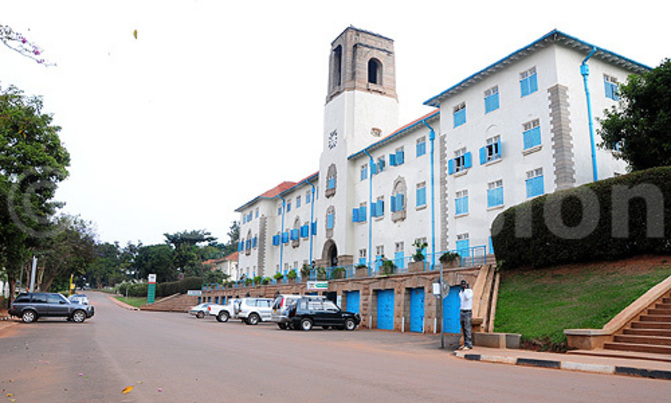 The staff have warned education minister Jessica Alupo and former VC Prof Venansius Baryamureeba against jeopardizing their efforts to attain a wage double.
SATURDAY VISION
By Vision Reporters
KAMPALA - Makerere University staff have warned education minister Jessica Alupo and their former vice-chancellor, Prof Venansius Baryamureeba, against jeopardizing their efforts to attain a wage double.

Addressing the press at Makerere University guesthouse yesterday, the staff accused Alupo and Baryamureeba of sowing seeds of division among the striking staff in a bid to break the strike before it attains its goal.

The staff said Baryamureeba was bent on exploiting the strike to lure highly qualified Makerere staff to his Uganda Technology Management University (UTAMU). They also accused Alupo of having private talks with some staff in a bid to persuade them to abandon the strike and resume work.

Muhammad Kiggundu Musoke, the chairperson of the general staff assembly, said Alupo was not interested in leading negotiations between Makerere and government, while Baryamureeba was ill-advising government on how to handle the strike.

Former Makerere academic staff chairman Tanga Odoi said Baryamureeba was bent on sabotaging smooth operations at Makerere.

"Baryamureeba was a failure for three years as vice-chancellor. He piled a lot of debt on Makerere before leaving unceremoniously after losing elections for the position of vice-chancellor. He thereafter started his own university showing that he is not a Makerere patriot and would like to see it fail," said Tanga.

Alupo, however, refuted the allegations, saying she was willing to hold dialogue with Makerere staff at all times.

Efforts to get Baryamureeba to comment on the matter by press time proved futile, as he did not pick up calls.

The Makerere staff last week went on strike vowing to resume duty only after the university council gives them a 100% pay increment.

The Makerere University council subsequently closed the university.

Alupo told the Council that government could not bankroll the pay increment this financial year, because of resource constraints.

Graphic illustration by Timothy Katuramu
However, in a letter dated Wednesday 14, Alupo requested the University Council to ensure that the university opens in two weeks.

Kiggundu said the staff was willing to continue negotiations with the Government.

Responding to President Yoweri Museveni's Thursday statement that lecturers who don't want to teach will be sacked, Kiggundu said Makerere staff never planned to frustrate government's efforts to develop Uganda, but rather seek a fair remuneration.

"We don't have a problem with the president. He has been misadvised about the state of Makerere. We have enough internally generated money to implement this payrise. For example, Council increases tuition of private students but this money is not reflected anywhere," said Tanga.

Kiggundu said the staff had tasked the university council to get money to implement the payrise from internally generated funds not necessarily from central government.

Parents hoping to take their children to Makerere are hoping for a quick end to the crisis.

"I am a teacher myself and I support the lecturers all the way, because at one point they had been promised the increment," Ann Muzigirwa, a parent, said.

She said as a parent, the best way forward is not for the Government to issue threats but rather for the Government and lecturers to meet and work through their differences to reach a mutually satisfactory ground.

Sylvia Ssinabulya, chairperson of the parliamentary education committee, said the best solution was dialogue. "The lecturers have a genuine cause. Although the 100% increment may not be possible now, they need a percentage all the same."

She added that there was hope the matter would be solved in two weeks.

In May, the University Council endorsed a 100% payrise for the staff, but it was rejected by the finance ministry, citing lack of funds.
Makerere staff blame Baryamureeba for crisis