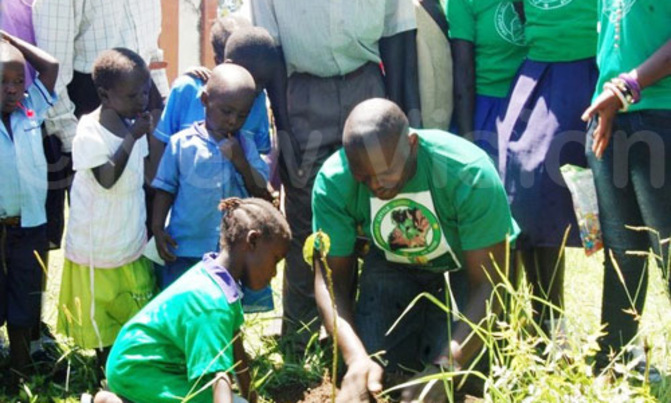 You have probably seen some poster spamming your Facebook page, all in a move to have you earmarking September 1 for this thing they are calling the Green Festival, targeting children. Well, before you hit "delete", that poster, which is a part of a series of them littering the social network and o
By Nigel M. Nassar
You have probably seen some poster spamming your Facebook page, all in a move to have you earmarking September 1 for this thing they are calling the Green Festival, targeting children.
Well, before you hit "delete", that poster, which is a part of a series of them littering the social network and overlooking the city from several billboards, is out to awaken you to an urgent message: "Our environment is our future, and our future is our responsibility."
This message, also the theme of the said festival that will take place at Kololo Airstrip courtesy of Uganda's Little Hands Go Green, My Kid is a Superstar, the National Forestry Authority and New Vision's Toto magazine, is the message every child in attendance is expected to carry with them back home.
Their chaperons too will get a good dose of the message, for it is they who should help shape the youngsters' visions towards environmental protection and responsibility for a greener and better future.
At the festival, a culmination of the efforts and activities of several 'little green hands' in a number of schools as part of their contribution towards greening-up Uganda, every child will carry back home a fruit tree seedling, which they will be urged to plant back home, and nourish till fruition.
The conviction, says, Joseph Masembe, the brain behind Uganda's Little Hands Go Green and all its activities, is that what children are taught at an early stage, they grow up to uphold.
"When the 'little hands' are taught the importance of trees and it is ingrained in their minds to plant and take care of them till they grow, the country will have an army of environmentally conscious Ugandans several years down the road. That is why we need to impress it upon every Ugandan child to plant a tree and take care of it as his or her own," says Masembe.
"As a result, you will not hear much about unreliable rainfall, long dry spells, high temperatures, drying of wetlands, rivers and streams, name it."
Already, Masembe says, the now countrywide campaign that started in Kampala on May 24, 2012, has had close to 35,000 fruit tree seedlings given out to children, specifically mangoes, guavas, avocado, oranges, tangerine and jackfruit.
That number is expected to grow by leaps and bounds, since Michael Mugisa, the National Forestry Authority (NFA) executive director, has promised to support the initiative by providing all the 15,000 seedlings that main organiser Masembe has requested for.
Although follow-up on whether the seedlings given out were planted is yet to kick off, the way the children have been scampering for the seedlings at the different school activations around the country is an indicator that a good number of them could have been planted, or will be planted.
Masembe says a number of primary schools have not only got on board to plant trees under this project, but also provided the little green hands team a platform to educate and assist the teachers in spreading the message of green consciousness in the children.
"And with a Green Certificate and other rewards in store for the children who will have nourished their trees well, we are confident the trees are growing, especially since the few we have visited, like Nyoko Primary School in Yumbe, are actually nurturing their trees well," says Masembe. 
The National Forestry Authority estimates that annually, Uganda is losing over 90,000 hectares of forest cover to human activities like agriculture, lumbering, infrastructural developments and human settlements due to a skyrocketing population.
"If just a half of the fruit tree seedlings given out to these children grow into big trees in the future, this will be a big leap towards improving Uganda's green footprint, and the children will definitely grow up knowing how to responsibly manage the environment," says NFA executive director Michael Mugisa, urging more private players to get on board and partner with NFA to secure a greener and more hospitable Uganda for the future generation. 
Although private players like Uganda's Little Hands Go Green, Oil Libya, Straight Talk, Nile Breweries, World Wildlife Fund and Barclays Bank among others are in partnerships with NFA to restore the country's green cover, what is being planted is still a trickle in the ocean.
In 1990, forests covered 24% of the land area of the country. By 2005, NFA estimated that forests had reduced to 18%, which is an equivalent of 1.3 million hectares in just 15 years. With such a deforestation rate, more initiatives akin to the Green Festival are the only way to cast away the impending doom.
To the average Ugandan, the whole environmental protection lingo and statistics still come off as some sort of cliché. And to that Ugandan who might acknowledge the dangers of poor environment management, they still look to 'the other, other guy' to do the protection, not themselves. Reason? Well, they haven't taken a moment to reflect on certain occurrences in Uganda that are direct descendants of poor environment management.
Take the March 1, 2010 landslides that devastated Bududa district in Eastern Uganda, killing an estimated over 100 people and ravaging at least 85 homes on the slopes of Mount Elgon. The landslides came back in June last year, same Bududa district, same huge numbers of lives claimed, courtesy of deforestation among other factors.
President Yoweri Museveni, who visited the scene on both occasions, cautioned that as long as the people there continue taking away from the land without giving back to it (planting trees), repetitions of such catastrophes wouldn't be ruled out.
That repetition could occur right next door in the city, or back at your ancestral village, the reason you urgently need to stop looking at environmental protection as an outlandish adventure of sorts.  
When news of the initiative Uganda's Little Hands Go Green hit the US last year, media organisations there took the move seriously, so seriously that Voice of America's In Focus gave it outstanding coverage on October 4, 2012.
Outstanding because the story ran in a primetime bulletin after two major stories: the presidential campaign debate between Barack Obama and Mitt Romney; and the war in Syria.  
Would another world-stage headline on how Uganda has tremendously improved her green footprint hurt?
So, you might want to find any reason to plant a tree. Take the incident last year when Uganda's Little Hands Go Green was enroute to Yumbe district to launch the initiative at the request of a Yumbe elders collective.

Right by the roadside at a place called Odravu; they encountered a woman in labour. After helping her deliver the baby, the team planted a tree on that spot. Today, the villagers continue nourishing the tree with devotion because it reminds them of something. Imagine how far we would go if every Ugandan got to a level of planting a tree for commemoration purposes!
When asked why this campaign and why children in particular; Masembe said:
"Uganda's Little Hands Go Green seeks to assign proprietary interest of a green future to our children. Envision an army of children taking it upon themselves to plant a tree each! The enthusiasm for this project among children is reassuring. I have absolute faith in our children stepping up to the challenge. Through this model, we will be able to show how private citizenry can undertake the environmental challenges we face without waiting upon global governments and institutions."
To that effect, the Green Festival, where each child pays sh10,000 and their caretakers enter free of charge, might be a good place to start. To inspire you will be stories from the different stakeholders showcasing environment-related paraphernalia.

From zoos, their occupants and anything related to nature and its conservation, you will get to see. One thing though: Don't let the fun-packed activities make you forget that "our environment is our future, and our future is our responsibility." Also, get that child to plant his or her tree seedling – it will bear fruits for your family in the future, both literally and figuratively.
Going little hands for a greener Uganda