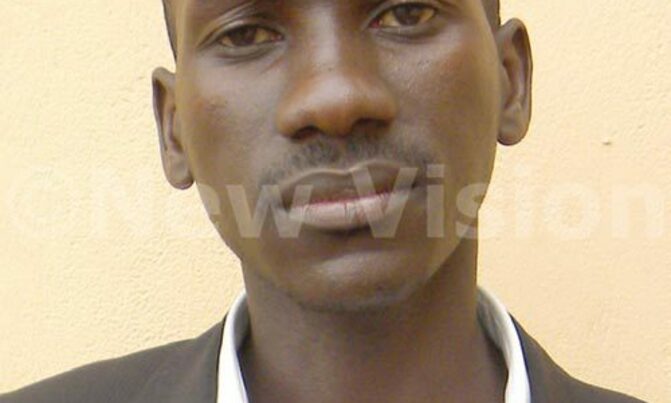 When he walks, it is evident he has a physical impairment on his left leg. Because of this disability, it is hard to believe Opio Kizito can do an amazing job until one meets the people whose lives he has transformed
BY CAROLINE ARIBA
As part of its annual series, Ugandan Making a Difference, New Vision will, until October 3, publish articles on individuals and organisations that have dedicated their efforts to fighting malnutrition in the country. The articles will highlight the causes, discuss solutions and recognise the efforts of those working to avert the problem that is affects up to 54% of children under the age of 18 years in Uganda

When he walks, it is evident he has a physical impairment on his left leg. Because of this disability, it is hard to believe Opio Kizito can do an amazing job until one meets the people whose lives he has transformed. Opio discovered his passion for nutrition when he was still at Abalodyang Primary School in Amolatar district. He is now studying Agricultural Science and Entrepreneurship at Uganda Christian University (UCU), Mukono. "During a lesson, Faustino Aboko, my former head teacher taught us how to plant vegetables like cabbages and tomatoes in a nursery bed," he recalls.
Opio, who had a flourishing vegetable garden back home, went to Aboko and broached the idea of growing crops in a school garden. "My head teacher welcomed the idea and we planted maize, cassava and pawpaws behind one classroom," he narrates. Within a few months, they harvested food, which was enough for the whole school. The school by then had 467 pupils, who lacked enough food.
"The information spread in the village and pupils who had dropped out of school due to inadequate food returned," Opio says. He adds that when he joined Aputi Secondary School in Amolatar, he was elected the organising secretary of the Young Christian Student Group.
"I introduced the idea of students making mounds of soil to plant potato vines. Since many students came from homes where agriculture was practised, it was not difficult to convince them to embrace the idea," he says. With the school crops doing quite well, the students' menu was diversified from the usual posho and beans to occasional potatoes with vegetables.

An effort worth complimenting?
Daniel Okello, a former student of Aputi Secondary School praised Opio for changing the school's menu. "He may have a disability, but that did not stop him from mobilizing students to start the school garden," Okello says. John Angiro, the school headmaster, cannot forget how Opio revolutionised the menu. "We were excited at the way he mobilised the students to grow crops and we gave him an academic bursary," he says.

Okello remembers Opio for being late for classes because he would first water the vegetables before proceeding to school. "It reached a point where we had to make an exception for his late-coming because he was contributing to the school's meals," Angiro says.
true
Derrick Mutumba, a beneficiary weeding his vegetable garden
 

Taking his passion a notch higher
After completing high school, Opio chose a course related to growing of food to accomplish his passion. Linda Toews and her husband, both from Canada, in an email, explained how Opio has been a blessing to them.  My husband and I come to UCU annually.
As my husband teaches, I organise nutrition classes. Opio organises students and residents within the university to attend my classes and get information on nutrition," Toews testifies. If he is not involved in organizing seminars, Opio trains people wherever he goes. Evelyn Ajiambo, a nurse in Namayingo Health Centre in Namayingo district had come to visit her sister at UCU, when she heard about the training on nutrition. She attended, but has never forgotten how Opio's training changed her perception about nutrition.

"Being a nurse, I am expected to be knowledgable about nutrition, but during that training, I learnt many things that I did not know about nutrition, Ajiambo says. Today, she says that apart from treating patients, she also advises them on the right foods to eat and many have appreciated the idea," she says.
Ajiambo also adds that the training covered topics on different food groups and keeping food safe. Other topics include proteins and how to prepare balanced meals with proteins, fruits and vegetables, carbohydrates (baking of cakes and bread) and how to feed the sick, the young, pregnant women and elderly people.
Derrick Mutumba, a resident of Mukono town recalls how Opio took them through vegetable growing sessions and the essence of eating vegetables during the training. "I was excited about the training and I remember going to my neighbour's homes to teach them what I had learnt. Today, I grow vegetables even back home in Mbale for sale," he says.
true
Mutumba's flourishing lettuce garden

About lettuce
Quoting Opio, Mutumba says: "Lettuce is a cool season plant which is eaten raw, as a salad, in a burger and any other form. Lettuce is a good source of vitamin A and potassium, as well as a minor source of several other vitamins and nutrients." He also says he once helped change his neighbour's sickly child's situation by advising them on what food to give to the child.

Plans
Opio who has spread news about nutrition everywhere he goes hopes that society embraces healthy feeding habits. "I plan to stretch my training to cover a wider range of people. I want a country whose population has the right information about nutrition," he explains.
Do you know any individual or organisation focusing efforts on improving nutrition in communities? Write to the Features Editor, P.O. Box 9815 Kampala or e-mail features@newvision.co.ug giving name, telephone contact of nominee and reasons for nomination. Type food, the nominee's name and SMS to 8338
Opio preaches nutrition wherever he goes