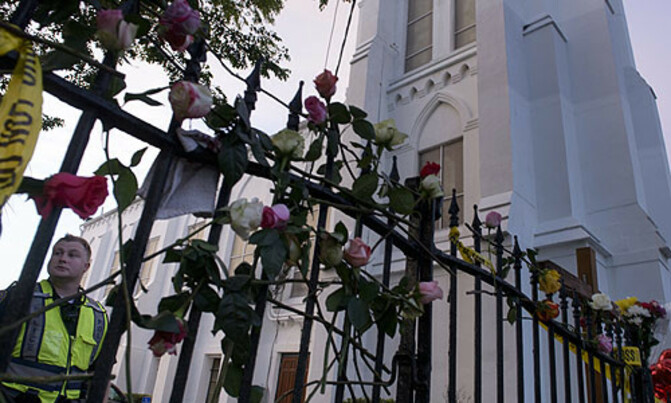 Thousands of mourners clutching red and white roses attend a vigil in the stunned city of Charleston in the aftermath of a deadly church shooting.

CHARLESTON - Thousands of mourners clutching red and white roses attended a vigil in the stunned city of Charleston Friday to remember nine African-American men and women shot dead by a suspected white supremacist.

Holding hands, many with tears in their eyes, people sang the protest-anthem "We Shall Overcome" in response to the carnage at Emanuel African Methodist Episcopal Church, as suspected gunman Dylann Roof was charged with nine murders and ordered to be held without bond earlier Friday.

Roof, 21, reportedly said he "wanted to start a race war," while gunning down the nine black worshippers, an act authorities are treating as a hate crime and investigating as possible "domestic terrorism."

The Wednesday night shooting was the worst attack on a US place of worship in decades and comes at a time of revived racial tensions in many parts of the country.

But the response from the community and even victims' families has been one of "love," as the genteel coastal city comes to terms with the tragedy.

Tearful relatives came forward at Roof's bond hearing expressing their grief and forgiveness toward the alleged shooter who appeared through video link.

At the vigil held at the College of Charleston TD Arena, community leaders expressed similar messages of faith and compassion, and said the tragedy will not drive a racial divide through the city.

"We come together this evening in prayer and love," said Mayor Joseph Riley, who shared the stage with several of Charleston's leading religious leaders.

Charleston's pipe and drum band played the Christian hymn "Amazing Grace," before Catholic, Protestant and Jewish clergy appealed for community unity.

"Our hearts are broken. We have an anguish that we never had before," said Riley.

'Never be the same'

Roof appeared on screen in court from an adjacent jail block for a 14-minute bail hearing, flanked by two guards in dark body armor.

He was dressed in standard prison garb and appeared subdued, bowing his head slightly, as Judge James Gosnell asked him his age and if he had a job.

A detective confirmed Roof had two previous run-ins with the law for trespassing and a pending drug possession charge.

Families mourned deceased loved ones as the bail hearing took place.

"Every fiber in my body hurts and I'll never be the same. Tywanza Sanders was my son. But he was my hero," said mother Felicia Sanders at the hearing.

Others pledged to forgive the suspected shooter.

"I forgive you and God have mercy on your soul," said Nadine Collier, daughter of victim Ethel Lance, 70, a lifelong member of the Emanuel church.
 

People line up to lay flowers at Emanuel AME Church in Charleston, South Carolina

Several media outlets reported that Roof confessed to investigators that he walked into "Mother Emanuel" -- one of the oldest black churches in the country -- and opened fire on a Bible study class.

His arrest warrant revealed how he allegedly shot the six women and three men multiple times with a high-caliber handgun and then stood over a survivor to make a "racially inflammatory" statement.

A spokeswoman for the US Justice Department, Emily Pierce, said authorities were looking at the killings "from all angles."

"This heartbreaking episode was undoubtedly designed to strike fear and terror into this community, and the department is looking at this crime from all angles, including as a hate crime and as an act of domestic terrorism," Pierce said.

South Carolina Governor Nikki Haley said she believed Roof should face the death penalty if convicted.

"This is an absolute hate crime," Haley told NBC's "Today" show.

"We will absolutely want him to have the death penalty. This is the worst hate that I've seen and the country has seen in a long time."

Roof's family, in their first public reaction to the killings, offered condolences to the dead and spoke of their "shock, grief and disbelief."

Gun control debate

The killings also reignited concerns about gun control in the United States.

President Barack Obama said that the country was "shocked and heartbroken," but voiced confidence that its permissive gun laws would eventually change.

He accused Congress of failing to act after a mass shooting in Newtown, Connecticut in 2012 which killed 26 people, including 20 children.

"More than 11,000 Americans were killed by gun violence in 2013 alone -- 11,000," a strident Obama told US mayors in San Francisco.

"At the very least we should be able to talk about this issue as citizens. Without demonizing all gun owners who are overwhelmingly law abiding, but also without suggesting that any debate about this involves a wild-eyed plot to take everybody's guns away," he said.

"I'm not resigned. I have faith we will eventually do the right thing," he added.

Loner dropout?

Roof was arrested in North Carolina on Thursday shortly after the shooting and brought back to South Carolina.

Conflicting descriptions have emerged of Roof, a high-school dropout whose Facebook page includes a picture of him wearing the flags of defunct white supremacist regimes in South Africa and Rhodesia.

He is alternately described as a quiet, even friendly, loner who snapped -- or as a calculating white supremacist who supported segregation and had been planning for some time to kill blacks.

AFP



Also related to this story

US church shooting aftermath: In pictures

 
Thousands attend vigil as US church suspect held on murders