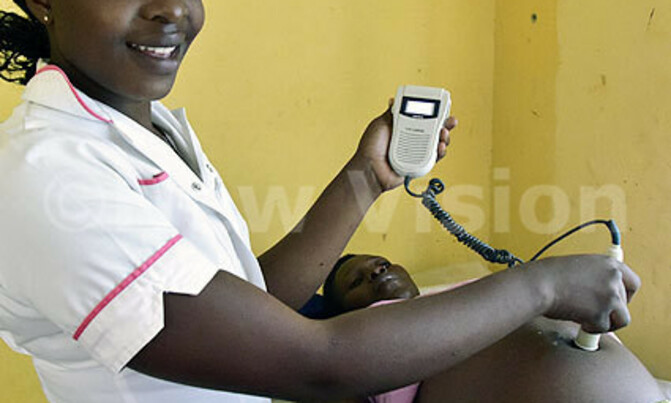 Those in this field will tell you it is no easy profession.

By Carol Natukunda 

 A mother delivered by C-section. She had a bouncing baby boy. She looked healthy and sound. Eight hours later, she died. Even though it was a complication beyond the midwife's, the neighbouring community was up in arms against her.

"People were hard on us. Some came here very angry at us. They thought we did not give her (the mother) enough fluids. They said we did not know what we were doing. Later we discovered that it was a blood clot on the vein," recalls Sarah Uwimbabazi.

She is a senior nursing officer and midwife at the maternity section at Bwindi Community Hospital in Kanungu district.

She recalls that the pressure was too much that one of the midwives even decided to resign. "Residents around were pointing fingers at us. They thought we were to blame."

That scenario was comparable to another episode where a baby who was born with complex deformities. It had been a difficult delivery. Both mother and child came out alive. But a few hours later, the baby died. Efforts to resuscitate him were futile.

"The family could not understand. It was even harder counseling the bereaved mother," recalls Uwimbabazi.

The head of maternity section, nursing officer (midwife) Uwimbabazi Sarah (right in white ) chats with with other midwives at Bwindi Community hospital. (Credit: Maria Wamala)

In midwifery, you are only a hero when mother and baby come out of the delivery room healthy, according to Uwimbabazi, who has worked as a midwife for seven years.

"People celebrate and thank you. But when from nowhere a life is gone, you face it rough."

'I felt bad'

And yet in most cases, the midwife is barely to blame.

For instance, 56-year-old year-old Heph Kwesiga Muteisa, a senior midwife at Kanungu Health Center IV has registered two deaths under her 30-year career.

The first was a mother whose womb was ruptured by the time she reached the hospital.  The mother died just as a doctor was about to operate on her.

"Some people were furious. They thought that I had delayed to call a doctor. But this was a mother who had tried to deliver at home. I felt bad. I hate to see someone die in my hands," says Muteisa.

The second death was when a baby's umbilical cord was tied around his neck. "This is something that would have been detected earlier with a scan. But the mother had not been attending antenatal care. It was too late to save the baby."

At the time, Muteisa had been working at Kisiizi hospital in Rukungiri. "When the people lose their cool, they will do anything to you," she says.
 

A male nurse helps a mother in labour. (Credit: Maria Wamala)

Implications

According to Muteisa, it is such blame game that is pushing some midwives away from the profession.

For instance, at the Bwindi Nursing Training School in Kanungu district, there are only five midwives out of 16 students who have enrolled for nursing.  The district has 31 midwives. About 33 more are needed, according to the district health officer Dr. Stephen Sebudde.

"Some young women are choosing nursing because they do not want the responsibility that comes with midwifery. They want an assistant role where they won't be held accountable when something goes wrong," Muteisa observes.

She stresses that the pressure that one goes through is immeasurable.

"I hate to see someone die. When you have tried the best you can, you feel sick because of the death of the baby and its effect on the mother."
 

56-year-old year-old Heph Kwesiga Muteisa chats with mothers. (Credit: Maria Wamala)

'Suicidal tendencies'

But the midwife also knows she will be undergoing trial by media in the ensuing weeks as well as facing considerable pressure from the investigation that would be carried out. This will impact on her personal and professional life as well as her health, her financial security and the peace of her own family.

Coupled with that fear is low remuneration. The basic salary of a midwife is about sh480,000.

"There are people who develop suicidal tendencies. She has worked so many years, she earns peanuts which cannot educate her children for such a risky job," notes Mereth Murezi, the academic registrar of Bwindi Nursing School.

And yet, both Uwimbabazi and Muteisa, like most midwives, are still passionate about their jobs.

Every day, they wake up with one goal on their minds: to ensure there are no maternal health deaths at their respective stations.

In her seven-year career as a midwife, there is nothing that gives Uwimbabazi as much satisfaction as seeing mothers successfully delivered and discharged.
 
true
A student midwife teaches a first-time mother how to hold a baby at Mulago hospital. (Credit: Maria Wamala)

Pee 'straight in your face'

The hospital is located in the rural outskirts of Kanungu. You would need to drive another one or two hours to get to another hospital. Bwindi has five midwives. It delivers about 20 to 28 mothers every week. Some mothers check into the hospital two months before their expected delivery date.

"Most of them come from very far and they fear waiting for their labour contractions until the last minute. For their entire stay, they pay only sh2,000. We give them as much support as possible," says Uwimbabazi.

The hospital has 28 maternity beds. In addition to delivering care throughout pregnancy, during childbirth and in the post-delivery period, midwives also provide comprehensive sexual and reproductive health services, such as family planning counseling.

All of these services reduce maternal death rates and improve child survival.

"Sometimes it is full to capacity. But the satisfaction for me is when you are receiving a new life; I feel so happy," says Uwimbabazi.

Her fondest memory was the first time she delivered twins normally. "This was a very young mother. Within a short time, the second baby came. I was very excited."

Muteisa agrees: "Every other day, I hear a baby's first cry. I see their first susu (urine). Sometimes, the baby boys urinate straight into your face! That makes me jump in excitement and ready to help the next mother."

"I have met people who come back to thank me. Some of the babies I delivered are now graduates," says Muteisa, a mother of three adult children, including twins.
 
true
Midwives t Bwindi Community hospital pose for a group photo. (Credit: Maria Wamala)

Way forward

Question is: Is the stress which hangs over midwives all of the time acknowledged by the profession? Do midwives do enough to support each other in a world where even the smallest error can impact hugely on one's professional standing?

Muteisa appeals to the government to put in place a policy that protects midwives in case death happens when there are no doctors and facilities.

"When the government said that citizens should report directly to the office of the president when a mother dies in the labour ward, some midwives quit.

"I am not saying that when midwives make mistakes they should not be held accountable. Granted, midwives cannot afford to make the sort of mistakes that put mothers and babies' lives at risk but at the same time, midwives' actions have to be put into context. In this case the context is the work load, the presence of facilities and equipment, a doctor nearby and if the mother has been attending antenatal care," explains Muteisa.
 
true
Muteisa says the blame game is pushing some midwives away from the profession. (Credit: Maria Wamala)
 
Not an easy job

Midwives do not only need supplies and equipment. They also require extensive training to safely manage childbirth and to be able to recognize life-threatening complications.

"And the people we train would be motivated to keep in the profession and inspire other young people to join," says Murezi, Bwindi's academic registrar.

He stresses that training a midwife is an expensive venture that should not be taken for granted.

"Buying practical equipment and a fully-fledged laboratory cost us a little over sh100m. This excludes the money for supervision during internship placements. You cannot spend such an amount of money and then let them leave the profession two years later."

Dr. Stephen Sebudde, the district health officer, acknowledges that the midwife's job is far from an easy one.

"There is additional stress in the midwife's job, knowing that she cannot afford to err in judgment because even the smallest slip can have severe repercussions. We should be studying the situation in which she works and the support she has to do her job, before passing judgment," advises Sebudde.
 
true
A midwife counsels pregnant women and their spouses during antenatal visit at Mulago hospital. (Credit: Maria Wamala)


 
Factfile on midwifery in Uganda
 
The maternal Mortality Ratio in Uganda is at 438/100,000 Live Births
Major contributor is shortage of competent midwives. Skilled attendance at birth is only 58%, according to the Uganda Demographic Health Survey compared to MDG target of 90%
The UNFPA points out that midwives can prevent up to 90 per cent of maternal deaths where they are authorized to practice their competencies and play a full role during pregnancy, childbirth and after birth. They have a critical role in providing family planning, counseling, and preventing HIV transmission from mother to child
Having a skilled professional at birth protects the life of the mother and the child by recognizing problems early, when the situation can still be controlled, and by intervening quickly
Every minute a woman dies in childbirth. And the presence of a midwife can save her
 
Midwifery Needs Assessment Study done in 2009 in Uganda revealed:
 
an estimated gap of 1,961 midwives countrywidwe
only 7 out of the 33 nursing and midwifery training institutions were providing direct-entry Midwifery training programmes
high student to tutors ratio in the Health Training Institutions of 1:60  contrary to the recommended 1:10)
poorly equipped Midwifery training colleges (lack of books, skilled labs and outdated curricula for Midwifery Education
a weak  Nurses and Midwives Council

 
Improving midwifery education
 
With support from UNFPA, 39 students have been supported to enroll - 10 qualified  in 2014, 11 in 2015, and 18 in 2016
Through advocacy, the number of training schools providing direct entry midwifery training courses increased from 7 in 2009 to 34 in 2013
In order to Increasing on number of midwives, UNFPA also supports girls from hard- to- reach areas of Mubende, Kanungu, Katakwi, Kotido, Moroto, Oyam, Yumbe and Kabong to train as midwives under a bonding scheme by providing bursaries for pre-service training
Since 2007, cumulative total of 308 midwives have benefited from this scheme of which 80 students have completed training by the end of 2014. These are now trained midwives under the bonding scheme and many of those who qualified have been recruited in their respective districts
74% of the Mid Wives positions in the 8 districts will be filled by 2015 assuming all supported students enroll.

 
Midwives: heroes when it's a live birth, villains when it's death