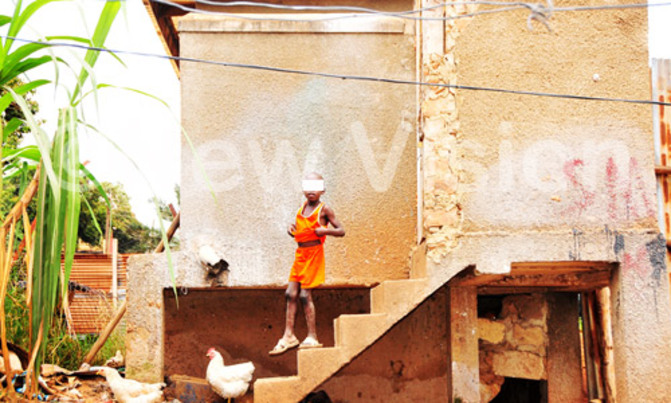 Sanitation remains one of the key health issues in Uganda. Many people lack access to adequate sanitation facilities, propagating disease and high rates of child death (1.5 million deaths annually). If we focussed more on safe disposal of human waste, it would help address the key health issues.
Sanitation remains one of the key health issues in Uganda. Many people lack access to adequate sanitation facilities, propagating disease and high rates of child death (1.5 million deaths annually). If we focussed more on safe disposal of human waste, it would help address the key health issues. Chris Kiwawulo writes:

In the early 1960s and the years before, many Ugandans were freely using the bush as their 'toilet'. Others would dig holes in their gardens, where they would defecate and thereafter cover with soil or grass, observes Deborah Kyeyune, a 63-year-old resident of Kisimu village, Nabweru sub-county, Wakiso district.
Kyeyune, a village health team (VHT) member, who has seen the evolution of the pit latrine through the years, says when the population started growing, defecating in bushes posed a health concern to communities. "Faecal matter would end up in the springs or wells whenever it would rain. This would result in diseases like diarrhoea, attacking communities that shared the water source," she adds.
It is such conditions that provoked the Government to come up with the Public Health Act of 1964 (revised in 2000), which requires every homestead to have a pit latrine, and failure to comply is an offence.
The Act provides the basis for undertaking measures to prevent and address a range of diseases for the preservation of public health. For instance, Chapter 281 of the Act states that every citizen is obliged to have access to a toilet or latrine at home and the workplace. This would be  strengthened by bylaws implemented in the various localities.
Kyeyune says unlike today, in the past, parish chiefs would visit homesteads and arrest the family heads whose homes did not have pit latrines. Consequently, it forced people to put up rudimentary toilets using tree logs.
"For fear of being arrested, a family head would dig a pit as shallow as 10 feet, cut logs and lay them across the pit. He would then put up a short mud-and-wattle wall around the toilet and thatch it with grass," she narrates. However, this only went on until the late 1980s.

Over the years, the population has increased; slums have emerged in various urban areas and people dispose of faeces anywhere. The inhabitants of most slums have toilets or latrines so close to their houses, while others use polythene bags, commonly known as 'flying toilets', in which they dispose of faecal matter which they throw on rooftops and in water channels. 

Toilet coverage
Uganda's population is estimated at 34.5 million people, according to the Uganda National Bureau of Statistics.
Dr. Elioda Tumwesigye, the state minister for health general duties, says: "The national average toilet coverage is at around 68% (almost seven homes out of every 10), although it varies; 80% (eight homes out of every 10) in urban areas, 60% (six homes out of every 10) in rural areas and about 40% (four homes out of every 10) in the slums."
In Kampala alone, records show that there were about 105 public toilets in 2011 compared to 14 that existed in 1989. Unlike the past where there were only pit latrines, today's toilets range from modern water-borne flush toilets to ventilated improved pit latrines (VIPs) in the peri-urban settlements.
Of the 105 toilets, 33 are located in the central business and many are pit latrines, which are not connected to the sewerage system.
The Uganda Demographic and Health Survey 2011 Report shows that 16% of households in Uganda use improved toilet facilities that are not shared with other households (21% in urban areas and 15% in rural areas). Overall, 19% of households have improved facilities but shared them — 52% in urban areas and 11% in rural areas.
Two in three households use non-improved toilet facilities (73% in rural areas and 28% in urban areas). The most common type of toilet in urban areas is a pit latrine with a slab (34%), while in rural areas it is a pit latrine without a slab (62%).
Some 10% of the households, mainly in rural areas, have no toilet facilities," the survey reveals.
The report shows that 82% of children's stool is safely disposed, that is, 15% of children use a toilet or latrine, 63% of children's stool is rinsed in the toilet or latrine, and 5% is buried. In some rural areas like Karamoja and the Lake Victoria islands, superstitions against using toilets result in open defecation.

Health implications
According to health experts, poor toilet practices result in the spread of preventable diseases like diarrhoea, cholera and dysentery.
Dr. Jackson Amone, the health ministry's assistant commissioner in charge of integrated curative services, says diseases like worm infestation, diarrhoea, typhoid, cholera and dysentery usually break out as a result of poor disposal of excreta.
According to the September 2011 Water and Environment Sector Performance Report, emphasis should not be only on construction of latrines, but also hand washing to improve sanitation. In urban areas, the report notes that access to hand washing facilities was at 30% (excluding Kampala which has no data).

The power of hand washing
A 2012/2013 survey by National Hand Washing Campaign indicates that 27% (two out of every 10 people) who used lavatories washed their hands long enough to kill the germs that can cause infections. The number of people who washed their hands using soap after visiting washrooms increased from 3% in 2010 to 27% in 2012/2013.
The case study titled: Hand Washing With Soap (HWWS) in Uganda, was done in 30 districts based on household observations and schools, focusing on how people in their homes and children in schools use soap after visiting washrooms.

The eastern and northern central regional coordinator for NHWC, Dennis Alioni, attributes the increase to the sensitisation campaigns through local radio stations in different parts of the country.
However, Alioni also notes that the number is still too small. According to statistics of households using soap and water in different regions, Central I has the highest with 45%, Kampala (42%), Western (32%), Central 2 (27%), North (18%), South West (16%), East Central (12%), Eastern (10%), West Nile (6%) and Karamoja (2%).

What is the way forward?
A recent review of scientific evidence by United Nations Children's Fund (UNICEF) suggests that hand washing with soap can prevent around 47% (four out of every 10) of diarrheal infections even in poor areas that have inadequate sanitation.

According to the Uganda Demographic and Health Survey (UDHS) 2011, nearly 23% (two out of every 10) of all children under five years in Uganda had diarrhoea, while 4% (four out of every 100) had dysentery in the two weeks preceding the survey.

Health education and bylaws
Dr. Jackson Amone, the health ministry's assistant commissioner in charge of integrated curative services, says there is need for health education to sensitise communities about proper disposal of faecal waste and to prevent disease outbreaks.

"For the occupants of wetlands, where toilets cannot be sunk, people should construct storeyed toilets or buy mobile plastic toilets, which can be emptied," he advises.

He also notes that local leaders should ensure that communities have toilets. This can be implemented by drafting and enforcing bylaws regarding waste disposal.
Under the decentralisation policy, every local government is supposed to make its own sanitation ordinances and bylaws which have to be approved by the council and checked by the solicitor general to ensure consistency with other laws. Political leaders should implement these bylaws to ensure effective toilet coverage countrywide.

Improve sanitation facilities
According to the Uganda Demographic and Health Survey 2011, the availability of hygienic sanitation facilities at household level reduces the risk of exposure to illnesses and further lightens the burden on the public health delivery system.
"Appropriate sanitation facilities include improved toilets and methods of waste disposal that separate waste from human contact," the survey notes.
Basing on World Health Organisation (WHO) and United Nations Children's Fund (UNICEF) standards, the survey classifies a household as having an improved toilet if the toilet is used only by household members (not shared) and if the toilet separates the waste from human contact.

Flush/pour toilets that flush to a piped sewer system, and ventilated improved pit (VIP) latrines, pit latrines with a slab, and composting toilets (which separate solid waste from water) are also classified as improved toilets.
Tumwesigye notes that a latrine should be located at least 30 metres/100 feet from the house to prevent flies from contaminating food, and protecting the homestead from the unpleasant smell.
He says Kampala Capital City Authority (KCCA) and National Water and Sewerage Corporation (NWSC) are coming up with programmes to improve sanitation in the city. "We need new technologies, especially in slums that can make sanitation better in urban areas. For instance, there is a new plastic toilet technology that Nairobi recently adopted, which has the capacity to turn human waste into fertilisers," he observes.
With a day time population of about 3.5 million and a resident population of about 1.8 million people, the city's sewerage system is accessed by a few, especially the well-to do.

Ideally, experts say flush toilets connected to the sewerage system should be built in all urban areas.
But KCCA spokesperson Peter Kaujju, recently told New Vision that: "Only about 6% (about 210,000 people) of Kampala is connected to the sewerage system.
Ideally, about 30% should be connected. On the other hand, only 15% (about 525,000) have septic tanks. Other families use pit latrines, shared pit latrines among families, communal and public toilets, while others do not have any."

Paddy Twesigye, the NWSC senior projects manager, recently told New Vision that Kampala, being a modern city, should have a fully established sewerage system, which covers a wide area. "With proper planning, it is easier and cost-effective to determine a uniform and manageable toilet system for a given area.
However, this is not possible for much of Kampala because of mixed settlements, for low-income and high-income earners."

The level and type of toilet system used, Twesigye explains, depends on the social and economic ability of the people and nature of planning. He emphasises that the pattern of human settlement determines the nature of sanitation facilities.

Make human excreta useful
As a way of improving sanitation in the country, Network for Water and Sanitation Uganda, carried out a survey in Kampala and Mukono about the marketability of human excreta as a fertilizer.

The 2011 market study on demand for use of wastewater, excreta and faecal sludge and other related by-products showed that the uptake of human waste for farming was still hampered by community attitudes.

According to farmers from Mukono and Kyanja in Kampala, most of their neighbours shunned their produce on learning that they were using urine for growing agricultural produce.

An earlier study by GTZ (2010) revealed that small scale farmers who cannot afford to buy commercial fertilizer would be willing to use excreta and urine, provided they didn't have to incur transport costs.
The medium scale farmers were also willing to use faeces and urine but considered the collection process tiresome and would prefer a distribution scheme or company to do it.
On the other hand, large scale farmers did not think it was economically viable to use human waste and would prefer to use commercial fertilizer due to the high ratio of nutrients to weight, except for organic farmers and flower farmers.
Uganda's toilet habits still wanting