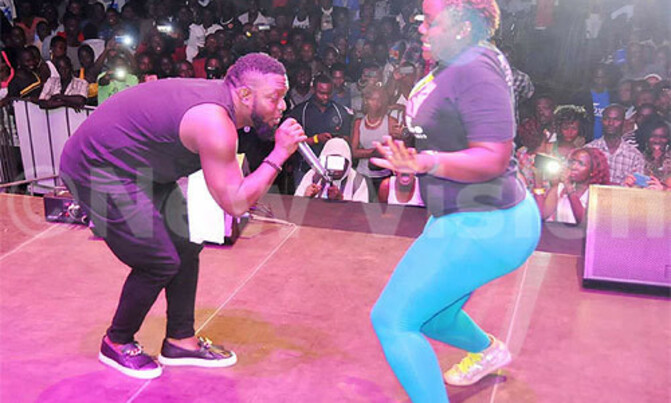 Nigerian singer Timaya put up a thrilling performance at the Club Mega Fest show at Kakindu stadium in Jinja.

By Donald Kiirya

Nigerian singer Enetimi Alfred Odon, better known by his stage name Timaya, put up a thrilling performance at the Club Mega Fest show at Kakindu stadium in Jinja.

The well-attended concert began at 8.00pm local time Saturday with curtain-raising performances by local musicians.

Curtain-raisers included Red Banton, Napoleon, Park U, Junior Pliers, Ann Flavour, Sandra, Sammy Cool, Maro, Peter Miles and Menshan, Coco Finger, Sheebah Karungi, Mozey Radio and Weasel of the Goodlyfe Crew.

The local artists showcased their best performances before a fired up crowd as fans sang along to their favorite.

Radio and Weasel were the main curtain-raisers.

It is understood that 10% of the proceeds from the show will be donated to Busoga Kingdom to promote girl child education in the sub-region.
 

Surely, the event did not disappoint, as organisers (Nile Breweries Ltd under their Club Pilsner brand in partnership with Busoga Kingdom) and fans left the venue well contented.

DJ Urban Star was in charge of the discs while Kerekere and DJ Mosh took the mics as the concert emcees (MCs).

The main man, Timaya, made a grand entrance: after the Goodlyfe Crew's performance minutes before 1.00am (Sunday morning), the stage went totally dark.

Then suddenly on came the long-anticipated Nigerian artist who hit the stage with his Lai Lai song.

And after a few others, he treated the crowd to the song many Ugandans know very well – Sanko.

Before performing Bum Bum, he invited two ladies with big bums to dance with him on stage. During the course of the song, one of the ladies hopped onto him as her legs swung in air, sending revelers into wild eruptions.

After that provocative dance, Timaya made a revelation to his fans: "This is my first time here in Uganda, but I wanna tell you, Ugandan girls are the sweetest."

To wrap up his memorable show, Timaya performed his Sanko song again – by the crowd's request – and during his singing, he placed the microphone on his crotch pointing in the direction of the buoyant crowd.
 
Nigerian singer Timaya draws hundreds in Jinja