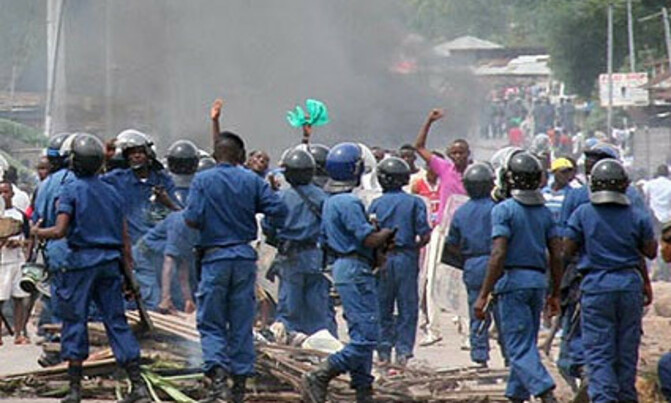 Lifting term limits is also in the interest of the opposition.


By David Mukholi


When ruling parties in Africa lift term limits from their constitutions, or attempt to, they are accused of being undemocratic. But no one thinks European countries without term limits for their leaders are undemocratic.

So the Rwanda opposition has put a new twist to the term limit debate. Instead of the ruling party, it is the largest opposition party that has initiated the move to scrap the constitutional two-term provision.

The world is waiting for a verdict for the opposition party that proposes the removal of term retrictions.

Article 101 (a) of Rwanda's constitution states, "No circumstance – external or internal, political or social, present of future by any institution or individual – may be the basis for allowing any person to be president if that person has served two terms." The opposition Parti Social Democrate (PSD) wants this removed from the constitution.

It is unlikely that the move will be opposed by the ruling Rwanda Patriotic Front (RPF), which has not responded to the PSD decision.

Since the announcement made on May 24th at the closure of PSD's national conference, the Rwandan Parliament has received thousands of petitions in support of lifting term limits. Parliament is expected to begin debating the matter.

Even if RPF backs the proposals in Parliament, it will not be accused of tampering with the constitution because it was originated by the opposition.

It is common practice for ruling parties to push for the lifting of term limits. In Uganda, it was the National Resistance Movement (NRM) that tabled the bill in 2005 and the opposition angrily reacted accusing it of flouting the Constitution.

Donors and civil society also added their voices that scrapping term limit was a major setback to democracy.

Due to politics, term limits on the African continent are equated to the level of democracy in a specific country, which is not the case in some parts of the world. A quick scan across the globe reveals Britain, Germany, Canada, Italy, Japan and Singapore don't have term limits.

Singapore stands out because Lee Kuan Yew's long reign as Prime Minister ran from 1959-1990. Today, Singaporeans remember him as a leader who transformed their country from a developing into a developed economy.

During the period he won all the elections. In the end, though Yew ruled for long he ensured people decided whether they still wanted him to stay or not through regular elections and above all he transformed his country. For this he is revered as Father of the nation.

It is simple. If absence of term limits did not stop Singapore from voting and developing then it can work for some countries as well. Similarly, it has not made several other countries including those named above, less democratic and developed.

Commenting on Rwanda's PSD's position, Dr. Vincent Biruta the party president said, "In our party, we do not believe in term limits. We feel that this should be left to them people." In other words, as long as people have the right to vote and elections are regularly held, term limits are not necessary.
 

Uganda scrapped term limits in 2005 but the opposition wants them reinstated

The US had no term limits until 1951 when the constitution was amended. This was after Franklin D. Roosevelt died during his fourth term in 1947. It was his popularity that helped him win the elections and there were no qualms about it. Before then a few of the US presidents had attempted to go for third terms but lost the election.

In Africa the term limit debate boils down to the contest for power. A party in power might seek removing term restrictions in cases where a popular leader exists and guarantees it victory at the next polls. Of course this would not be acceptable to the opposition, which is trying to get power and doing all within its means to win. It, therefore, views lifting term limits as denying it opportunity to exit the opposition side and became a ruling party.

Looking at it differently lifting term limits is also in the interest of the opposition.  From the Rwanda case, it is possible the opposition reckons removal of term limits may be to its advantage in future. Having been in the opposition for a while and possibly more years to come, given the RPF's massive support, PSD can use a termless dispensation to also stay in power for long too if it ever gets it. But it can also be argued that the Rwandan opposition in the same measure may have given away an issue that would be a rallying point for the entire opposition.

In Uganda, the opposition has since 2005 used the lifting of term limits to cobble up an alliance to build its ranks. It is one of the issues that attract attention of donors and civil society to work with the opposition.

The fact that the opposition wants the restoration of term limits shows lack of interest in getting power and holding onto it for long. It also suggests absence of strong opposition leaders determined to keep the power for long.

In Africa, those who argue for term limits think that restrictions can avert possibilities of creating a life president. But it can also be argued that limits can deny a country become another Singapore.




Follow David on Twitter @dmukholi1

            Email: dmukholi@newvision.co.ug
Also related to this article

Can presidential term limits succeed in Africa?
 
 
 
Can democracy and dev't be achieved without presidential term limits?