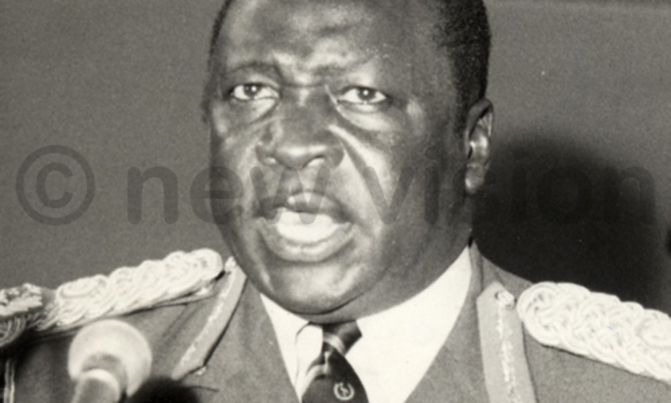 JEFFERY Amin was a primary school boy, unaware of what was going on in the country when his father Idi Amin was the president of Uganda
By Richard Drasimaku           
JEFFERY Amin was a primary school boy, unaware of what was going on in the country when his father Idi Amin was the president of Uganda. 
But it has taken the 48-year-old courage to come out amongst the over 60 children of the former head of state to say sorry to the nation for the atrocities committed between 1971 and 1979.
He came face to face with Baptist Jotim, a clan chief from Acholi whose father died in the hands of the notorious regime's soldiers in 1976.
This was during a reconciliation, peace, unity and development dialogue that brought together 102 cultural, religious and opinion leaders from West Nile, Acholi and Lango at Heritage Courts Hotel in Arua town.
Notable among the traditional leaders were the Alur Prime Minister Edwin Wathum, Ephraim Waringu, the Thebiz of Kebu Rigangi, Mathew Otto, the Lands and Mobilisation minister of Acholi and Benny Ocan, the Lango prime minister.
The others were Silas Akonyu a Kakwa elder, Stephen Drani a Madi paramount chief and his adviser Olga Tabea and the host Hanuna Ndema, the prime minister of the formative Lugbara cultural institution.
Chief Baptist Jotim (left) sheds tears as Jeffery Amin (R) apologises for the killing of his father by regime soldiers in 1976. Photo by Richard Drasimaku.
The eminent leaders discussed the events that led to discord between former friends Amin and Milton Obote that eventually evolved into hatred between the Acholi, Lango and the West Nile people with devastating revenge massacres.
Colourful street performances by Acholi traditional dancers through Arua town punctuated the two-day event organised by Uhuru Institute of Social Development.
But the mood was sombre as tearful Jotim narrated how some soldiers from West Nile went to their home in Kitgum to warn his father that he was on a wanted list of people to be killed.
They drove him to Malaba border post and told him to flee to Kenya but he refused and returned home. Four days later other soldiers came to abduct him. The next thing they heard was that dad was dead.
Jotim says he was overwhelmed by anger so much that when Amin died in Saudi Arabia in 2003, he refused to accompany Amin's former Acholi wife Ester to a prayer meeting that was held at Amin's ancestral home in Koboko.
It was a narrative that caused remorseful Jeffery to walk to Jotim to say sorry and apologise on behalf of the family for any wrong doing to the nation during his late father's reign.
Jeffey Amin (L) joined by Acholi traditional dancers in the peace march through Arua town. Photo by Richard Drasimaku
As bishop Alfred Achur of West Lango Anglican diocese joined to counsel the duo, another wronged cleric Sheikh Adam Ayub rose up to confess his hatred for the West Nile people in general arising from an attempted slaughter of his father Ayub who was the former Khadi of Lango.
"I became a soldier to avenge that incident but today I want to forgive all West Nilers. We were fighting a war that was not ours," Ayub said. To which Jotim added; "We are here because something went wrong. We have brought all the wishes of our people that we should burry all the past differences and unite for peace."
Achur assured Jeffery that none of the people who gathered at Heritage Courts has a grudge against him or his family.
"Jeffery came openly to seek forgiveness on behalf of his dad because he is a good Muslim with strong faith," the bishop said.
Ndema said it was needless to talk about past atrocities because they were simply too many. He emphasised that the leaders should make sure reconciliation goes to the grass roots.
Akonyu meanwhile stressed the importance of re-cultivating the friendship and cooperation between the different communities in the Northern region that existed before the Amin-Obote fallout so as to guarantee a better future for the young children.
"As a mother, we appeal to our husbands to join hands with us in upbringing our children in the spirit of reconciliation and forgiveness. We have mourned enough because of disharmony, let us support each other so that we change the face of Northern Uganda," Tabea urged.
Amin's son apologises for his father''s atrocities