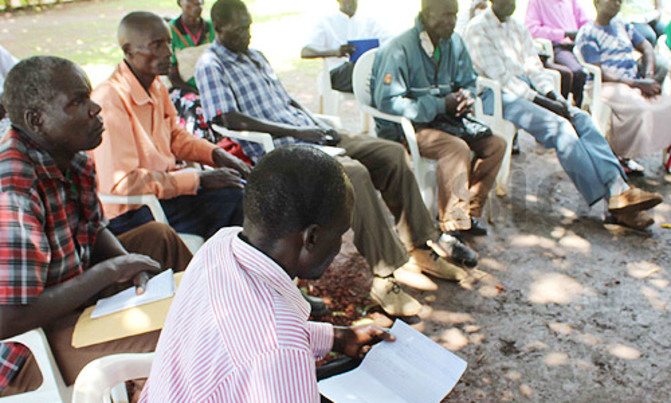 A group of former Lord's Resistance Army (LRA) captives has said not enough is being done to address their plight
By Hudson Apunyo in Lira
A group of former Lord's Resistance Army (LRA) captives has said not enough is being done to address their plight.
The group under their umbrella association, Lango Former LRA Captives and Returnees Association has over 800 members who want government to assist and alleviate their problems.
Leaders of the association converged at Grand Pacific Hotel on Tuesday and appointed Robert Olet Egwea as their patron. 
Olet is the Chief Executive Officer of Development Agency for Northern Uganda (DANU), a community based organisation in Kole.
The group's chairperson Vita Odongo said many people and organisations have used them for selfish gains.
Simon Olir, 60, Vice Chairperson of the organization said there are many people who did not pass through rehabilitation centers and need urgent psychosocial support. Olir said there are some who were injured, others with bullets and shrapnel still lodged in their bodies.
Olet Egwea (2nd left) was voted as the group's patron. Photo by Hudson Apunyo
Olir appealed to the government to help those who were abducted while in schools to resume their education. He said many parents were not in a position to help those who returned from captivity.
"We have those who were forced to kill and others who were forced to eat human flesh; they are traumatized and need counseling."
Robert Egwea said he accepted to work with the former captives wholeheartedly as they are vulnerable persons with enormous problems.
He said the stories of the former captives must be told to the people who don't know the magnitude of the suffering "I assume their stories must be told," he said
Egwea said the government came up with several programs like PRDP, NUSAF, which are meant to relieve some of the suffering of the people of northern Uganda but what is seen is that a significant number of people who suffered most during LRA insurgency appears to have been left out.
"As a patron, from today, I will do my best to help them; we are going to knock on every door possible so that the doors are open for this group of people. They deserve assistance."
Egwea said the former captives have problems like isolation and stigma while poverty is wide spread and they need to be collectively assisted.
The group said they appointed Egwea to avoid politicians who are always confusing agents.
Former LRA captives fault gov''t