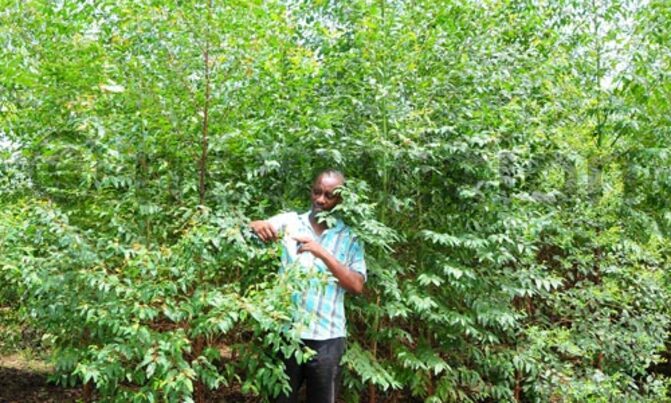 ONE of Doctor Twaha Kakooza's main enterprises is growing eucalyptus. He has learnt the job and he is doing it well
By Umar Nsubuga
ONE of Doctor Twaha Kakooza's main enterprises is growing eucalyptus. He has learnt the job and he is doing it well. 
However, growing eucalyptus well requires good agricultural practices, especially the use of improved seeds, intensive land preparation and thorough weeding.
When I was in South Africa I had a passion for trees, which has driven me to invest in tree planting. I started tree planting on the boundaries of my gardens just to protect other plants. To my surprise they were healthy and I got the commercial aspect, this was easy for me to take it up.
Kakooza says that he ventured into tree planting, because eucalyptus is fast growing. Besides the 50 acres, he owns, he is still planting more eucalyptus over 30 acres.
"I imported my own seeds from South Africa and even some from the National Forestry Authority, but now days I have well established nurseries at my farm, this has helped me to raise my own seedlings for planting more trees", he explains.
I got this idea after training in South Africa, and so far I have a nursery which can hold up to 200,000 seedlings per season of different species including the South Africa as a type.
He speaks about his trees with a passion akin to that of a newly engaged. A. He talks about how eucalyptus trees will afford him millions in one decade.
Doctor Twaha Kakooza is a prominent farmer and owns Shatwa mixed farm in Bubajjwe village, Kayunga district. He has a 65-acre maize, approximately 500,000 eucalyptus trees, two acres of oranges, bees, mangoes and garlic.
Kakooza believes agriculture is the way to go. "I have the potential to construct more demonstration farms in Kayunga.
He also says for one to enjoy farming and have consolidated wealth during retirement, he should start as early as possible, when still strong.
How I started
He conceived the idea of venturing into agriculture while in South Africa, Brazil and Argentina when he used to visit farms.
"When I came back to Uganda, I had made some savings, which I used to buy some land. In 2006, I started by buying three pieces of land of about four acres", he says.
Eucalyptus trees are the way to go
Kakooza looks at trees as his biggest source of income in future. There are trees all over his land, including just next to his house. "Crops such as maize are a short-term investment, but for long-term, consider trees," he explains.
He values his trees at over sh2billion "With trees, it is a matter of choice on when to sell. In his old age, he wants to sit back and earn from his trees. "Even if I die, this land cannot be easily disposed of by my children because I have equipped it with gold; they will first have to harvest the trees worth billions of shillings, which will be enough for them.
Challenges
Kakooza says that this kind of investment needs calculations, for example lack of reliable workers as most of them do not carry the vision of the investor, while others do not work at their best because they want to be paid regardless of whether they have completed the work or not.
Some of the challenges encountered are lack of sufficient funds. Forestry is an investment that requires high capital.
Eucalyptus has challenge of termites, it does not also grass.
Eucalyptus is a worthy investment