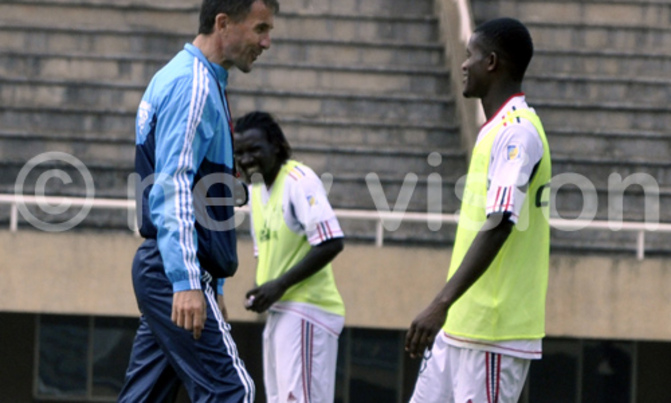 Cranes snatched a crucial 1-0 advantage in Dar es Salaam a fortnight ago and all they need is win or play out a draw to return to the CHAN finals tournament
By Fred Kaweesi
Africa Nations Championship qualifier
Uganda v Tanzania
First leg result
Tanzania 0 Uganda 1
WITH 15 minutes left before kick-off this afternoon, Cranes players will look into each other's eyes in the dressing room and discover two 'special qualities'.
That as much as the team has been deprived of its two first team strikers Tony Odur and Patrick Edema, two golden attributes remain — character and passion —that should steer Uganda to the Africa Nations Championship in South Africa.
Cranes snatched a crucial 1-0 advantage in Dar es Salaam a fortnight ago and all they need is win or play out a draw to return to the CHAN finals tournament.
Of course, Micho Sredejovic is well aware that this is not the best possible Cranes outfit he would have wanted to assemble for the home-based players' championship.
But what the Serbian has done in the last couple of days is inject as much confidence into the team as possible.
"We have not had enough time to reorganise the attack but the one thing we can do and get right as a team is work together to achieve the objective. This group has a lot of determination and confidence," Micho stated earlier.
Talk of confidence, the two teams' confidence jars have gone from empty to full in the past week. One of these jars is going to be empty tonight with no chance of it being re-filled any time soon. Cool heads will be needed, along with giant hearts. 
To represent Uganda is one thing, to achieve something for your country is another —on a completely different level. And for the current home-based Cranes side to achieve something that could spin their careers into the professional world will be enough motivation.
"We do not need to be reminded about anything. We know what is at stake. We know what to expect and what we have to do. All the players know that playing at the big stage will lift their careers," captain Hassan Wasswa pointed.
But while Cranes' players must perform at the very peak of their powers to upstage a resilient Taifa Stars side, the coaching staff will also have to be spot-on with major selection decisions.
Micho's strategy will have to neutralise the menace likely to be caused by Tanzania's dribbling wizard Mrisho Ngassa, playmaker Amri Kiemba and gangly striker John Bocco.
Good enough the Cranes have all week practiced on how to keep the ball and, for the long periods when Tanzania might have it, to "stay compact and keep the shape" and pressurise their creative players.
Among Micho's instructions has been not to allow any crosses into the box.
Earlier in the week, the Cranes watched the recoded game played in Dar es Salaam and among the areas of concern were the opportunities that Ngassa, Bocco and Kiemba created. It will be less of a worry if Cranes back four keep mistakes at a minimum and the rest of the team work out an early goal to deflate the visitor's hopes.
Goodluck Cranes!
Cranes confident ahead of decider