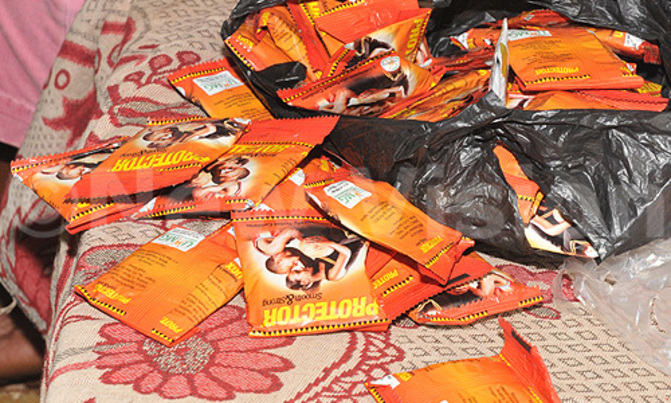 Educating young people about condoms is one of the hottest and most controversial debates in Uganda and people opposed to it claim that young people are innocent
By Ritah Mwagale

Educating young people about condoms is one of the hottest and most controversial debates in Uganda. People opposed to it claim that young people are innocent and, therefore, once given information about condoms will be encouraged to initiate sex and eventually become immoral.
The opponents always advance two options for young people; either abstain from sex or if married be faithful to their sexual partner.

However, while there is no doubt that these options offer effective protection from pregnancy and sexually transmitted infections, they do not cater for a certain percentage of young people. Those who are sexually active.

Much as the ideal would be for every young unmarried person to abstain, the 2011 Uganda Demographic Health Survey paints a different picture.  The survey reveals that by the age of 18, six out of 10 women and five out of 10 men are sexually active. Currently, one in four girls aged 10 to 19 years are either pregnant or have given birth.
The New Vision newspaper of July 17, 2013 carried a story about an increase of sexually transmitted diseases - gonorrhoea and Syphilis especially among teenage girls. Sexually transmitted infections can increase the risk of sexual transmission of HIV which currently is at three percent for women and less than one percent for men aged 12- 19 years.

Young people's sexual actions have well documented consequences for both the individual and the country's major health indicators. According to the United Nations Population Fund, complications from pregnancy and child birth are the leading cause of death among girls aged 15 to 19.  Of the 7,000 women who die due to pregnancy related conditions in Uganda each year, 55% are adolescents.

Therefore, much as we would like to follow the ideal situations as promoted by our cultural, religious and community values and beliefs, we need to be realistic. Not all young people actually abstain from sex.
A 2008 report by Guttmacher Institute on the sexual and reproductive health needs of young people in Uganda revealed that though they desire to wait till marriage, most times sex is not planned for. When that happens, condoms should be the solution.
Condoms are the only method that provides dual protection from unintended pregnancies and from sexually transmitted infections including HIV/AIDS.

The idea to educate children about using condoms is increasingly taking root in Uganda. The 2011 UDHS shows that more than six in 10 adults in Uganda agree that children age 12-14 should be taught about using condoms to avoid contracting HIV/AIDS.
Other studies conducted in several countries have delinked condom education from promoting sexual behaviour. Instead, it empowers the young person to delay initiation of sexual intercourse, decreases the frequency of sexual intercourse and number of sexual partners.

While many young people already know where to access the condoms, they don't know how to correctly use the condoms. Condom education in all places frequented by young people whether public or private should be done to empower young people with the skills to demand for safer sex practices should the situation arise.

In addition, the service providers in both public and private service outlets should be trained to be more welcoming and accessible to young people.

While addressing the various underlying factors that push adolescents to initiate sex, we should also cater for those who are already in the sexually active boat. Burying our heads in the sand will not make the situation go away.
If the young people are not able to abstain from sex, they should at least have a good plan B of Condoms to protect them from two big reproductive health burdens that this country is grappling with; Sexually Transmitted Infections and unintended pregnancies.

The writer works in Uganda Health Marketing Group as a Communications Coordinator                                                                                                              
Let's face it, young people need condoms