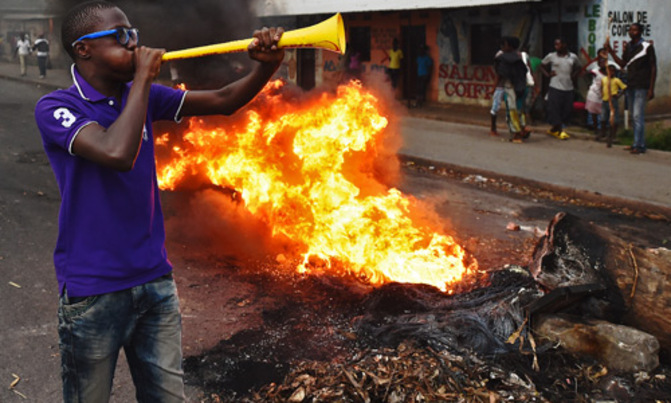 BURUNDIAN security forces fired shots and tear gas in battles with protesters as elections were delayed by over a week
BURUNDIAN security forces fired shots and tear gas in battles with protesters Wednesday, the latest violence in weeks of anti-government demonstrations, as the presidency delayed elections by over a week.
In the capital Bujumbura, hundreds defied government orders to call off their protests, marching through the streets singing and demanding President Pierre Nkurunziza abandon his bid for a third term in power.
One week after a failed coup led by a top general -- which saw soldiers battling each other on the streets -- police were seen returning to try to quash protests.
In recent days, soldiers had been mainly deployed, viewed by many protesters as being more neutral than the much more feared police.
Amid the street chaos Wednesday, one soldier was shot dead by police, raising already high tensions between the two forces.
More than 20 people died in weeks of clashes with security forces that halted during the coup attempt, but the protests resumed Monday.
Police return
Legislative elections had been due on May 26, but were pushed back 10 days to June 5 following "a proposal from the electoral commission to respond to a request from opposition parties, and finally to answer calls of the region and the international community," presidential official Willy Nyamitwe told AFP.
No decision has been made as to whether a presidential poll set for June 26 would also be delayed. "Wait and see," Nyamitwe said.
The European Union joined the African Union on Tuesday in calling for a delay to the elections, while South Africa's President Jacob Zuma said they should be "postponed indefinitely" after a meeting of Africa's Great Lakes bloc of nations.
But civil society leader Vital Nshimirimana said the delay was not enough.
"This postponement will have no effect because the fundamental issue remains -- that of the third term of President Pierre Nkurunziza," he told AFP.
"Burundi cannot hold free, transparent and peaceful elections by June 5."
Opposition and rights groups say that Nkurunziza's bid for a third five-year term in power violates the constitution and the terms of the peace deal that brought an end to the country's 13-year civil war in 2006.
But Nkurunziza, a former rebel leader and born-again Christian who believes he has divine backing to lead the country, argues his first term in power did not count as he was elected by parliament, not directly by the people. 
'Impossible' conditions for elections
The delay was criticised by opposition leaders.
"We are not satisfied by the postponement because the problems of Burundians have not been solved," said Frederic Bamvuginyumvira, vice president of the opposition FRODEBU party.
As well as the fundamental sticking point of Nkurunziza's third term, Bamvuginyumvira said it was "impossible to organise these elections in these conditions", pointing to insecurity and threats from the ruling party's youth wing, accused by rights groups of carrying out reprisal attacks.
In the flashpoint Nyakabiga district, which has seen some of the largest and most violent demonstrations since protests began on April 26, a small group of soldiers fired into the air to break up the crowd.
But protesters continued their march soon after, and the troops pulled back. 
Nkurunziza has been accused by rights groups of launching a campaign of repression against opponents and trying to silence independent media since coup leaders admitted defeat on Friday after fierce fighting with loyalist troops.
But the presidency has dismissed such claims, saying it would never carry out "revenge" raids and promised fair trials for those arrested.
More than 100,000 people have fled to neighbouring nations to escape political violence, according to the United Nations. Cholera has broken out in squalid camps in Tanzania.
AFP