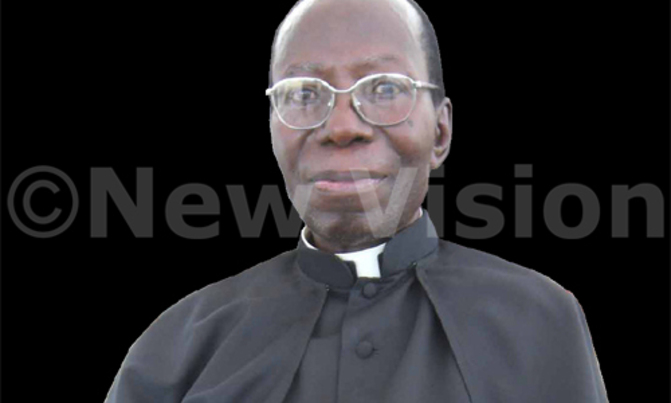 Fr. Dr. James Kabuye is undoubtedly one of the most celebrated priests in Uganda today. He is a gracious, soft-spoken and a pleasure to meet.
By Mathias Mazinga
Fr. Dr. James Kabuye is undoubtedly one of the most celebrated priests in Uganda today. He is a gracious, soft-spoken and a pleasure to meet.
You never quite feel his might until someone mentions his name to you. That is because Kabuye has let his music speak for him. You hardly complete mass without hearing a Kabuye song and when you do, your mind wanders off, imagining how the composer marries rhythm, rhyme, language, instruments to let off such beautiful music.
In the late 1980s, I attended a festival at Pope Paul Memorial Hotel, in Ndeeba and most of the songs being performed had been composed by Kabuye. One of them was Alifuga Ensi Yonna (Jesus will reign over the universe). The song was rich in harmony and rhyme.
I later discovered that Kabuye was also composer of many other songs including, Ye Ggwe Katonda Wa Bajjajjaffe (You are the God of our ancestors), Ye Ggwe Lwazi (Thou art Peter), Mmwe Amawanga Gonna Musaanye Mweddemu, Otumbidde, Missa Tukwebaza, Natendanga Omukama, Tukuwa Mukama, and Ayi Mukama Katonda Waffe.
Kabuye's songs depict him as a versatile composer, whom you cannot limit to a particular musical genre. His repertoire comprised polyphonies (songs in the western style), African traditional musical works and songs that fuse western and typical traditional African musical styles.
These songs have that power to depict liturgical moods, further to conveying spiritual messages with utmost effect.
If it is a jubilant mood, for instance, to welcome Christ during Holy Communion, if it is contemplation or, if it is a sad mood like during a requiem mass, you will feel the appropriate mood in the respective song's melody and progression.
Kabuye's music has made him famous not only in the Catholic Church but also in the Anglican Church.
Namirembe Cathedral musicians like John Ssekibaala have always acknowledged Kabuye's musical talent.
Kabuye's musical works also depict him as a wonder-priest of the Roman Catholic Church, who deeply understood the doctrine of the faith and subsequently lived it out in its fullness.
The marvellous qualities of his music compelled me to look out for him at Mirembe Maria in Kiboga district where he was then stationed.
I expected Kabuye to be a flamboyant figure. But to my surprise, I found simple and humble man.
Kabuye told he started writing songs in the 1960s.
"The White Fathers that were teaching us were musicologists. They had also imported into the seminary all sorts of musical instruments. This made it easy for us to learn music," he says.
Besides the melodious church songs, Kabuye has also written anthems for schools and other educational institutions.true          Kabuye (centre) is entertained by a relative during his 50th priestly anniversary celebration
On December 29, 2012, Kabuye, 78, marked the 50th anniversary of his ordination.
Over 200 priests and five Bishops attended the celebrations at his father's home in Ttanda, Mityana district.
Emmanuel Cardinal Wamala, a contemporary of Kabuye said: "Through your faithfulness and humble character, you have preserved the honour of Catholic priesthood. Through your dynamic musical ministry, you have saved souls and drawn many people to Christ."
Kampala archdiocese auxiliary Bishop Christopher Kakooza also praised Kabuye for spearheading the transition from Latin Music to African traditional liturgical songs, subsequent to the second Vatican Council.
Bishops Prof. Joseph Zziwa (Kiyinda-Mityana), Eugidio Nkaijanabwo (Kasese) and Mathias Ssekamaanya (Lugazi) also hailed Kabuye's contribution to the development of Catholic liturgical music.
Who is James Kabuye?true
Kabuye was born on January 14, 1934 to Pia Alibayagadde and Catechist Yakobo Baziwandiika of Ttanda in Mityana.
The only surviving child of his parents, he studied at Naluggi Primary School, Bukalasa Minor Seminary and Katigondo National Major Seminary. Subsequent to his ordination at Rubaga Cathedral in 1962, Kabuye was sent to Switzerland and later to Marian College, Indianpolis in the US to study music.
Kabuye has worked in parishes/institutions including Rubaga Cathedral, Mirembe Maria, Kiyinda-Mityana, Bethany High School and Kiyinda-Mityana Catechetical Training Centre where he is currently stationed.
He has written a book titled Kiganda Music.
Kabuye's music speaks volumes of him