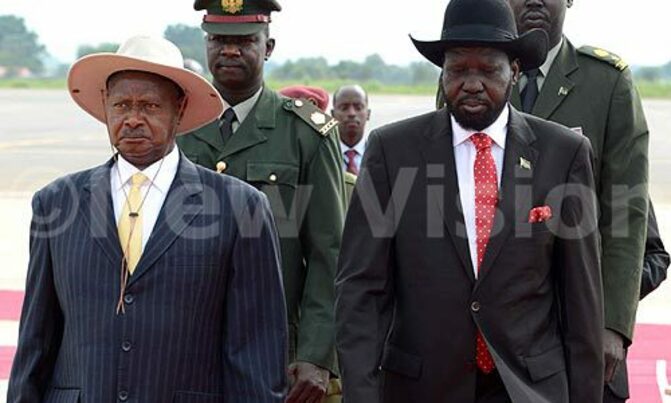 President Yoweri Museveni has hailed the people of South Sudan for rapidly developing their country in the shortest time possible.
Vision reporter

President Yoweri Museveni has hailed the people of South Sudan for rapidly developing their country in the shortest time possible.

He also congratulated President Salva Kiir and the people of South Sudan for successfully ending the long unnecessary struggle which cost the country a lot of time adding that they would be very far in terms of development.

Museveni  who is one of the leaders who on Tuesday joined the Juba  government as they celebrated their independence anniversary cautioned South Sudan to guard against foreign oppression and said when Africans are weak they tempt foreigners to come and take our resources and use them to oppress us.

"Africans are leading foreigners into temptations by being weak. When you are weak, you invite foreigners to come and oppress you. Weakness should not be among us, we must cure internal weakness internally' he said to a mammoth gathering at Dr. John Garang Mausoleum.

Museveni also pointed out that focusing more on tribalism and other sectarian tendencies such as religious conflicts lead foreigners to come and oppress Africans in their own countries.

The second year of independence was celebrated under the theme: 'Towards effective nation building and prosperity for all'. The fete was also attended by Presidents: Paul Kagame of Rwanda, Ian Khama of Botswana, Hassan Mohamud of Somalia, the former South African president Thabo Mbeki plus several other foreign dignitaries.

According to a press release from State House, President Museveni said that Uganda is ready to work with the government and people of South Sudan and other countries which are facing similar challenges to make sure that it becomes one of the most developed parts of the world.

 Kiir said those who doubted the survival of South Sudan after its separation from the Khartoum have been proved wrong by the resilience and solidarity of the South Sudanese.

He said his country had passed several legislations such as the Education and agriculture which he said have also been passed by the parliament awaiting his amendment as key achievements in the democratization process.

He also said the completion of Juba-Nimule road, the establishment of the National Electoral Commission and the National Constitutional Review Commission which are key other achievements in the second year of independence.

Kiir also announced that the oil refinery in Bentiu would be opened in August this year. "We have also increased our non-oil revenue from 7 million to 100 million South Sudanese pounds (SSP) which is an increase of more than 800%," he said.

He congratulated the people of South Sudan upon reaching their 2nd anniversary and hailed the contribution of the heroes of their revolution and of those who supported South Sudan to witness the country's' achievements adding that as they celebrate their independence they should always remember those who lost their lives to have peace in the South Sudan.

 
Museveni hails S Sudan on rapid development