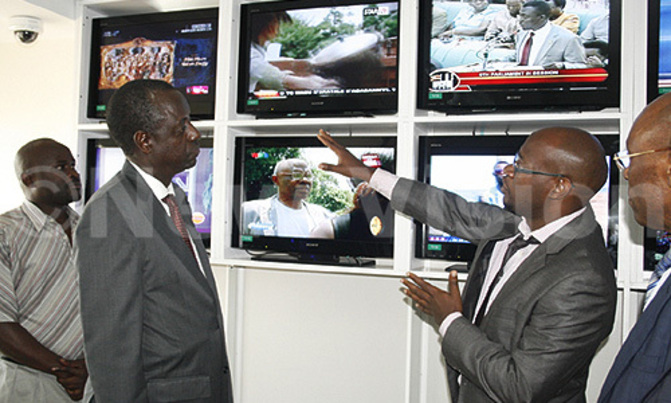 Minister John Nasasira challengeS UCC to address the quality of services delivered by the telecommunication operators in Uganda.
By Raymond Baguma                                  

KAMPALA - Minister of ICT, John Nasasira has challenged the Uganda Communications Commission (UCC) to address the quality of services delivered by the telecommunication operators across the country.

The country's communications regulator receives several public complaints over the failure by the telecom companies to meet the minimum quality of a service.

The four major operators are MTN, Airtel (which merged with Warid), Uganda telecom (Utl) and Orange.

Some telecom customers have come out strongly against the way services are delivered. Complaints over poor customer care systems, network coverage and other forms of inconsistencies have long lived in the business.

But all this while, as the service providers remain tightly edged against the rope-end of criticism, it remains the responsibility of UCC to ensure that quality in the sector prevails.

Minister Nasasira on Tuesday toured UCC to get familiar with the regulator's programmes and projects.

He inspected facilities that are used in monitoring spectrum and the use of frequencies, as well as emergency response to cyber-attacks.
true
Manager of Spectrum Management, Henry Mugabi explaining to ICT minister John Nasasira how the spectrum is monitored  at UCC House on July 9, 2013. PHOTO/Esther Namirimu
Nasasira, who was recently transferred from the gender ministry in a cabinet reshuffle, said he was "happy to return" to oversee the communications commission which he helped establish when he was serving as minister of works, transport and communication.

He recognized the growth of the communications sector in the country, and pointed out that UCC has a responsibility to ensure efficiency of operators in the sector.

He was accompanied by UCC officials, who included the executive director Godfrey Mutabazi, Patrick Mwesigwa, director of technology, and the ministry of ICT permanent secretary Pat Saamanya.

The minister said his priority in the ICT ministry is cyber security, on top of ensuring digital migration. He also looks to put in place a strategic development plan for the ICT sector.

In early August 2012, government set up a Computer Emergency Response Team (CERT), a specialised unit under UCC to detect internet crime in the country.

Cyber-crime is one of the world's fastest growing crimes.

RELATED STORIES

Telecoms cheating us – customers

Ugandans lose millions to phone companies
Agents charging money for SIM card registration
Minister tasks UCC on telecom services quality