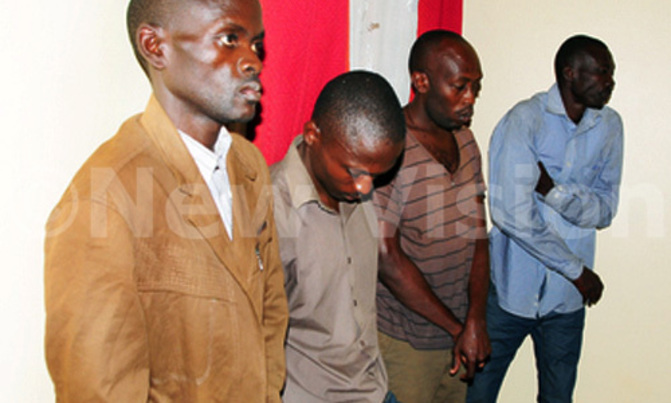 Police arrest six suspected serial robbers that are believed to have been terrorizing Kampala, Masaka, Rakai and Lyantonde districts.
By Simon Masaba

Police arrested six suspected serial robbers, including one woman, that are believed to have been terrorizing Kampala, Masaka, Rakai and Lyantonde districts.    

The suspects are linked to a spate of murders and robberies, among them including the recent killing of mobile money agents in Bombo, Kisasi, Kireka, Busega, Bweyogere, and Kamwokya all Kampala outskirts.      

Police recovered a sub-machine gun and a pistol from the group. The pistol was found concealed in the toilet of one of the suspects' residence in Bulenga, Wakiso district during a police search.

The search team found the gun hidden inside the bedroom of a widow to the gang's former leader who is reported to have died a year ago at their home in Kitooke, Kawempe division.

Only identified as Nalongo [local, twin mother], the widow was taken into police custody at Central Police Station in Kampala, pending further investigations.

Others arrested were; James Byaruhanga, Tom Ategeka, Moses Walukaga, Meddy Kaggwa, and Deuces Philip Balisagara.     

Police findings revealed that Walukaga is linked to a series of boda boda [motorcycle] thefts in which he ends up killing the riders.

A total of 20 bikes were recovered and are kept at various police stations in Kampala as further investigations continue.

But Walukaga denied taking part in any such killings, although he admitted he stole the bikes and sold them to residents of Bweyale and Kiryandogo.

"I didn't kill but only stole and sold the bikes at sh1m each," he confessed.

His confession came after being paraded before journalists at the Central Police Station at the close of last week.

His gang-mate, James Byaruhanga was nabbed through intelligence reports. At the time of his arrest, he was on a robbery mission in Masaka, and helped lead his captors to others he was operating with.      

Charles Kataratambi, the commander of police's Flying Squad, led the operation.

He pointed out that the five men (with the exception of the woman), are ex-convicts at Kigo Prison. "After their release, in March this year, they regrouped and resumed massive robberies," he said.

The culprits had been charged and convicted of possession of illegal firearms, he told of their incarceration.      

In 2007, the suspects were arrested in an operation by the Rapid Response Unit (RRU) and later convicted.      

According to police, the guns and the gang's actions replicate those in the previous incidents where businessmen were killed after taking away their money.      

"Police is still matching fingerprints and cartridges lifted from previous scenes of crime with those of the suspects and their guns before proper charges are aligned against them," Kataratambi said.

 "The past incidents in the month of March to May when Mobile Money agents, shop operators, boda-boda riders and accountants were killed are linked to the suspects."

Most of the robbers who were arrested in 2006 and 2007 have served their sentences and are out again.

"We are monitoring them closely, if they haven't reformed and continue from where they stopped, we shall arrest them," said the commander.
Police nabs suspected gang of serial robbers