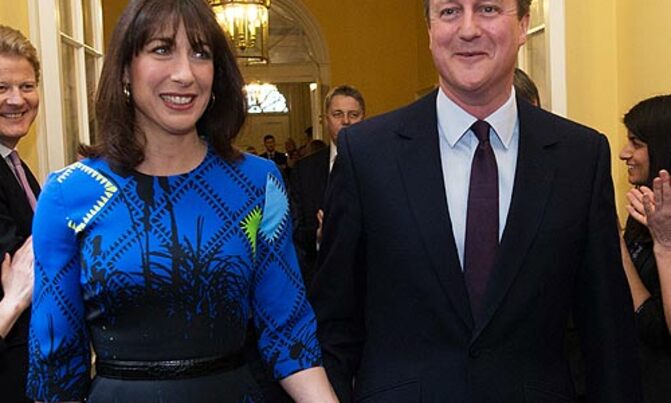 Britain's Prime Minister David Cameron is due to sketch out his new government on Saturday after returning to power in a stunning election victory.

LONDON - Britain's Prime Minister David Cameron was due to sketch out his new government on Saturday after returning to power in a stunning election victory that toppled his three main rivals.

Defying the opinion polls, Cameron's Conservatives won 331 of the 650 seats in parliament, giving him a second term in office -- this time with a majority for his centre-right party.

After what had been derided as a flat election campaign, the final twist on polling day Thursday triggered shock results for all the major parties.

There were dramatic gains for the Conservatives and the secessionist Scottish National Party (SNP), while the Labour opposition and Liberal Democrat leaders quit over their parties' electoral drubbing.

The UK Independence Party (UKIP) leader also quit, after a huge swell in support for the populist party secured only one seat.

In their first editions since the full election result, British newspapers said Saturday that Cameron had pulled of a triumphant victory thanks to a surge in support from so-called shy Conservatives.

However, they also warned he now faced a tough battle to keep Scotland in the United Kingdom and Britain in the European Union.

The election exposed deep divisions on these issues and Cameron avoided triumphalism in his victory speech, promising to "bring our country together".

On returning to the prime minister's 10 Downing Sn office.

Johnson's still has a year to run as mayor, but he secured a seat in parliament. Commentators have speculated on whether Cameron might give him a sinecure role to get him round the cabinet table.

The election victory is an endorsement of the Conservatives' austerity programme and is likely to see a continuation of cuts to public spending as they seek to reduce a budget deficit of nearly £90 billion (120 billion euros, $140 billion).

The pound rallied and stocks rose as investors welcomed a clear result and a government seen by the markets as more "business-friendly" than the Labour alternative.

Parties, papers digest results

Centre-left Labour won 232 seats, while the centrist Lib Dems were eviscerated after five years in coalition with the Conservatives, ending up with eight seats after losing 49.

In Scotland, the left-wing SNP won a historic landslide -- 56 of the 59 Scottish seats -- just seven months after losing a referendum on seceding from the UK.
 

(L-R) Outgoing opposition Labour Party leader Ed Miliband, outgoing Liberal Democratic Party leader Nick Clegg and British Prime Minister David Cameron attend a VE Day service of remembrance at the Cenotaph on Whitehall in London on May 8, 2015, to commemorate the 70th anniversary of the end of the Second World War in Europe

The Labour Party is set for a period of soul-searching as it starts choosing a replacement for Ed Miliband, whtreet office, he pledged to press on with a renegotiation of Britain's relationship with the EU then hold an in-or-out referendum on the outcome, by the end of 2017.

Cameron mulls cabinet jobs

Cameron has kept his top four ministers in place and boosted the nominal power of his finance minister George Osborne, but was to spend the weekend drawing up names for the remaining ministries in a rejigged administration.

He is expected to take until Monday to complete his cabinet fully, then finalise more junior ministerial posts over the coming week.

Cameron signalled continuity by reappointing the same finance, foreign, defence and interior ministers from his outgoing cabinet -- Osborne, Philip Hammond, Michael Fallon and Theresa May respectively.

Cameron also made Chancellor of the Exchequer Osborne the "first secretary of state" -- an honorific title that implies seniority over all other ministers and effectively makes him his number two.

During the election campaign, Cameron named Osborne, May and London Mayor Boris Johnson as his chief possible successors after previously pledging this would be his final term io stood down as leader saying he took "absolute and total responsibility" for their poor showing.

The tricky challenge is to find a leader who can win back those voters who have moved leftwards to the SNP in Scotland -- hitherto a Labour heartland -- and those who swung behind the Conservatives in suburban England.

Nick Clegg, the outgoing deputy prime minister, was among the eight Liberal Democrats re-elected but shortly afterwards resigned the party leadership, saying: "The results have been immeasurably more crushing than I could ever have feared."

UKIP leader Nigel Farage also stepped down after failing to win his constituency. His anti-EU, anti-mass-immigration party came third in the share of the vote with 12.6 percent but won only one seat.

In the first newspaper editorials since the full results emerged, The Guardian said Cameron needed "far greater wisdom, consistency and vision" in his second term if he is to reunite the country as pledged.

The Times said Cameron would need "every ounce of statesmanship" to surmount the challenges facing him.

"It is time for Mr Cameron to find his inner Churchill," it said.

"His majority is slim and using it will not be easy. His real work starts now."

AFP

 
Cameron shapes new team after stunning UK election win