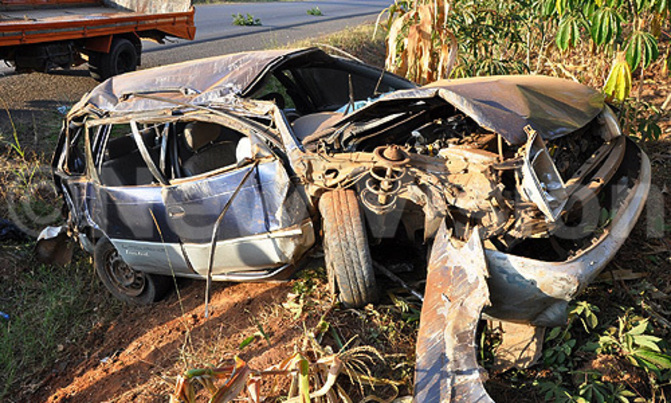 Two women are killed in separate accidents along the Masaka-Kampala highway, which leave six others hurt and remain hospitalized.
By Sseruwu John Bosco

One woman died on spot and six others remain in serious condition at Masaka referral hospital after being involved in a motor accident at Mukoko along Masaka-Kampala highway Sunday afternoon.

Eye witnesses said the vehicle involved was traveling at a high speed, with the driver trying to overtake other vehicles.

Phillip Ssemukuye then lost control behind the wheels and then dangerously rammed the car onto a pavement off the highway, they said.

The driver survived the fatal accident which left one of the passengers onboard killed. She was identified as Grace Kajumba, 47, a resident of Hoima.

The occupants of the ill-fated vehicle were headed for a party in Mbabara, about 200km (125 miles) away.

Masaka-Kampala highway is notorious for frequent accidents, and has a number of black spots in its wake.

 AIP John Ojera, who is in charge of traffic in Kalungu district, confirmed that the Toyota Corona of registration number UAN 678Y claimed one woman's life and injured her relatives.

Among those who survived, but with serious wounds and multiple fractures are Yusuf Ashaba 37, Geoffrey Kweyangana, 41 and Scovia Mbabazi.  

In a similar fatality that occurred on the same route, same day, two people were knocked off their motorcycle by a vehicle at Kaddugala, 10 kilometers to Masaka town.

One woman died instantly.

 AIP Ojera explained that the two accidents were caused by reckless driving, effectively issuing a direct warning to drivers to stop over-speeding especially on sharp bends.
Two killed in two Masaka highway accidents