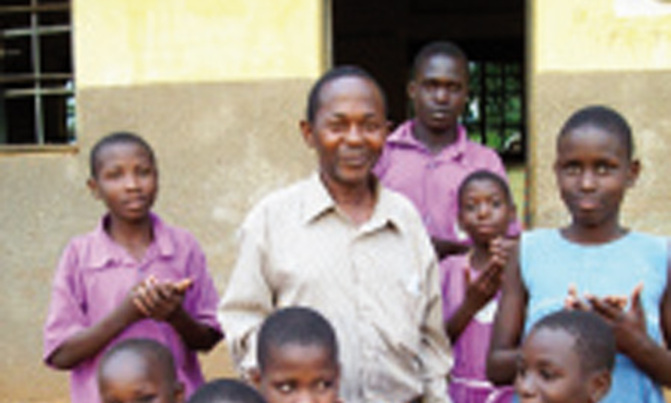 School children sit on wooden benches in the classroom waiting for the teacher. But unlike the usual raucous classes, this one is oddly quiet as the learners keep making facial expressions punctuated with sign-language.
By George Bita
School children sit on wooden benches in the classroom waiting for the teacher. But unlike the usual raucous classes, this one is oddly quiet as the learners keep making facial expressions punctuated with sign-language.

Their faces light up as the teacher strolls in to start the day's session. As if on cue, they in unison gesticulate a 'welcome sir' sign with their hands to which he gladly replies. He actually does not have to shout 'keep quiet class' let alone scold anybody for noise making.

They stand up and sing the national anthem, using gestures, to kick-start the day. It is a bit amazing as one hand goes up as another is twisted at an angle with fingers being folded and unfolded, until the musical presentation is over.

Then it is time to sit down for  the first lesson. To an onlooker, it appears like any other pupils in class attentively listening to their teacher. However, this is a Special Needs Education (SNE) classroom under the care of Grace Tibukuza at Buckley High School; a girls' only boarding primary school in Iganga district.

These children are deaf and inevitably dumb since they could not listen to any sounds to be able to talk as they grew up. An adjacent classroom is used by those who are visually impaired and use brailing machines to learn.

Despite being a school for girls, the SNE department has both sexes with 15 boys out of the current population of 41 pupils.

The unit was established in 1993, headed by Gideon Gwanara to care for deaf and blind learners. By then, Tibukuza was teaching P.1 pupils at the school.

Tibukuza would sneak into  the special needs department out of curiosity to observe as deaf/dumb and blind pupils attended lessons.

Over time, the prying increased and the sneaking became more regular. However, as fate would have it, Tibukuza was informally picking invaluable skills to be used later on.

When Gwanara, the then only staff member of the department left for further studies in 1993, Tibukuza came in handy as the only teacher with an idea about sign-language. This, coupled with his novelty, made him attend to these learners for three years until he finally attained formal training in 1998.

During this period, all the pupils surprisingly excelled in their studies and were promoted as a result. This prompted the school administration to consider Tibukuza for special needs training.
According to Tibukuza, six pioneer pupils were taken on in P1 until they made it to P7 and relocated to nearby Iganga Secondary School that boasts of an SNE unit.

"In 1995, I started helping out at the facility after Gwanara was taken to the education ministry headquarters in Kampala," Tibukuza recalls.

He discloses that the teaching experience he had, coupled with on-job tips about sign language came in handy until he acquired special training in SNE from Kyambogo University in 1998.

Lameck Wabwire, a pupil at the school in 1995, went on to study civil engineering at Kyambogo University and is currently an engineer.

Jude Minista, a deaf boy who obtained aggregate 15, becoming one of the best 2011 PLE candidates in Iganga district, is pursuing further education at Mbale Secondary School.

"I am hoping to become a lawyer or engineer in future. It will all depend on how I perform at O'level," Minista assures through an interpreter.

He describes Tibukuza as a committed teacher who ensures that all the learners have understood before proceeding to another level.

"He was our only teacher but still had time for extra lessons to enable P7 deaf and blind candidates revise under his guidance," Minista reveals.

Rachel Kairu, a P5 pupil, says she mastered sign-language within a very short time because of her teacher's good training skills.

"He tries to handle us as individuals and not as a group so that even slow learners can grasp what he is signalling," Kairu says

Esther Nandase, the school headmistress, says: "Tibukuza is a deputy headmaster but it seems one of these days we shall have to create an office for him adjacent to the SNE department because that is where he seemingly feels more comfortable. He has nurtured over 1,030 special needs pupils and is still nurturing more.

Tibukuza attends to his pupils


WHO IS TIBUKUZA?
Born on April 4, 1958 in Namusala village, Iganga, Tibukuza completed primary at Namusala Primary School in 1974.

He enrolled at the then Kaliro Grade II Teachers' College in 1975 to pass out as a Grade II teacher in 1978. Tibukuza taught at Kijaguzo Primary School in Nakaseke district in 1979, before fleeing to his home village that very year as a result of the Tanzanian-led invasion of Uganda to topple president Idi Amin.

He taught at Namusala Primary School from 1981 to 1987, before going to upgrade at Kamuli Primary Teachers' College in 1988.

In 1990, he was posted to Iganga Town Council Primary School until he relocated to Buckley High School two years later. He obtained a diploma in SNE at Kyambogo University in 2000 after completing a two-year course.

Tibukuza was appointed substantive deputy head teacher in 2003. He is married with nine children and his rural home is 20km from school. He has to carefully plan his schedule between both demanding 'family units' to make ends meet.
Teacher with a big heart for the disabled