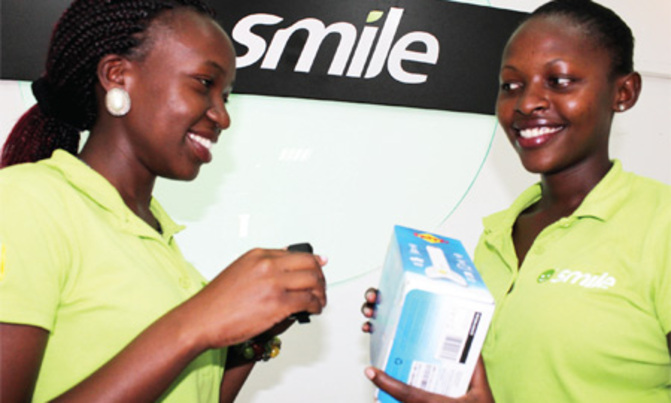 Since Smile Communications Uganda launched a 4G LTE broadband network and services operator, its network infrastructure now boasts the fastest, most advanced, highest quality and most reliable technology available in the market.
By Titus Kakembo
Since Smile Communications Uganda launched a 4G LTE broadband network and services operator, its network infrastructure now boasts the fastest, most advanced, highest quality and most reliable technology available in the market. "With this appliance, Uganda officially joins the ranks of the most advanced countries in the world, which are at the forefront of the digital revolution," says Irene Charnley, the company's CEO.
She explains that billions of people across the world are already online and billions more are set to join them in the next few years, making the 4GLTE undeniably the defining event of our age. The Smile Communication approach and business philosophy is to provide the simplest and easiest gadget to use in the market although ways of accessing information, communicating and technology continue changing. "Digital citizenship has become truly global and our digital lives will increasingly define who we are and how we live," Charnley says. "
We need speed because online activities are getting more and more data-intensive as our individual requirements grow." Charnley says how four billion hours of video are watched on YouTube globally every month and 72 hours of video are uploaded every minute. "Better still, the social networking site, Facebook, is visited more than one billion times a month and more than 175 million tweets are sent every day on Twitter," she says.
Charnley adds that Uganda already has more than 4 million internet users and almost 600,000 Facebook members. It is evident that Uganda is embracing the digital revolution as SMEs, corporate and household users are becoming Smile customers. Braced to live the dream of a prosperous, innovative, open and connected society, Smile Communications is ready to be part of the digital backbone.Broadband benefits This fourth generation of wireless networks provides a massive boost to any activity involving the real time transfer of large amounts of data and live streaming of high definition (HD) video and television.
LTE stands for Long Term Evolution and it is projected to be a long-term utility able to evolve over time. The 4G LTE can adapt and is able to handle significantly higher data transfer rates, as well as offer higher quality. "The 4G LTE is the only standard today that can meet our fast-expanding information, communication and entertainment needs. Smile's true 4G LTE services allow customers to experience average data download speeds of 6 Mbps. One enjoys such speeds when having an HD video calling, live television streaming, remote video conferencing or remote medicine and e-learning can finally be exploited easily.

"And as local e-government, e-education and e-health applications are developed, they too will consume significant amounts of bandwidth," Charnley explains. The 4G LTE broadband is finally fulfilling the promise of the internet by eliminating time and distance. Consequently, the people, governments, businesses, communities and organisations can stay in touch, regardless of the distance between them.

"The implementation of 4G LTE network in Uganda has cost a considerable amount of investment, which reflects on our confidence in the country and commitment to this market," she says. Smile Communications has responded to the call by the regulator, the Uganda Communications Commission, for companies to invest in Uganda. The company has answered similar calls in Tanzania, the DRC and in Nigeria. Time has been spent testing and perfecting every component of the network and services throughout Kampala. The network has performed perfectly, and the response from customers has been overwhelmingly positive. Since April 2013, customer enrolment has been on an upward spiral.

There is a Smile package for the corporate

More Ugandans embrace Smile services
By Vision Reporter
Smile Communication Uganda is destined for greater heights by asserting its presence Uganda, Tanzania, Nigeria and DRC.
Irene Charnley, the Smile Group CEO, says the 4G LTE was chosen since it is the only standard, which evolves continuously to meet the fast-expanding information, communication and entertainment needs Ugandans.
The appliance, destined to become a global standard in the delivery of mobile data and voice services is destined to stay in the lead for at least the next decade. The benefits of 4G LTE lie in the radically improved user experience, which enables ultra-high-speed internet access, stimulating digital innovation and accelerating broadband penetration.
Fiona McGloin, Smile's country manager, says there is a huge surge in numbers of clients. "Smile's true 4G LTE broadband network is currently available throughout Kampala, with a national roll-out plan to include all regions within five years," she says. McGloin adds that the network is also configured to handle HD voice services, which will be rolled out as affordable voice-capable LTE handsets become available. "Based on feedback and usage data from our commercial customers, there is clearly an increase in demand for broadband access and services. In the past month alone, we have had a significant growth in our customer numbers and data usage," she says.
Smile is poised to capitalise on this demand and to raise customer expectations by delivering a better, faster, easier, and more reliable Internet experience. In the competitive market, Smile launched Africa's first true 4G LTE network in Tanzania less than a month ago, and is the only Ugandan operator currently to utilise the 800 MHz frequency band (as opposed to the 2.6 GHz range used by other operators). Operating within the 800 MHz band provides Smile customers with more efficient indoor coverage, which means a much more consistent and faster Internet experience.

Smile's 4G LTE
Technology allows customers to experience data download speeds of 6 Mbps on average. A Smile customer is able to do more with Smile 4G LTE broadband without any buffering or latency. Johnnie Kityo, a subscriber, says he can download a movie or book in a short time. These are besides having crystal-clear HD video calling, video conferencing, experiencing a rich and continuous social media interaction. Trapped in a busy schedule, the 4G LTE enables access to improved mobile education, healthcare and banking
.
More experience
With Smile introducing the 4G LTE MiFi (which means My Wi-Fi enables 10 users) to connect a Smartphone, tablet or laptop through a single device and experience the full benefits of 4G LTE. Smile's MiFi devices come with rechargeable batteries, providing 4G speed and quality irrespective of electricity supply. Charnley says the introduction of 4G LTE broadband in Uganda represents a considerable investment, reflecting Smile's confidence in the Ugandan market. "Uganda officially joins the ranks of the most advanced countries in the world which are at the forefront of the digital revolution," she says.
"Years from now, I believe the introduction of 4G LTE networks will be seen as one of the turning points in the development of East Africa and the continent as a whole." Smile recently announced the extension of its agreement with Alcatel- Lucent to serve as Smile's sole LTE network provider in three of its East and Central African markets.
Alcatel-Lucent is providing comprehensive Design, Build, Operate and Managed services for Smile's national LTE networks in Tanzania, Uganda and DRC. Daniel Jaeger, the Vice- President of Alcatel-Lucent in Africa says: "We are pleased to accompany Smile Communications to extend their 4G LTE services in Africa." This will allow consumers to benefit from true high added-value services of 4G LTE technology.
Smile's digital revolution