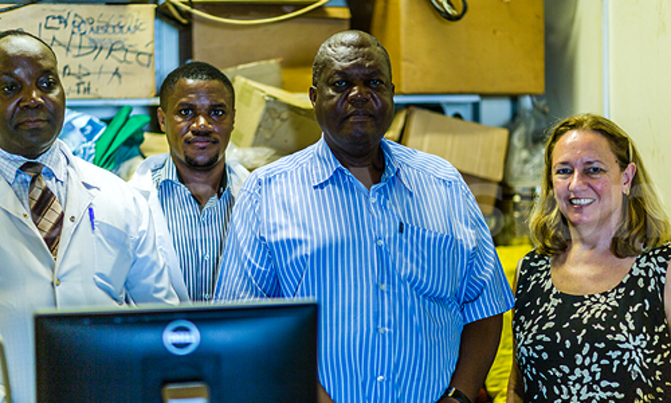 Charles Ndegeya, 58, has lived with diabetes for 20 years. However, in the last few years, his eyes had started failing him.
By Carol Natukunda

Charles Ndegeya, 58, has lived with diabetes for 20 years. However, in the last few years, his eyes had started failing him.

"I could not see clearly. It was as if I had a blurred vision.  The doctor told me that it could be the side effects of the drugs," he recounts

The resident of Jinja, Ndegeya decided to Mulago Hospital Eye Clinic for checkup. Doctors confirmed that he had diabetic retinopathy, a condition whereby blood vessels in the retina are damaged by the diabetes.

The retina is the layer of tissue at the back of the inner eye. It changes light and images that enter the eye into nerve signals, which are sent to the brain.

Eye problems are becoming common among diabetic patients, experts have warned.

The senior consultant ophthalmologist Dr. Moses Kasadhakawo explained that the chance of getting retinopathy was higher among people who had had diabetes for a long time or people whose blood sugar has been poorly controlled.

"Once the retina is affected, this can lead to blindness if no intervention is done," Kasadhakawo stated.

Globally, diabetes is projected to skyrocket from 382 million cases in 2013 to 592 million cases by 2035. In Uganda, there about 2 million people suffering from diabetes.

Kasadhakawo estimates that 70% of people with diabetes, could have eye problems too.

Other eye diseases that can develop in persons with diabetes include cloudiness of the eye lens (cataract), increased pressure in the eye that can lead to blindness (Glaucoma), blurred vision and retinal detachment.

Kasadhakawo made the revelations yesterday while receiving equipment worth 36,000 pounds (about sh16.2m) from a donation by a group of visiting doctors from the Royal Free Hospital in London.

He expressed hope that with the new equipment, some of the complicated eye problems would be screened and  easily detected before it was too late.

"The machines we had could not diagnose diabetic retinopathy well," he stated

He, however, called on the government to support the department, saying most patients cannot afford the cost of treatment.

"The second line of treatment which involves intravitreal injection (a shot in the eye). Each dose costs sh300,000, yet a patient would need up to 3.4 doses.  We are not yet ready to offer that treatment because we cannot afford it," said Kasadhakawo.

On any given day, the eye clinic receives over 60 eye patients, yet there are only five nursing personnel. Besides, Uganda has only one Vitreoretinal (retina) surgeon.

"People who have diabetes will now be screened for eye problems. But the challenge is we do not have enough staff," Kasadhakawo said.

Clare Davey, a consultant ophthalmologist from the Royal Free Hospital in London cautioned parents to be vigilant, saying eye cancers and cataracts were also becoming common among children.

"The pupil of the eye is black. But if it begins to change colour then you automatically know there is a problem. Seek medical attention immediately," she said, adding that her hospital was occasionally sharing knowledge with the Ugandan eye doctors to make a difference.
 
Eye diseases common in diabetes patients