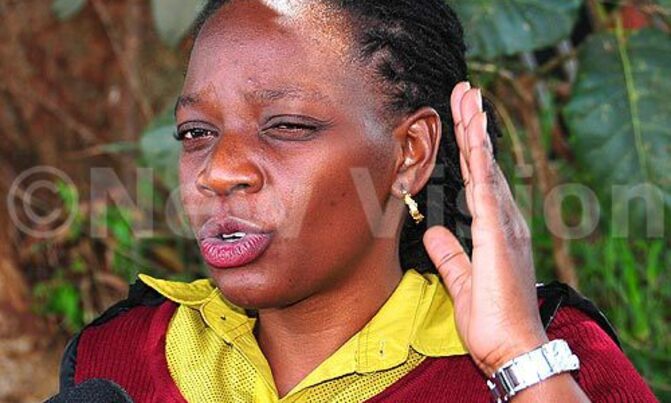 The suspect paraded before the media yells during a press conference as she vigorously denies trafficking people.

By John Masaba

KAMPALA - A suspect police paraded before the media on allegations of trafficking people abroad yelled during a press conference as she vigorously denied the crime.

The suspect, identified as Christine Kyokusaba, was arrested early last week and detained at the Special Investigation Unit (SIU) at Kireka, a city suburb.

However, a press briefing organized by the coordinator of the anti-human trafficking task-force, Moses Binoga, at SIU headquarters to unveil the suspect to the public almost came to a premature end when the suspect started shouting at the top of her voice protesting innocence.

"I am innocent. I have never trafficked anyone. This is propaganda," she bellowed.

"Jobs in the Dubai are there but people don't want to listen to advice. When they get into trouble, they turn around and try to get someone else to pay for their mistakes. That is why I am facing this," she added.

Caught by surprise, the visibly shocked Binoga tried to silence her, but that only provoked the woman into more shouting, forcing police to shove her back into the cells.  

Kyokusaba's arrest was prompted when three Ugandan youth (names withheld) she allegedly recruited in March to work as security guards got stuck in Dubai, a city in the United Arab Emirates (UAE).

Binoga told reporters that they had each reportedly paid sh3m to Kyokusaba for the jobs. However, when they reached Dubai, Kyokusaba (believed to be in her mid-30s) told them that the only jobs available at the time were at a construction site.

With little option available at their disposal, Binoga said the young men (whose details were undisclosed for purposes of ongoing investigations) accepted to work as masons at a building site. However, the jobs lasted only three weeks and the boys were told there was no more work.

"They got stuck in Dubai, ending up on the streets.  What [money] they had made at the site could not help them survive in the foreign land, and yet the person who had taken them there declined to help," Binoga said.

The men were later helped to get in touch with the Uganda Embassy in Dubai, which helped them return to Uganda. 

Police arrested Kyokusaba at Entebbe airport upon her return to Uganda last week.

"She admitted to police that she had so far trafficked five people using her Dubai-based tour company, Uruku Tourism Company. The company is only registered in United Arab Emirates," he said.

If found guilty, Kyokusaba faces between five and seven years in jail for human trafficking.

It is understood that police also arrested two workers of Kampala-based Easy Tour and Travel Company following a failed plot to traffic three women to Egypt.

Police says most cases of Ugandans ending up in foreign countries as laborers have resulted from misguidance by mainly tour companies.

A police source said traffickers are taking advantage of the high unemployment situation in the country to lure their victims into bogus job opportunities abroad. "They have a lot of brokers and pay brokers up to sh150,000 for a client."

"Most victims are duped that with a tourist visa they will be able to work, but many end up on streets helpless," the source told New Vision. 

As a result, the government has barred all tour companies from taking part in securing visas for Ugandans going abroad for work.

"Only companies licensed as labour exporting agencies are allowed to do that [to export labour]. Anybody found to be doing so without a licence will be arrested," warned Binoga.

The government has licensed 25 companies to recruit labour for export and these companies have signed a memorandum of understanding with the government. Among other things, they are committed to compensating anybody in case their job contracts abroad run into some difficulty.

Binoga revealed, however, that the firms have been barred from exporting house-maids until government finds ways in which they (maids) can be protected, following many reported cases of abuse while in the hands of their employers abroad last year.

Binoga said Ugandans interested in finding secure work abroad should contact district police commanders, district internal security officers and immigration office and the labour ministry for information on genuine labour exporting companies.  

According to statistics from the labour ministry, close to 46,000 Ugandans have benefited from the programme of externalization of labour abroad since 2006.

The destinations for migrant workers include Somalia, Iraq, United Arab Emirates, Qatar and Afaghanistan. According to the ministry, migrant workers remit about $2m (about sh6b) to Uganda every year.

 
Suspected human trafficker arrested