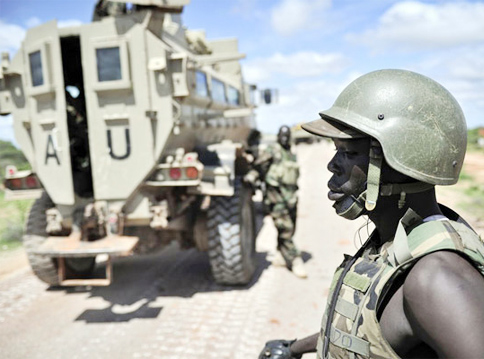 Al Shabaab kill three AMISOM troops
SOMALIA''S Al Shabaab militants killed three soldiers from the African Union force fighting them in Somalia on Sunday, the AU said
SOMALIA'S Al Shabaab militants killed three soldiers from the African Union force fighting them in Somalia on Sunday, the AU said, condemning the latest in a series of attacks by the Islamists.
AU envoy to Somalia Maman Sidikou condemned "the cowardly ambush" on a convoy of troops on Sunday in southern Somalia's Lower Shabelle district, between the small settlements of Lego and Balidogle.
"Our gallant soldiers put up a spirited fight, during which three of them lost their lives, while others sustained injuries," Sidikou said in a statement.
Al Shabaab spokesman Abdulaziz Abu Musab claimed the attack, boasting to AFP that five AU soldiers had been killed and vehicles destroyed.
He said the soldiers were from Burundi, but the AU force in Somalia, AMISOM, did not give details of their nationality.
Troops from Djibouti, Ethiopia, Kenya and Uganda are also in the AMISOM force.
Al Shabaab rebels are fighting to overthrow Somalia's internationally backed government.
They have also carried out revenge attacks across the wider region against countries which contribute troops to AMISOM, particularly in neighbouring Kenya.
But Sidikou said the fight against the Islamists would continue.
"The blood of our brothers will not be shed in vain," Sidikou said.
Al Shabaab attacks in Somalia have targeted key government and security sites in an apparent bid to discredit claims by the authorities and AU troops that they are winning the war.
On Saturday, Al Shabaab gunmen shot dead a local lawmaker, Adan Haji Hussein, an MP in the semi-autonomous northern Puntland region.
On April 2, Al Shabaab gunmen attacked a university in Kenya's northeastern town of Garissa, lining up non-Muslim students for execution and killing 148 people, in their worst ever attack.
While the Al Shabaab emerged as a Somali Islamist group in 2006 in Mogadishu, they have recruited across the wider region.
AFP