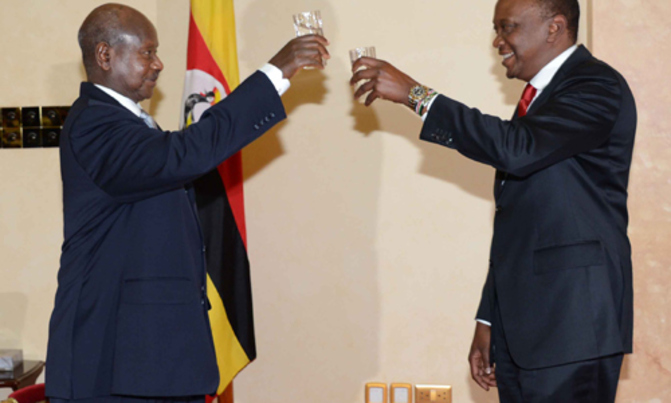 THE Presidents were speaking Tuesday evening at a state dinner hosted in honour of President Uhuru Kenyatta who is on a two day official visit
By Vision Reporter
President Yoweri Museveni and his visiting counterpart President Uhuru Kenyatta of Kenya have re-affirmed their commitment to the realization of the East African Federation noting that it's the only way to guarantee the prosperity, safety and future of the people of the community.
The two Presidents were speaking Tuesday evening at a state dinner hosted in honour of President Uhuru Kenyatta who is on a two day official visit to Uganda.   
President Uhuru described Uganda as his other home, a brotherly country and a strong Kenyan ally in building and realizing the East African long waited dream of a Federation. 
He also said that his visit to Uganda was meant to strengthen the bond between the two countries but also to enhance trade and discuss the way the two countries can utilize their existing potential to better the well-being of their people.
"It's not our people who have differences but our governments who create obstacles and that is what we are here to solve. My dream is a day when we shall have one great nation of East Africa and hope the realization of this is sooner rather than later" he said.
On regional development President Uhuru said that "Kenya and the region was starting a long journey to prosperity that most of us have longed for since we were young." 
President Museveni on his part congratulated the President Uhuru and the people of Kenya for holding a peaceful election.
"You made us proud for holding peaceful election beyond all odds and I congratulate you" Mr. Museveni said.
He also commended the people of Kenya, Tanzania and Zambia for granting refuge to Ugandans when the country was going through political turmoil.
"You hosted Ugandans when they had problems and we are grateful to you and our Tanzanian and Zambian brothers and sisters" He noted.
Museveni expressed happiness that President Uhuru has visited Uganda and noted that his visit was timely and will bring a lot to the two countries and the region.
The two Presidents have agreed to implement a programme for Uganda to collect customs duties before goods are released from Mombasa port. 
For goods destined for warehousing in Uganda, importers would continue to execute the general bond security. 
They also agreed to jointly develop the Kapchorwa-Suam-Kitale road, explore the possibility of Kenya investing in Quality Chemicals Industry which manufactures AIDS and Malaria Drugs in Uganda and distributes to the region and also coordinate joint disarmament of cattle rustlers on both sides of the border and encourage other countries in the region to complement these efforts.
Museveni, Uhuru re-affirm commitment to East African federation