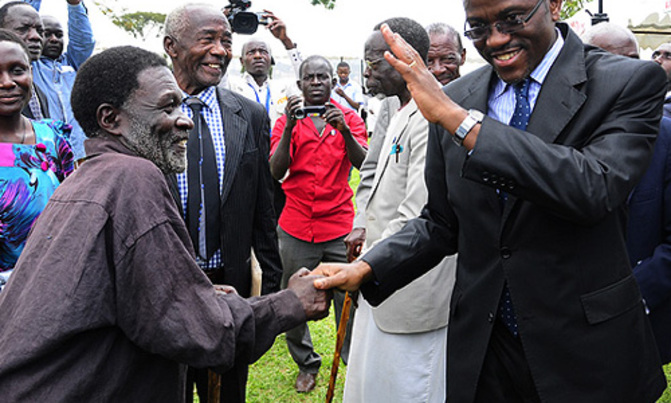 The Archbishop of Kampala asks the Katikiro of Buganda to work towards reconciling the kingdom and the central gov''t.
SUNDAY VISION
By Jeff Andrew Lule

KAMPALA - The Archbishop of Kampala, Dr. Cyprian Kizito, has asked the katikiro, Peter Mayiga, to work towards reconciliation between Buganda and central government for peace and development.

Lwanga made the call on Friday during a thanksgiving mass for Mayiga at Lubaga Cathedral Church. Kizito said Buganda needs to co-exist with other parts of the country.

"We want the talks between Buganda and central government to resume. We want you to unite Buganda with other Ugandans to live harmoniously and promote development," he said.

He pointed out that Mayiga's leadership comes at a time when the country is facing several challenges including poverty, unemployment, domestic violence, murders and all kinds of crimes.

With Mayiga's experience and spiritual background, the cleric said, they were convinced that he would do a good job.

He asked people to join hands to support Mayiga and his cabinet in order to strengthen the kingdom.

The katikiro was asked to lead by example and desist from religious, political and ethnic divisions because Buganda is a formulation of different people with different backgrounds.

The Kampala archbishop cited the increasing cases of domestic violence and murders and called on Government to take serious action.

"We are losing more innocent people everyday and the culprits are still at large. Let government come up with measures to curb this problem," he said.

According to him, the only solution to the country's problems is reconciliation, truth and justice at all times.

Speaking after mass, Mayiga also called for understanding regardless of political and religious inclination.

"Despite our differences in religions, tribes and political ideologies, we depend on each other to survive. What we need are trusted leaders ready to serve the people equally for the country to move on. We need a corrupt free society," he noted.

Mayiga said the Kabaka did not appoint him because of his religion, saying that a religious person can only be seen by his actions not by a rosary or a Bible.

He was flanked by his wife Margaret, children and Buganda's first deputy premier, Emmanuel Sendaula.

"Parents should guide their children in what they think is right to have upright citizens . We must repect people's religions and ideologies," he noted.

The kingdom's premier pledged to work with all people, regardless of their different beliefs. He promised to work closely with Buganda MPs and central government to make sure all Buganda's demands are fulfilled.

The mass was attended by several religious leaders, Buganda officials and other dignitaries from central government among other people.
RELATED STORIES
Katikkiro Mayiga gets instruments of power

Stop mourning the past, Baganda told

Bukenya promises to return 'ebyaffe'

'Mayiga should redirect Buganda efforts'

Mayiga: The right choice for Katikkiro

New rules on Buganda functions
Buganda PM told on reconciliation