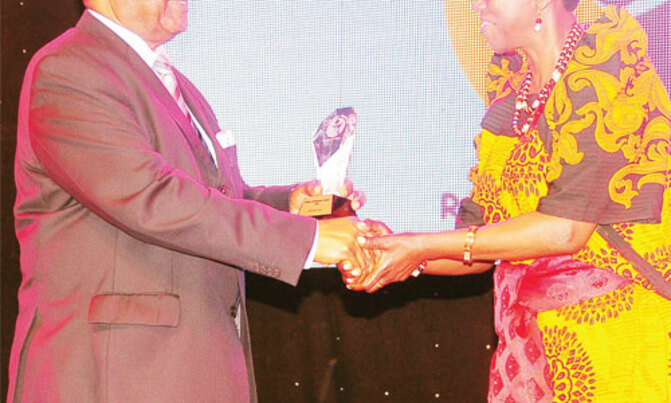 Honourable Jane Frances Kuka, dubbed the "Heroine of the Female Genital Mutilation fi ght", was named Lifetime Achiever by the Tumaini Awards Programme last Friday. Kuka, who was overwhelmed with joy, was handed the award and a sh7m cash prize by the Chief Justice, Benjamin Odoki, who was the chie
BY DIANA NAMUTEBI
Honourable Jane Frances Kuka, dubbed the "Heroine of the Female Genital Mutilation fi ght", was named Lifetime Achiever by the Tumaini Awards Programme last Friday. Kuka, who was overwhelmed with joy, was handed the award and a sh7m cash prize by the Chief  Justice, Benjamin Odoki, who was the chief guest at the prestigious annual Tumaini Awards gala, held at Hotel Africana.
Other notable award winners were: Gladys Kalibbala from Vision Group, who was  awarded for her column in Saturday Vision, which is dedicated to returning lost children to their parents; Raising Voices, which took home two awards with a sh3m cash prize tagged to each in the education and child protection categories plus Police officer, Hadija Namyalo, who took home a prize in the individual protection category, for her outstanding work in the child protection unit of the Fort Portal Police office.
Every year, children-related NGOs and corporates, under the umbrella of Tumaini Awards Programme, come together to celebrate individuals and organisations that have made a difference in the lives of children in Uganda. This year, the lavish awards gala saw a number of individuals, Non-Government Organisations and communitybased organisations take home awards for their outstanding work in eliminating harmful social and cultural practices affecting children, which was also in line with the theme for this year's Day of the African Child celebrated yesterday.
The winners -16 in number, were some of the 100 nominees across the country, whose work was profiled and published in the New Vision in the run-up to the awards. These winners were agreed upon by a panel of judges: founding member for Communication for Development Foundation Uganda, Allen Nankunda, health systems specialist at Reach Out Mbuya, Stella Alamo, child protection expert and assistant commissioner children affairs at the Ministry of Gender, Labour and Social Development, Kaboggoza Ssembatya, executive director Literacy and Adult Basic Education, Stella Keihangwe and senior human rights officer at the Uganda Human Rights Commission, Rose Mary Kemigisha.
During the award ceremony, some of the highly publicized cases of child abuse were mentioned and while giving her speech, the chairperson of the Tumaini Awards, Stella Ayo Odong, asked the audience to observe a moment of silence for Yohana Yakob, who was beaten to death by fellow students in Busia.
She called upon the public to make a firm resolve to eradicate all forms of violence against children, adding that it is unfortunate that corporal punishments have been entrenched in our laws, cultures and religion. Vision Group's CEO, Robert Kabushenga, said this was not the first time New Vision and its sister papers have been involved in the fight against social and cultural practices, adding that the company has been at it for 13 years now and will continue to do so. He, however, challenged the people involved in child advocacy to pick up some political skills.
Robert Kabushenga (L) CEO Vision Group hands over a cheque to Emily Gakiza (C), Company Secretary Standard Chartered Bank and Herbert Zaake, the Head of Corporate Affairs
"A purist approach to an issue does not always effect change; activists need to learn some political skills. Activism based on its rightness cannot deliver, but there is a need for activists to reflect on their methods to see how best to effect change," said Kabushenga. Chief Justice Benjain Odoki amusingly told the audience during his speech that he had to leave a school because of being canned and he was taken to another where he was always asked to write as a form of punishment. As a child, Odoki says he was nurtured by his sisters, and that is why he has always had the conviction to protect girls. Odoki said it was because of such reasons and his belief in the law that he has always been intolerant to child abuse in all the offices he has held.
He commended Tumaini and urged them not to give up their efforts to fight child abuse. "As the Judiciary, we are ensuring that the rights of children are protected and defilers will not be given light sentences as was the case before. The sentences will be befitting of the crime committed in respect of the offended and the interests of the community," Odoki reassured the audience, in what earned him thunderous applause. He also emphasized that custom cannot be tolerated as a defense for child offenders any more. The awards gala was also punctuated with lots of performances from the energetic and exciting African Children's Choir, Qwela Band, which performed their Okello song in commemoration of the children who have not lived past the age of five, having succumbed to abuse.
Kuuka was hailed for her tireless efforts to eliminate Female Genital Mutilation in the Sabiny region. Starting with herself, she refused to undergo FGM and she has continued to protect girls in Kapchorwa. She was also commended for her activism and use of her political office, during her tenure as Woman Member of Parliament Kapchorwa, to advocate against the practice. Standard Chartered Bank, which scooped the award for best CSR campaign with their Seeing is believing campaign, which cost them a half a million dollars.
The bank was praised for giving children the chance to see again, through funding eye screening and operations for the blind all over the country. Raising Voices which took two awards, was commended for the prevention of violence in schools and at home, through their aggressive media campaigns and outreach programmes. The organisation was also recognised for their efforts to provide kits and training in schools to help teachers and parents find alternative ways of giving punishments. Gladys Kalibbala, was recognised for her efforts to find both lost and abused children a safe home.
It was also noted that Kalibbala goes ahead to follow up on the cases she writes about to see to it that the children are given a safe home, among others. Hadijah Namyalo, who is the child protection officer of Fort Portal Police post, also known as a no nonsense woman when it comes to children affairs, was commended for ability to raise awareness about children's rights in the area, while bringing culprits to book.

TUMAINI AWARD WINNERS
(L-R) Stella Ayo Adongo, Chairperson Tumaini Awards, May Anyabolu, deputy country director UNICEF-Uganda and Gilbert Kamanga of World Vision share a light moment during the event

LIFE TIME ACHIEVEMENT
Jane Frances Kuka
The heroine of the Female Genital mutilation fight (FGM) (Sh7m)

CORPORATE SOCIAL RESPONSIBILITY
Standards chartered bank
Seeing is believing campaign. (sh5m)

MEDIA
Gladys Kaliballa
The Newvision (sh3m)

EDUCATION
(NGO/CBO)
1. Raising Voices; creating violence free school environment for children
(us3m)
2. Global Care Uganda (us1.5m)

- INDIVIDUALS
1. John Bosco Ojok(sh3m)
2. Lt. Richard Bymukama (1.5m)

HEALTH
- NGO/CBO
1. Amani Initiative (sh3m)
2. Acholi Rescue Team (1.5m)

- INDIVIDUALS
1. Florence Namaganda (sh3m)
2. Betty Mujuni (sh1.5m)

CHILD PROTECTION
- INDIVIDUAL
Hadijah Namyalo, Child protection Unit, Fort Portal Police office (sh3m)
- NGO/CBO
Raising Voices (sh3m)

LIVELIHOOD
1. Uganda Youth Development Link (sh3m)
2. bringing Hope to the Family(sh1.5m)

DAY OF THE AFRICAN CHILD
Reproductive education and community
health program (sh3m)

 
Frances Kuka wins Lifetime Achiever at Tumaini awards