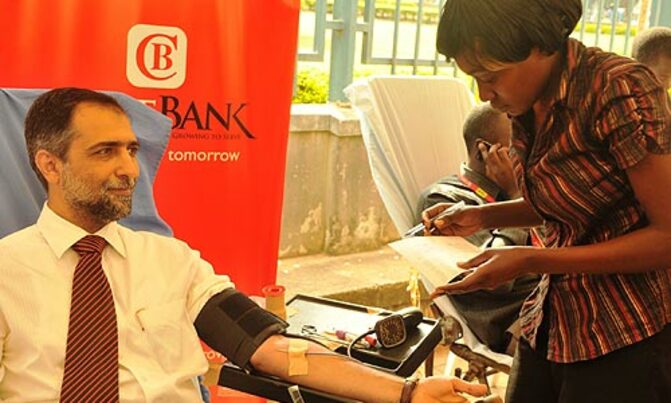 As the country grapples with the blood shortage, hospitals have been warned against charging patients money for blood.
By Patrick Jaramogi

As the country grapples with the blood shortage, hospitals have been warned against charging patients money for blood.

"We are in hard times due severe blood shortages, but as we get to the collect more blood, the public should know that blood is free. We (Blood Bank) give blood freely to hospitals and blood donation is also voluntary but it sad for a patient to be denied blood for lack of money," said Richard Karugaba the Blood Donor Recruiter with Uganda Blood Transfusion Services.

Karugaba made the remarks during the celebrations to mark World Blood Donor day. The events were marked with the Crane Bank blood donation camp at the Constitutional Square in Kampala.

Karugaba said this year's theme "Give the gift of life: donate blood", focuses on the value of donated blood to the patient, not only in saving life, but also in helping people live longer and more productive lives.

"We are requesting Parliament to put laws in place to punish hospitals that charge money for blood. We have also put a hotline for members of the public to report scrupulous medics who extort money from patients for blood," he said.

Crane Bank Manager AR. Kalani said this year's blood donation camp is timely as it comes against the backdrop of a deadly blood shortage across the country which has caused several deaths and constrained the provision of life-saving emergency operations across the country.

Uganda is struggling to resolve a countrywide shortage of blood caused by interruptions in the supply of blood donor kits and testing reagents.

The shortage has lasted one month, and at least 15 people are reported to have died in the eastern Ugandan districts of Jinja, Kumi and Soroti, which have been especially hard hit.

The Heart Institute at Uganda's largest referral facility, Mulago Hospital, was been forced to suspend heart surgery due to scarcity of blood.

Uganda needs 300,000 units of safe blood annually, but Uganda Blood Transfusion Services collects only 250,000 units. The Ministry of Health's National Blood Transfusion Service requires some US$ 7.2million annually to meet blood demand in the country.

Karugaba said a nationwide blood donation drives is been planned in major schools across the country to normalize the situation. "With schools opened now we expect to get at least a third of the blood that we need annually," he said.
Hospitals warned on selling of blood