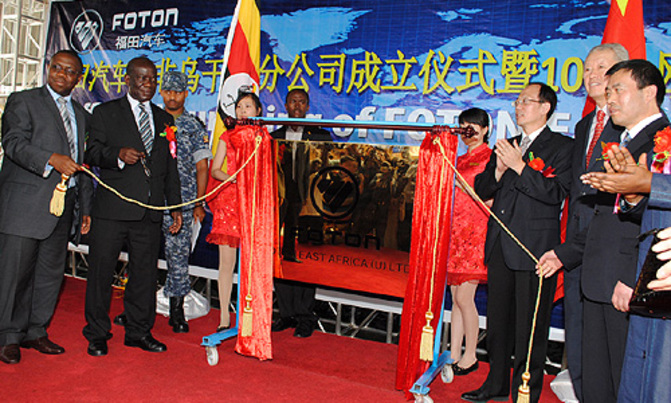 A Chinese car manufacturing industry has penetrated Uganda's market and is set to build a car plant in the country.
By Francis Emorut

KAMPALA - An international player in the Chinese car manufacturing industry has penetrated Uganda's market and is set to build a car plant in the country.

Only a nod from the government will get the firm, Foton, going.

"We are ready to start manufacturing 100 commercial cars per day once the Government gives us a go ahead," Lydia Liu, the general manager of Foton East Africa said.

She said this at the official launch of Foton East Africa Uganda in Kampala on Friday.

Several key stakeholders attended, including government officials, Beijing deputy mayor, officials from the Chinese embassy and from Uganda Local Government Association (ULGA).

The car firm's appeal to government is to allocate them land to kick-start the manufacturing project.

 "We are very serious about new partnership of Beijing and Uganda. Foton has a high plan for Uganda to create more employment opportunities," Liu said.

The firm believes it is in position to manufacture commercial vehicles like light trucks and minibuses.

Vice Mayor of Beijing municipality, Gou Zhongwen, lauded President Yoweri Museveni for spearheading the economic growth of the country.

"Under President Yoweri Museveni's leadership the country has witnessed rapid economic growth," he said, pointing out that Uganda has a huge demand for vehicles especially for commercial purposes.

He noted that Foton East Africa-Uganda investment is aimed at improving economic growth and development in the transport sector.

Vice President Edward Sekandi, who was chief guest at the launch, welcomed the venture, saying it will provide a gateway linkage of technology between China and Uganda.

He called on Foton management to ensure high quality of product and service is maintained.

The VP is the chairman of China Africa Local Government Cooperation.

He said government is hosting over 7,000 Chinese nationals and they have created over 100 business ventures.

He further hailed China's leadership for the excellent ties China and Uganda have enjoyed since the East African nation's independence some 50 years ago.

"Government cherishes excellent relationship with China since 1962," he told guests.

Ties should be consolidated by trade linkages in order to spur economic development that would benefit citizens of both countries, Ssekandi further suggested.

Chinese ambassador to Uganda, Zhao Yali, expressed his belief that Foton car plant will provide a better choice for Ugandans.

If approved to start operating here, all vehicles to be manufactured by Foton will be designed by Chinese engineers specialized in commercial vehicles and minibuses for the Police.
Chinese car maker enters Uganda market