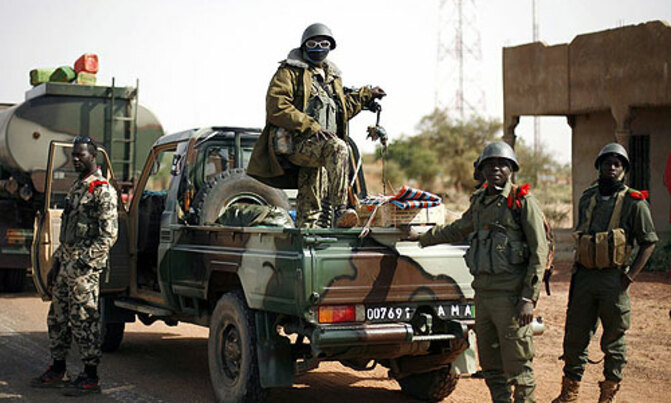 Government troops seized a village in northern Mali after heavy fighting with Tuareg separatists on Wednesday and advanced towards the town of Kidal, the rebels'' last stronghold, the army said.
BAMAKO - Government troops seized a village in northern Mali after heavy fighting with Tuareg separatists on Wednesday and advanced towards the town of Kidal, the rebels' last stronghold, the army said.

Wednesday's fighting ended months of undeclared ceasefire between the army and the MNLA separatists, who took back part of northern Mali from Islamist insurgents driven out by a French-led military offensive launched in January.

The French campaign broke a 10-month occupation of northern Mali by al Qaeda-linked groups, but left the Tuareg rebels in control of Kidal, rekindling an earlier conflict that now threatens to explode as the government seeks to reunify Mali.

The interim government accused the MNLA of attacking and seizing non-Tuaregs in Kidal on Monday. The army has said it will retake the town before a national election in late July.

"Our troops have taken Anefis this morning after intense fighting," army spokesman Colonel Souleymane Maiga said.

Speaking to Malian state television by telephone from the town, a senior commander in the operation, Colonel-Major Didier Dacko, said one soldier had been killed and two others wounded in clashes that lasted around two hours.

Another army officer, who asked not to be identified, said the rebel fighters had abandoned their vehicles and fled Anefis, heading towards Kidal.

Separate military sources said the army had by nightfall advanced to the village of Amessine, 37 km (23 miles) from Kidal, and reinforcements were being sent from Gao and Menaka.

Ibrahim Ag Assaleh, a senior MNLA political figure, said two rebels had been killed and three wounded. He said the MNLA had withdrawn from Anefis to regroup for a possible counter-offensive.

"Since the Malian army attacked us, there is now nothing keeping us from moving south on Timbuktu and Gao," Ag Assaleh said. "We ask African and French forces to maintain their neutrality."


"EVERYTHING IS CLOSED"

Residents in Kidal said a convoy of MNLA vehicles had returned to the city after the fighting, carrying six dead fighters and some 10 wounded.

A local aid worker in Kidal told Reuters by telephone that the town was deserted and MNLA fighters who had been patrolling the streets had disappeared after news that Anefis had fallen.

"We no longer see the MNLA people. Shops, businesses, the market, everything is closed today. We are all staying at home," he said, requesting anonymity.

The MNLA has rejected Bamako's calls for it to lay down its weapons and said it will resist any attempt to retake Kidal. It has said it is open to negotiations if northern Mali's right to self-determination is recognised.

French Foreign Minister Laurent Fabius said on Wednesday his government still hoped the two sides could reach a peaceful agreement on holding the elections in Kidal, through negotiations that he said were meant to conclude by June 10.

"If, sadly, for one reason or another, these elections did not take place, it is a fact that Kidal is in Mali and the Malian army has the right to take control militarily," Fabius told the news channel France 24.

"It is better to do it through discussion," he said.

The talks, in neighbouring Burkina Faso, have still not begun. The MNLA said they had been due to start on Friday.

Fabius said he was not aware that a decision had been taken by the Malian government to retake Kidal and that French troops were not involved in the fighting.

The MNLA was not targeted by the French offensive in Mali, and France's decision not to intervene to prevent the rebels reoccupying Kidal has strained relations between Paris and the transitional government in the capital, Bamako.

The MNLA rose up early last year, calling for the creation of a Tuareg homeland in northern Mali. It joined forces with al Qaeda-associated fighters and together they overran the north, but the better armed Islamists quickly took control of the rebellion.

 
Malian army fights Tuareg rebels, unofficial truce over