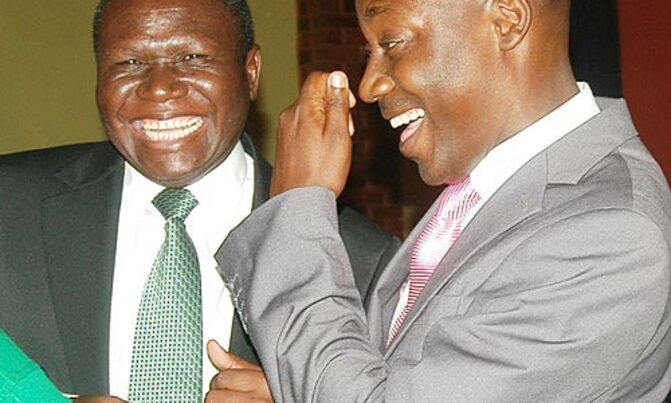 Social Democratic Party (SDP) president, Michael Mabikke, has returned to Democratic Party (DP).
BY MOSES MULONDO   

Social Democratic Party (SDP) president, Michael Mabikke, has returned to Democratic Party (DP).

Mabikke's return to DP coincides with the party's crusade to revive its lost glory characterized with bickering.

Mabikke, who was given a hoe and a DP t-shirt amidst excitement, is one of the founding leaders of DP's youth wing, Uganda Young Democrats (UYD) in the early 1990s.

"These gifts imply I am a son of DP. Museveni is now at his weakest point. Unfortunately the leaders of DP who should take over are scattered. Some are with Mabikke, others are in Ssuubi, others with Mao and some with Lubega. Let all DP's scattered forces come together and then aim for state power," Mabikke said to a thunderous applause from the DP members.

While giving a presentation on the mission of this campaign codenamed: 'Democratic Party Revival Crusade (DRC)', DP legal advisor, Mukasa Mbidde, who was hailed for initiating the idea, said the campaign is aimed at recruiting more people into DP and encouraging influential Ugandans to stand for elective positions in 2016.

"Even if an opposition presidential candidate had won in 2011, it would not have been possible for him to lead when NRM has the majority MPs in parliament. At the end of this campaign, we want DP to win at all levels including the presidential race, parliamentary elections and local government elections," Mbidde explained.

Mbidede, who is also Uganda's Member of Parliament in the East African Legislative Assembly, said it would be unwise for DP to enter an opposition alliance before reviving its strength.

"Contrary to what other people say, DP is interested in the coalition but we want to go into an alliance when we have our list of candidates at all levels. That is what will enable us to lead the coalition," Mbidde argued.

But conspicuously absent in this reconciliatory meeting was a DP faction of Paul Kenneth Kakande,  Luwero woman MP Brenda Nabukenya as well the Lord Mayor Erias Lukwago, Butambala MP Muwanga Kivumbi, Busiro East MP Medard Lubega Ssegona, Mukono municipality Betty Nambooze, and Masaka municipality MP Mathias Mpuuga.

The hundreds of DP members who turned up from across the country were greatly excited by Mabikke's return as well the participation of Sisimuka (wake-up)Uganda leader Frank Gashumba and CBS presenter Kato Lubwama who advised the party on the necessary undertakings for taking the party into power.


Gashumba, who has gained fame for his extraordinary ideas on FM radio stations, advised the party leaders, whom he blamed for most of the problems of DP, to be serious about reconciliation and ensure that all other remaining influential party stalwarts like Erias Lukwago, Betty Nambooze, Moses Kasibante and Mathias Mpuuga are  back into the mainstream activities of the party.

Another surprise at the launch convened at Nsambya Sharing Hall was the return of DP faction leader Francis Bwebgye who said the time has come for all DP members in various factions to be united and work to take state power.  

The party members were equally excited to see longtime party elders like Robert Kitaliko and Wasswa Lule who promised to guide the DP leaders on the strategies they used in 1980s to raise funds and popularize the party.

Emphasizing the essence of resources in capturing state power, Bwengye advised the party leaders to start a fundraising drive and raise at least sh1b before the end of the year.

The party president, Norbert Mao, encouraged party members to embark on selling DP to other people as the only party which stands for the values of truth and justice.