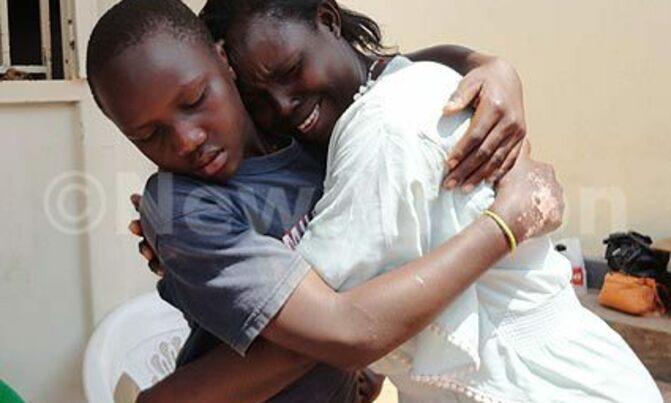 An appearance in the newspaper helps a young mother from Karamoja reunite with her son ten years after separation.

By Gladys Kalibbala

KAMPALA - A story that appeared in Saturday Vision in December last year recently helped a mother reunite with her son she had not seen for ten years.

During a New Vision interview with the emotional mother, it is evident that the separation with her son was a result of domestic violence within her marriage.

Yet for 28-year-old Rebecca Nakiru, it was an experience not new in her family.

She tells of how she was told that she herself had narrowly survived drowning with her brother when they were abandoned by their mother as babies.

The mother from Moroto town in Karamoja would be rejoined with her biological mother much later in her life.

When mother and daughter were reunited, Nakiru vowed never to abandon her children like her mother had done – something that almost cost her her life. Despite this promise, she found herself being abandoned at Kitovu Hospital by the father of her two children for several months while she lay unconscious following a fight.
 

The genesis

When she started out at school, Nakiru got to learn of how she and her elder brother were rescued from a river by a group of village men who had heard their distant cries. Their mother had wrapped the two babies in a polythene bag and had dumped them in the river before reportedly fleeing to neighboring Kenya.

Nakiru, today a mother herself, has never really figured out why her mother abandoned them, leaving them for dead, but she suspects it must have been the work of domestic violence back at home.

Later, growing up in her father's home, Nakiru says she suffered routine mistreatment at the hands of her step-mother. In fact one day she was chased out of the house by her step-mother with her father apparently unbothered.

"My step-mum gave me marching orders out of my father's home when dad just looked on undisturbed," she remembers.

At the time, she was just 10 and a Primary Three (P.3) pupil of Nabilatu-Achegere Primary School.

Determined not to give up on life, young Nakiru sought her friend whose family was kind enough to let her stay with them. While there, the new addition to the family engaged in cutting grass – used for roofing in rural communities (like pictured below) – which she sold to people in the neighbourhood to get money that would enable her continue with school.
 

Her resilience and hard work saw Nakiru complete her Primary Seven (P.7) studies at Moroto Municipal School where she scored an aggregate of 26.

Pursuit of better life

But with the absence of money, she failed to further her studies, and worse still, she had no-one to counsel her on the downside of early sex/marriage. So she found herself eloping with a young lad who was in Senior Six. At the time, Nakiru had just turned 14.

 "When he told me we were to reside in Kampala I could not resist running away with him thinking he would give me a bright future," she narrates.

The two met in March 2000 in Tokola village, Nakapiripirit, before John Bosco Aleper later took her all the way to his single-room that he rented in Kinawattaka, a Kampala suburb.

Nakiru's boyfriend attended school during the day and worked as a night security guard at Pioneer Mall, Kampala.

That very year – 2000 – Nakiru gave birth to a premature baby boy. (That was the son she would eventually be separated from for a whole decade). After her early delivery, she stayed in Mulago Hospital for one month.

When she was finally discharged with her child, Aleper (the baby's father) took her to his father's home back in Karamoja. He lost his job the following year and joined Nakiru in the village.

"Fortunately, he had completed his education and started teaching around our home where he was given food as payment," she recalls.

Things fall apart

Soon, Aleper was called to start training as a cadet and left Nakiru with a second pregnancy when their firstborn was only four months old.

"I was so unlucky that nobody had told me about family planning. The second pregnancy disturbed me so much while the firstborn still needed my whole attention," narrates Nakiru.

Later, Aleper graduated and was posted to Kasijjagirwa Army Barracks in Masaka town.

"He did not come back home for two years – during which I suffered with my two younger children. I resorted to brewing kwete [a local brew] to make ends meet."

Then one day, her husband called her over to Masaka where he told her about her co-wife. During her third pregnancy, Nakiru and Aleper had a serious fight where, she says, he beat her into a coma.

"I got a miscarriage and he abandoned me at Kitovu Hospital for three months."

When she recovered, she decided to go back to Karamoja with her two children. "Shortly my husband followed me and took away my son in 2004. The next time I have been able to meet him was after his story was published by Saturday Vision as a stranded child," sobs Nakiru.

Finally back together. (Photo credit: Gladys Kalibbala)

'My story is very long'

Meanwhile, Aleper is currently in detention at Makindye military barracks in Kampala and has very few words when New Vision visits him along with his long-lost son.

It is not immediately clear why he is being detained, but whatever the reason, he says it is a "long story".

"God is great. My story is very long so just pray for me that time comes and I get my freedom. I am sure God has planned this for me in order to change and turn to him," he breaks down.

What their son says

Like many children found stranded at the police, Nakiru and Aleper's son first told the security personnel lies thinking it was the only way to get him somewhere to stay.

Although he took himself to Old Kampala Police after getting directions from a Good Samaritan, he never wanted them to find out the truth about his life. He claims to have stayed on the streets of Kampala for many years.

"It's difficult for me to tell how long I have been there [on the streets] but what I know is I hit the street at an early age and I am now 14 years."

According to the teenage boy, he was traveling with his parents the day he got lost. He lost touch with them when he wandered off to ease himself, only to return and find they had long gone. He says he hadn't informed them of his intentions before straying off, yet the taxi area was so crowded.

And that marked the beginning of a new life for the youngster. A life on the streets.

His version though makes for conflicting account of events.

The boy claims his father is the late John Bosco Mugerwa, who he says had left Karamoja as a young man and had settled in Kiboga district at a place commonly known as 'Mukigagga' where he later died of cancer when 'Mugerwa Junior' – the boy – was in Primary Three (P.3) at Kiboga Progressive School.

He says he dropped out of school in Primary Six (P.6) where his teacher Patrick Kaguma was also the head teacher of the school.

The teenager reveals that the mother he only knew as Justine had abandoned him at the New Taxi Park in Kampala on their way to Juba in South Sudan.

Working with a Good Samaritan he names as Agnes Abesiga, 'Mugerwa Junior' was put in a school to allow him to continue with studies. Fortunately, the more than three stories about 'Mugerwa Junior' that appeared on Saturday Vision's 'Lost and abandoned' page eventually attracted the attention of his family.

Tears of joy



There was free flow of emotions as son and mother met for the first time in ten years. (Photo credit: Gladys Kalibbala)

The woman who claims to be his mother – Nakiru – contacted Old Kampala Police after reading the stories and Saturday Vision arranged for her to meet the son.

It is an emotional reunion at the police station. The in-charge of the child and family unit protection at the police station, Rebecca Araba, then makes arrangements for the boy and mother to visit his father at Makindye military barracks.

No cameras are allowed in the barracks for the meet. Captain John Bosco Aleper breaks down in tears when he catches sight of his family after so many years. It emerges that one of Mugerwa Junior's step-mothers had told him that his father had long died.

 "Oh dad, I never thought I would ever see you again as I was told that you were dead. Again no-one had told me that my biological mother was still alive," sobs 'Mugerwa Junior' as he falls in his father's arms.

It is later established that Mugerwa Junior's real name from Karamoja is Adams Mananga and that his step-mum had changed it.

Nakiru does not want to part with her son after finding him but since she cannot afford to send him to school, she has to go back to Karamoja and leave him behind to study.

"I was however very happy to learn that we still have people of good hearts in the country who have given care to my son," she says, and hails Vision Group for highlighting such situations on its various platforms.
 

Brother and sister finally meet. (Photo credit: Gladys Kalibbala)

Mugerwa (middle) being received at school by others who donated to him clothing. (Photo credit: Gladys Kalibbala)
A young family reunited 10 years later