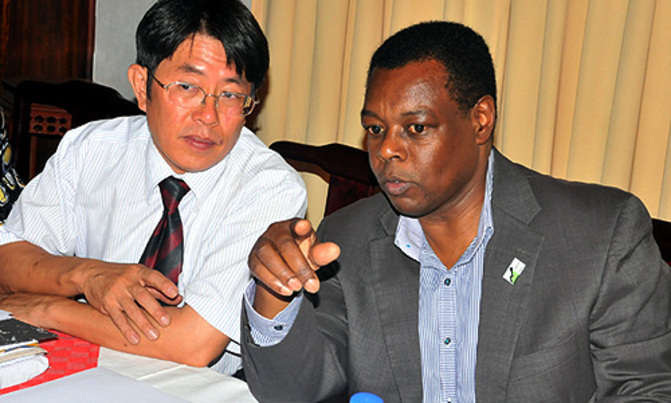 UNBS will stick to the June 1 deadline of when it starts to demand for Certificates of Conformity from exporters.
By Eddie Ssejjoba                                    

The Uganda National Bureau of Standards (UNBS) will stick to the June 1 deadline of when it starts to demand for Certificates of Conformity from exporters to Uganda under the Pre-Export Verification of Conformity program (PVoC).

The UNBS executive director, Dr. Ben Manyindo ruled out any more extensions, adding that the deadline for implementing the exercise had been extended already from December to June 1.

A penalty of 15% would be imposed to goods without a Certificate of Conformity (COC) that would undergo destination assessment.

Dr. Manyindo was addressing the Chinese business community in Uganda that underwent a sensitization exercise about the PVoC exercise at Shangai Restaurant in Kampala.

Through their chairman, Jeff J. Lin, the Chinese traders sought clarification on a number of issues to avoid being caught unaware. 

Clarifying on the recent utterances by members of the Kampala City Traders Association demanding for another extension of the deadline, Dr. Manyindo said traders risk high costs if their goods are assessed at the border entry.

He said if they fail to meet the Uganda Standards, they would be issued with a Non-Conformity Test, which would need them to either destroy or re-export the goods, plus meeting other charges as a result of delays as they wait for laboratory tests.

"Once the goods that arrive without a COC are rejected after failure to meet our standards, we issue you with a Non-Conformity Report , seize the cargo and order you to re-export them at your own cost," he explained.

According to Mathias Kaleebi, an inspector at UNBS, the bureau had reduced the number of goods that must produce a COC from the start from eleven to six. They include toys, electrical and electronic products including solar equipment, mosquito nets, cosmetics, food products and used motor vehicles.

The number would be reviewed every three months, but goods that will have been in transit or dispatched from the original destination will not be affected.

The bureau however lists a number of goods that are exempted from this exercise.
They include goods that do not exceed USD2,000, project specific goods, diplomatic cargo, raw materials unless for sale, personal effects, goods that ear the Uganda Standards mark, goods that are not covered by compulsory standards and prohibited goods according to the East African customs management Act 2006 and the East Africa Assurance and Testing Act 2006.

Goods that originate from the East African community, including Kenya, Tanzania, Rwanda and Burundi will not be required to have a COC.

Groupage cargo, where small importers use one container to ship a variety of goods will also not be required to produce a COC, according to Kaleebi, until a system of assessing them has been put in place.
UNBS sticks to exporters' conformity deadline