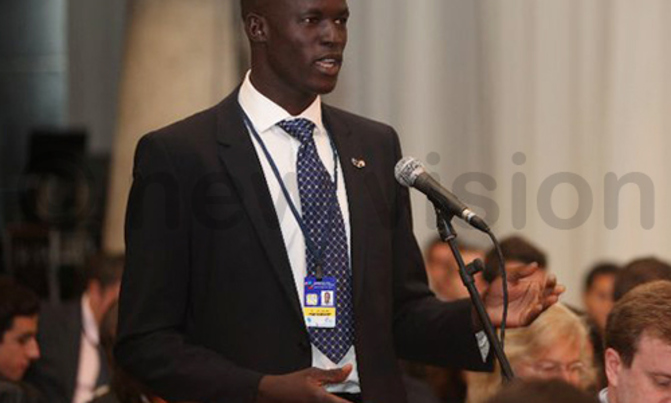 Victor Ochen, a Ugandan lawyer has been nominated for the 2015 Nobel Peace Prize Award.

By Richard Wetaya

Victor Ochen, a Ugandan lawyer, has been nominated for the 2015 Nobel Peace Prize Award.

The 33-year-old was on Tuesday nominated by the American Friends Service Committee.  

The American Friends Service Committee (AFSC) is a Quaker organization that promotes lasting peace with justice, as a practical expression of faith in action. AFSC was a co-recipient of the 1947 Nobel Peace Prize with the Friends Service Council (Britain). 

Ochen, founder of the African Youth Initiative Network in Lira, is credited with effecting and engaging people in the transactional Justice process, promoting youth leadership and promoting human rights in Northern Uganda. 

This is this the first time a Ugandan is being nominated for the award which in the past has been won by eminent personalities such as former United Nations Secretary General, Kofi Annan, Liberian President Ellen Johnson Sirleaf and United States President, Barrack Obama, amongst others.

The Nobel Prize is a set of annual international awards bestowed in a number of categories by Swedish and Norwegian committees in recognition of cultural and/or scientific advances.

The will of the Swedish inventor Alfred Nobel established the prizes in 1895. The prizes in Physics, Chemistry, Physiology, Literature, and Peace were first awarded in 1901.

Ochen's nomination comes on the heels of recent commendation from UNESCO. His African Youth Initiative Network was recognized by UNESCO as a model African Youth Initiative for promoting the culture of Peace in Africa. 
 
 
Ochen meets UN Secretary General Ban Ki-Moon at a recent conference in Europe
Ochen founded the African Youth Initiative Network in 2005 to restore the functionality of children afflicted by the war in the north and to help mobilize the youth and communities to participate in promoting peace and justice. 

Just one network program run by the organisation in the Acholi sub region provided 1,500 medical treatments and counseling sessions to 574 victims from 2011-2012. 

"I hope this recognition will now draw the attention to the victims and survivors of wars not only in Africa, but worldwide. Wherever I am abroad, all people know about Uganda is Idi Amin and LRA commander Joseph Kony," Ochen told New Vision.

The American Friends Service Committee said: "Victor Ochen shown commitment and effectiveness in his efforts to address the needs of victims. He has worked for transitional justice, while simultaneously promoting human rights through nonviolent means, nourishing the leadership skills of other young people, and challenging systemic issues that lead to the continued vulnerability and suffering of war victims." 

Ochen has been working directly with victims of brutalities suffered during the time of the war, offering psychosocial rehabilitation to those who bore the harshest brunt of the atrocities, including his own family. 

Ochen's oldest brother and cousin were abducted by LRA and have not been found. Ochen fled the conflict. He sold charcoal to support his family and his own education.  

Whilst his friends were stuck between a rock and a hard place trying to figure out whether to join the Army or the rebels, Ochen chose the pacifist way, preferring not to pick up a gun.  

The American Friends Service Committee wrote that Victor Ochen and his African Youth Initiative Network offer a unique and powerful example to be emulated by marginalized people all over the world. 
Ugandan nominated for 2015 Noble Peace Prize