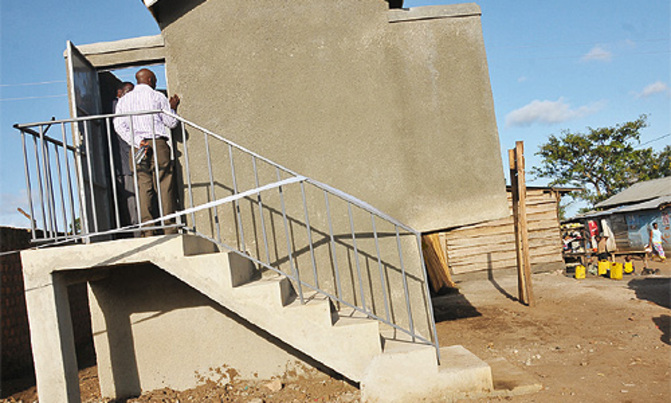 We bring you the story of how 1,200 Gerenge residents used to share one pit-latrine, until Gen. Salim Saleh intervened.
trueWorld Environment Day, June 5, is about a week away. Vision Group media platforms in a campaign, Save Lake Victoria, continue to run articles and programmes highlighting the irresponsible human behaviour threatening the world's largest fresh water lake. Today we bring you the story of how 1,200 Gerenge residents used to share one pit-latrine until Gen. Salim Saleh came to their rescue.

By Francis Kagolo
The pit-latrine was full. And on this particular day, Vincent Kiwanuka could not hold it so he decided to ease himself in the bush. But as he was squatting, he saw a giant figure approaching. It was Gen. Caleb Akandwanaho, aka Salim Saleh, the senior presidential adviser on defence. "I was terrified," he narrates.
"Although he (Saleh) lives in our neighbourhood, I did not expect him to pass by. I started shivering, torn between staying put or taking off."

He decided to face Saleh, whom he begged to work for a solution to their sanitation problems. "A proposal had been passed to evict us from the landing site for littering the whole place with faeces," Kiwanuka recalls.
"When I saw you (Saleh), I could not ask for money or anything else other than a pit-latrine for the community." And, given his kind heart, Saleh complied.

Kiwanuka gave his testimony on Saturday as Saleh handed over the keys to a new pit-latrine to Gerenge residents, a landing site in Wakiso district near his (Saleh's) Garuga home. Moreover, going to the bush was not Kiwanuka's fault. The filled- up pit-latrine was the only one serving close to 1,200 residents of Gerenge.

Like most landing sites on Lake Victoria, open defecation is not a shame at Gerenge. Even as a group of journalists toured the village last weekend, a woman, in her early 30s, simply waived her skirt to ease herself in an open area in broad day- light.

Although it was shameful, the Beach Management Unit (BMU) officials were not shocked! "Do not waste your time taking photos because women easing themselves in the open does not make news here," the BMU information officer Ivan Rugumayo told journalists, who wanted to take the woman's picture.

Ironically, the same site that is littered with waste is where the fishermen rest during the day as they prepare to go fishing at night.

Poor sanitation is a syndrome on Lake Victoria landing sites, due to beliefs among many fishermen and the topography at the shoreline which does not allow the digging of pit-latrines.

The toilet coverage in Buvuma and Kalangala, where most landing sites are located, is estimated at 21% and 41% respectively, compared to the national average of 70%, according to the Ministry of Water and Environment annual performance report (2012). This means that more than half the population does not have access to toilets.

Wakiso district fisheries officer Michael Lubuulwa, also attributes the problem to the land tenure system.

Apparently most of the land around Lake Victoria is owned by individuals who, according to Lubuulwa, stop fishermen from erecting permanent structures including pit-latrines.

However, equally important is the superstition among fishermen, which discourages use of toilets.
According to Bosco Wembugaye, the fisheries officer at Gerenge, many fishermen believe that going to the toilet would bring a curse that could deter a good catch.

Yet the practice has caused dire effects to the lake so much that even the fishermen have started feeling the pinch.

Gen. Saleh introduces Kiwanuka, who asked him to construct a pit latrine for the community at Gerenge landing site recently
According to the BMU chairman, continuous release of raw sewage into the lake at the lakeshores has affected the quality of water at Gerenge so much that one has to go over 300 metres into the lake to get water for domestic use.
The landing site lacks piped water, which makes people vulnerable to waterborne diseases like cholera and diarrhoea.

"Many fishermen pretend they are going to bath at the shoreline, but when they reach there, they defecate or throw polythene bags with human waste into the water and go back," Ssenyonga reveals.
"The lake is our only water source yet it is polluted and there is no one to help us treat the water. No wonder we often fall sick."

However, according to Ssenyonga, the challenge is the sandy soils with low-lying rocks at the shorelines. This had made the construction of pit-latrines difficult. Even the one that was constructed by Katabi sub-country in 2011 collapsed after a few months due to the soft soils.
"We had remained with one pit-latrine where people paid sh100 per visit. It filled up and the fee was increased to sh200. So even those who never used to go to the bushes learnt the practice," says the chairman.

Gen. Saleh comes to rescue

Gen. Saleh says he was touched when he toured the filled up pit-latrine early this year. He then raised the problem with the Chief and Blue Nile distilleries, manufacturers of various local gin brands, to fund the construction of a new pit-latrine in the area under their corporate social responsibility.

According to Saleh, the 17-feet raised pit-latrine underwent special architectural designs to guarantee its durability in the sandy soils.

Catherine Nakamya, the architect, who designed the pit-latrine explains that a strong concrete foundation was built at the rock just about 10 feet below the surface. This was meant to ensure that the pit-latrine does not carve in after construction.

Handing over the keys to Kiwanuka and local leaders, Saleh explained that the design was suitable for areas with soft soils and asked authorities to emulate it for other landing sites and areas with poor sanitation facilities like slums.

In order to improve the living standards of fishermen, Saleh also pledged to negotiate for the extension of three-phase power lines to the landing site to a proposed factory to process mukene. At least 2,000kgs (20 bags) of mukene worth about sh3m is landed at Gerenge every day in a good season.
Saleh also promised to establish a nursery school and kindergarten at the landing site where children can go while their mothers go about their Mukene business.

He, however, advised fishermen to diversify into other income-earning activities instead of depending solely on the lake. He said this would curb over fishing, but also boost their incomes and living standards.
He cited the Pearl Marines City to be constructed at Garuga where Gerenge fishermen would get jobs if they undertook basic vocational training before the project kicks off.
The latrine that saved a fishing community