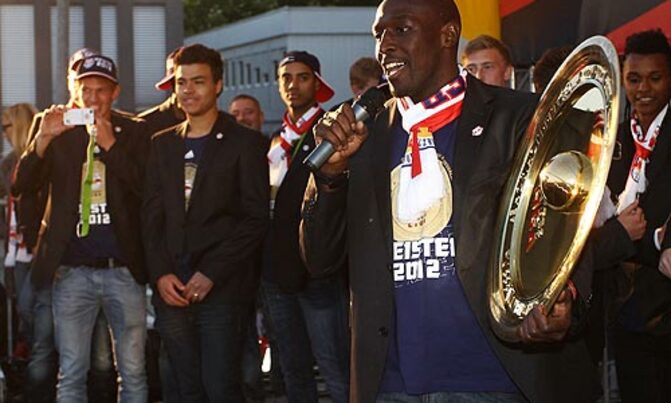 When Ibrahim Sekagya chose to call time on his impressive 20-year playing career, the decision must have taken many by surprise.
By Fred Kaweesi

When Ibrahim Sekagya chose to call time on his impressive 20-year playing career, the decision must have taken many by surprise.

Those that followed the flamboyant defender's career at club and country can hardly imagine enjoying the sport without one of Uganda's few football icons.

In this exclusive interview wiith New Vision, former Cranes captain Sekagya takes us through his football journey, highlighting his best, low and memorable moments in a career filled with immeasurable success.

Ibrahim Sekagya (L) of Salzburg and Yaya Toure of Manchester City fight for the ball during their Europa League Group A soccer match in Salzburg September 16, 2010.
Ibra, it has been an extraordinary journey for you, but one that unfortunately has got to end. It must have been a tough decision for you to make?

Indeed it was. It's tough stepping out of a sport you love so much and after being part of it for all this time. I will miss the routine of preparing for games as a player and the experience of being out there on the pitch.

How would you summarise your playing career?

It has been fantastic. I have achieved a lot in football. I have won trophies, made friends across the world, built houses for my parents and family generally. I should say football has transformed me into the person I am today. And of course, I wouldn't achieve all this without my dear wife.

Briefly, take us through the journey of your playing career?

I developed interest in the game during my kindergarten days at Bwaise and Hamdat. The interest grew when I joined Kawempe Muslim Primary school and later Mbogo primary.

Captains Ibra Sekagya and Kanu Nwankwo exchange pennants before kick off on 2/6/2007
But the serious business started when I left Kawempe SS and joined Nagalaama Islamic. It's around that time that I moved to Equatorial FC, and then State House FC. During my first season at State House, I was invited to the Cranes team that played at the CECAFA Challenge Cup in Sudan. I earned my first cap in the game against Ethiopia.

When I returned from Sudan, SC Villa and Express wanted to sign me but I chose KCC FC because of their style of play.

What will you generally miss about football?

I will definitely miss the fans and the joy that came with making them happy after every good result.

I will miss those special moments that came with every victory.

You talk of special moments, could you share some of those that really stood out for you?

I have quite a number of them. When I was playing in Argentina, I scored a very special goal against River Plate. I felt emotional and I still have fond memories of that game.

Red Bull Salzburg's Ibrahim Sekagya (R) and Omonia Nikosia's Michalis Konstantinou fight for the ball during their Champions League third round, second leg qualification soccer match in Salzburg August 4, 2010.
But I also had others. Every game I played in the Europa League with Red Bull Salzburg was special especially those when we beat top sides like Juventus and Villarreal.

I can't forget the memories I shared with Thierry Henry at New York Red Bulls. We shared a lot and have a special understanding up to now.

My first break with Ferro Carril Oeste in Argentina was something special too because I helped them into promotion to the top tier. My time with them opened my eyes and prepared me for the professional journey I made.

How about your lowest moments?

They are actually two. I still feel unhappy that I narrowly missed out on playing in the group stages of the UEFA Champions League and the Africa Nations Cup with the Cranes.

Uganda's Cranes Ibrahim Ssekagya (C) dribbles  past Kenya's Dennis Omino and Osborne Monday during their African cup qualifier match at the Mandela stadium in Uganda's capital Kampala, October 8, 2011.
I remember Schalke 04 denied us by a goal we conceded very late in one of the decisive games and of course the goalless draw against Kenya. It still hurts.

But there were moments that I experienced back at home that also bothered me too.

I recall a game we lost against (was it SC Villa (not sure) at Namboole Stadium and the fans were very unforgiving. We were attacked in the dressing room and insulted throughout.

Then there was the 1-1 draw against Senegal in 2001 when fans insulted me from the Kirussia end of the stadium. I was ridiculed and labelled a mobile phone dealer because of how we played against Senegal. It was a learning experience but a painful one too. I learnt that fans can like you or turn against you.
 true
Former French International defender Marcel Desailly (left) meets Cranes captain Ibrahim Sekagya at Sky Hotel-Naalya
Still talking about lowly moments, is it true that you almost fought with former SC Villa striker Andrew Mukasa during the 1999 All Africa Games in South Africa?

We were both young boys and my reaction towards him was simply because we desperately wanted to win that game and yet he kept missing very easy chances. I was simply annoyed and found myself confronting him.

But he was such a great striker. He was something special.

The two of you were just part of that hugely talented generation of 1999 (U-23 Kobs team). Where did it go wrong for most of your teammates?

If that team had been managed well and kept together, many of them would have turned professional.

A young Ibrahim Sekagya
I was simply honoured to have had such talented players around me. The late Wilson Gayi, Jamil Kyambadde, Arthur Byansiima and Andy Lule were pillars and could have led the way to professional football.

You have played against some of the world's celebrated strikers during club and national duty. Who would you say gave you a good contest?

Sergio Aguero and Carlos Tevez were quite challenging. They are extremely fast and intelligent at the same time. They are the kind of players where you really have to be alert throughout the game. The duels I had with them in the Europa League games were interesting but I really enjoyed them.

Alessandro Del Piero was equally challenging in the games we had against Juventus just as Maura Zarate (while at Lazio).

But while you defended against the likes of Aguero, you still managed to score goals on your own, actually 22 in your career. Any that stood out for you?

Although defending was my prime duty, I always loved going forward and being part of the goals.

RB Salzburg's soccer players Eddie Gustafsson (L) and Ibrahim Sekagya wait for their teammates next to the trophy after winning the Austrian soccer Cup final match against SV Ried in Vienna May 20, 2012.
The goal I scored against River Plate when I was playing for Arsenal de Sarandi in Argentina still stands out.

But the penalty against Nigeria (that helped Cranes beat Nigeria 2-1) and the goal against PSG in the UEFA Champions League were something special too.

Throughout your playing career, you played and shared dressing rooms with top stars. At New York Red Bull, what was the experience like sharing a dressing room with Arsenal legend Thierry Henry?

Like I said before, it was an awesome experience. I was privileged to have played and achieved a lot with him. He was not just a teammate, but a close friend and an adviser. He helped me settle in at the club and I will not forget those times he invited me and family for the get together parties and the several jokes we shared. He nicknamed me Makelele (Claudio, the former France midfielder) and I got used to that. We shared a lot.
 
Throughout your playing career, you were fortunate to have played in some of the finest stadiums in world football. Do you recall some that impressed you?

I loved the Etihad Stadium (Manchester City) and the Stadio delle Alpi (Juventus).

Ibrahim Ssekajja (l) and South Africa's star Quinton Fortune during a World Cup qualifier at Namboole Stadium in 10/10/2004


You have worked under several coaches both at club and with the national team. Who would you say had a strong influence on your career?

Aboubakari Mukodo (Equatorial) and Stephen Gayige (State House) were very crucial figures in my career.

Of course, I later worked with respectable coaches like Mike Mutebi, the late Paul Hasule, Giovanni Trappatoni and Huub Stevens, but Aboubakari and Gayige were very influential.

Could they have influenced your decision of getting into coaching as well?

When I started playing, my ambition was to become a coach at the end of it all. I want to keep into the game and help where necessary. I am glad that the Red Bull family is determined to help me fulfil that dream. I will be enrolling for coaching courses and working as a backroom staff member of the first but mainly Team B.

I want to return home one day, and develop the game there. I have several projects coming up.

Thanks for your time Ibra.

Thanks too for all the support over the years.
Exclusive interview with Ibrahim Sekagya