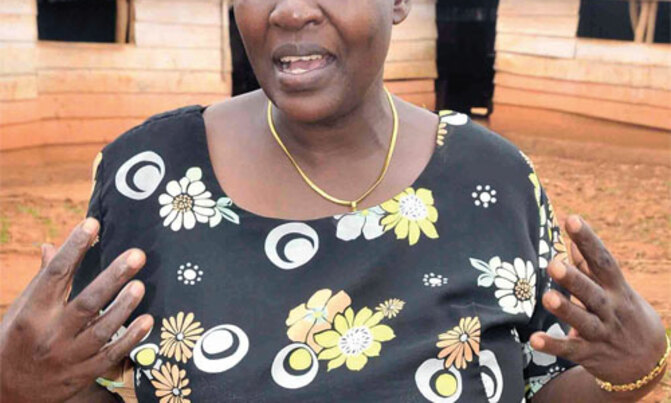 It is rare to find primary school teachers who follow their pupils' academic performance until they join university and other institutions of higher learning.
By John Semakula and Henry Nsubuga
It is rare to find primary school teachers who follow their pupils' academic performance until they join university and other institutions of higher learning.

Betty Nandyose, 56, makes sure that she knows the institution her former pupils are in and the courses they are doing.

The pupils who went through Nandyose's Basiima Nursery and Primary School in Mukono Central Division return to her every year, after sitting A 'level for career guidance.

"I feel delighted when I am introduced to the public as the former teacher of a graduating doctor, lawyer or teacher. That is why I give my former pupils career guidance and I follow them until they graduate," she says.

Education counsel

When we arrived at Nandyose's home in Kikooza, Mukono on Sunday at 8:00am, her sitting room was already filled with parents who had gone to her for advice.

Nandyose says during holidays, the number of parents who visit her home every day in regard to their children's academics is big.

One of the parents we met had gone to ask for a teaching practice vacancy for his son who is at Kaliro Teachers Training College in one of the neighbouring schools.

Nandyose willingly helped the parent and suggested a number of schools that he would go to.

Nandyose says by giving her former pupils career guidance and other forms of assistance, she is trying to ensure they find good jobs when they graduate.

Some of the parents we met at Nandyose's home were full of praises for her.

Patrick Kityo says Nandyose is a rare head teacher in the present day Uganda.

"She loves her job and has a good working relationship with teachers, parents and pupils. That is why we have a low school dropout rate in the area," Kityo says.

"Nandyose also treasures good performance and allows parents to attend classes in a week, so that they can see what their children study," Kityo adds.

Milly Ddamba, another parent describes Nandyose as a godsend in their community.

"She has uplifted education in our area. She will give you a call to find out how your child who went through her school is performing in secondary school. She is a good parent who bonds well with our children," Damba says.

Richard Tebandeke, a father of several children in Nandyose's school, says she is approachable and result-oriented.

"Last year, there were no failures in the school. Pupils walk long distances to the school and still excel because of her effort. Nandyose will allow pupils to sit their exams before a parent has completed paying fees," Tebandeke says.

At Basiima Nursery and Primary School, there is no room for teachers who threaten pupils and make them hate the school.

"I recruit motherly and fatherly teachers. When you come to me for a job, I assess your qualification and personality," Nandyose says.

It is not surprising, therefore, that the former pupils of the school, who are in higher institutions of learning return to the school during holidays to revise their books.

How she started

Nandyose's success in the education service has not come on a silver plate. She started her career in education in 1975 when she enrolled as a licensed teacher.

"Most of my brothers were teachers and when I completed S4, they took me to the district and registered me as a licensed teacher. That was the beginning of my long journey as a teacher," she said.

Between 1975 and 1995, Nandyose taught in several Government schools, including Kyetume Primary School, St. Joseph Nabingo, Mukono Bishop West and Mukono Town Muslim.

To retain her job in the changing education service, in the mid-1990s, Nandyose joined Kyambogo University for a certificate in nursery teaching. She graduated in 1995.

With the growing need to consolidate her achievements in the sector, in the late 1990s, Nandyose went back to Jinja Primary Teachers College and in 2000 and graduated with a Grade III teaching certificate.

Before, Nandyose had bought land at Kikooza in 1994, where she started a primary school in a makeshift structure with 24 pupils. Today, she has over 600 pupils.

"The parents have entrusted me with their children because of the bond I have built with them. I was already known to many parents having taught in a number of schools in the district," Nandyose said.

Nandyose with some of her pupils

Education issues in Mukono

Richard Tebandeke, Ngandu resident(right )

The Government should promote the 'Skilling Uganda' programme. This should be done at an early stage of learning to enable students discover and nurture their talents. We spend a lot of money paying school fees for our children who reach university without useful skills.
Milly Damba, Kitega-Kitega Village(left)

The Government needs to sensitise parents and teachers on how to develop their children's talents right from infancy. The only thing a graduate in Uganda can do today is workin an office, which is a shame.

Eng. Patrick Kityo, Kikooza village

The Government should identify stakeholders in the education sector who have volunteered in practical education and give them a hand. During our time, we had primary and secondary schools which had sections for practical education like carpentry.
Nandyose follows up her students up to university