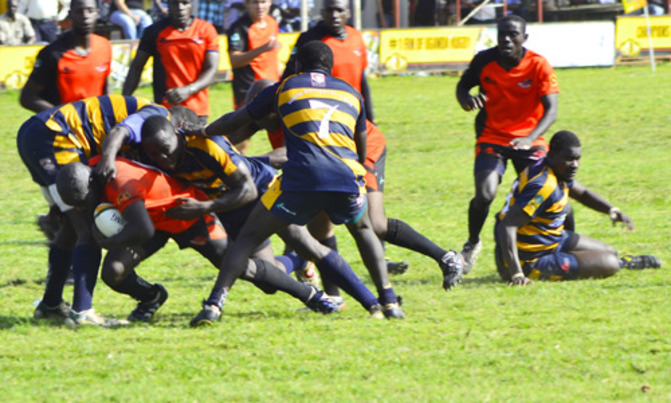 DESPITE not qualifying for the semi-final, Uganda franchise Victoria lived to expectations as they mauled Kenya side Kiboko 37-16
By Johnson Were
Results
Rwenzori 10 Ndovu 33
Victoria 37 Kiboko 16
Mamba 12 Kengewa 145
Papa 10 Nyumbu 28
Semi-final draw
Rwenzori v Nyumbu
Papa v Ndovu
DESPITE not qualifying for the semi-finals, Ugandan franchise Victoria lived up to expectations as they mauled Kenyan side Kiboko 37-16 in the final group game of the Bamburi Rugby Super Series at Kyadondo Rugby Club on Saturday.
Scrum half Kevin Makmot gave Victoria an early 5-0 lead through a try before Philip Pariyo stretched the lead to 10-0 courtesy of a conversion and penalty.
Determined not to lose on home turf, Andrew Olwenyi and Bishop Onen added a try each while Pariyo added two conversions to stretch the lead to 24-6 by half time.
In the second half Denis Mugambe and Pariyo added a try and conversion plus two penalties to give the hosts a 37-6 lead.
Buoyed by a huge Kenyan crowd cheering them on, Kiboko mounted pressure and scored three tries and a conversion to cut the lead to 37-26.
Rwenzori falls
In the second game Ugandan fans left disappointed as their most potent side Rwenzori lost 33-10 to Kenyan side Ndovu.
The loss put Rwenzori in second place and they will now take on Nyumbu, the strongest side in the tournament which thrashed Victoria 70-15 in the opening fixtures of the tournament.
Ndovu led by man of the match Sammy Wairu celebrate their victory. Photo by Johnson Were
Sensational young star Joseph Aredo scored the Rwenzori's only try while Chris Lubanga managed a penalty and conversion.
Lawrence Buyach, Edwin Makori and Samy Wairu scored a try each while Martin Muita managed a try, 3 penalties and 2 conversions as Ndovu secured top spot in Pool B with 12 points to book a semi-final against UAP Papa.
Coach Fred Mudoola attributed the defeat to lack of concentration.
"The boys I have can play any one in rugby but I think they lacked concentration and that is all we want if we are to win the semi-final against Nyumbu on home soil," Mudoola stated.
Rwenzori dates Nyumbu in Semi