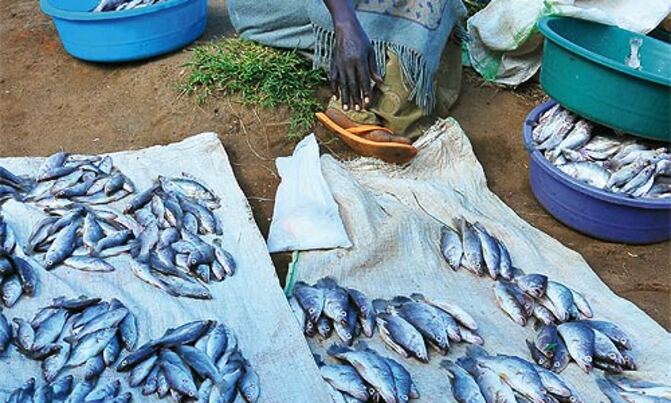 At Busiro market, a heap of 10 to 15 fish goes for as little as sh1,000. But how much are those involved missing out?
Until World Environment Day, June 5, Vision Group media platforms in a campaign dubbed, Save Lake Victoria, is running investigative articles, programmes and commentaries highlighting the irresponsible human activities threatening the world's second largest fresh water lake. Today we bring you the story of Busiro, where immature fish is openly sold.

By Matthias Mugisha

The morning breeze gently blows from Lake Victoria giving a cooling effect to the rising morning temperatures over Busiro market.

It is not only the breeze that is losing its cooling effect among the hundreds of people setting up stalls in the weekly market on the lake shores in Namayingo district. Both the fish and fishermen lost the fight for survival long ago.
It is only the corrupt officials that have delayed announcing their official death because of the cash that still trickles into their pockets.

With the kind of fish sold in the market, there is no chance for young fish surviving beyond a month after they are born. The fingerlings sold in the market are probably a week old. This is done in the presence of the officers employed to fight illegal fishing.

The fingerlings are swept out of the lake using illegal nets and in various cases mosquito nets are used. The fingerlings are sold in basins. A full basin of immature Nile perch costs sh28,000. The dealers then retail the fish of between 10 to 15 fingerlings at sh1000.

"Mature fish is scarce these days," says Josephine Nabwire, 50, as she entices prospective buyers by waving a dozen of young fish in her palm.

"I sell what the suppliers bring and nobody complains about it. Though I do not get enough, I still make a living,'' adds Nabwire, who has been a fish monger in Busiro for 10 years.

Nabwire, however, admits that her daily profit has dropped to as low as sh5,000 from around sh30,000 over the past years.

Officials of Busiro Beach Management Unit look on helplessly as the lake is raped to death. They admit they are powerless do to anything about it. They keep a blind eye to preserve their lives.

"We tried to fight this impunity but we were threatened with death," narrates Wafula Kalinyola, 46, the secretary for Busiro Beach Management Unit.

"We would confiscate illegal nets, take them to the district, but the same nets would be brought back into the lake the same day," Wafula says. He adds that a chairman was killed and his body thrown into the lake as he tried to fight the use of small nets. The suspected killers were arrested but later released under unclear circumstances.

Illegal nets are much cheaper. They cost just sh20,000 while the recommended size goes for as high as sh80,000. Secondly, there are so many impersonators on the lake pretending to fight illegal fishing they are only extorting money from fishermen and supporting the vice.

A smiling boy and a man sandwich a pile of smoked immature Nile perch. If the Nile perch is left to mature, it could fetch a lot more money. PHOTO/Matthias Mugisha
Eating the golden fish

Nabwire constantly receives her supplies of fingerlings and sells them at sh15,000 per 150 young Nile perch.

She is unaware that she is contributing to the death of a multi-million dollar industry. A mature Nile perch can weigh up to 250kg with an average length of 121-137cm (48-54 in) although many are caught before they grow to this size.

With a kilogramme of Nile perch going for sh7,000 at landing sites, a single mature Nile perch would fetch as much as sh1.75m. If Nabwire's fish were allowed to grow to that size, she would get sh250m instead of sh15, 000.
The most expensive part of mature Nile perch is its swim bladder locally known as emondo or enuni.

A kilogramme of the swim bladder from a mature Nile perch costs an average of sh400,000 on landing sites from middle men. The price is much more.
This means that Nabwire would, in addition to sh250m earn an extra sh600m. If the fingerlings were given a chance to grow, Nabwire would get a combined income of sh850m, instead of sh15,000.
Even if all fish was sold mature to the factories, fishermen and fishmongers would still continue minting money from swim bladders.

In some Asian cultures, the swim bladders of a certain fish species are considered a food delicacy. In China they are known as fish maw, and are served in soups or stews. Swim bladders are also used in the food industry as a source of collagen. They can be used to make water-resistant glue or glass.

According to fishermen only the Nile perch and Semutundu fish in Uganda have swim bladders.

Swim bladders from Nile perch are of a better quality and cost more. The Nile perch was introduced into Lake Victoria from Lake Albert in the 1950s and 1960s for sport fishing. The Nile perch (Latesniloticus) is a species of freshwater fish in the Latidae family of the order Perciformes.

Information from National Fisheries Resources Research Institute (NaFFIRI) shows that the Nile perch has declined from an average of 1.2 million tonnes in 1999 - 2007, to about 0.8 million today while mukene has increased from about 0.4 million to 1 million tonnes over the same period.
The increase in the smaller fish species is attributed to the decrease on the Nile perch which preys on them. Nile perch is the top predator. Currently, mukene accounts for about 70% of Lake Victoria biomass.

"In the lake, there are Beach Management Units, Water Marines, Fisheries, Uganda Revenue Authority and the so-called State House officials. All are eating. As Beach Management Units, we are not facilitated.
We have no engines, no boats and no security. We cannot arrest fishermen who are protected by big powers,'' Wafula laments.

There are about three markets per week along Namayingo shoreline. On a market day, a police boat carrying government officials and guarded by an armed police officer patrol the lake.
Culprits are arrested and taken to the police. Once taken "hostage" the boat owner parts with money before he is released with his immature fish and illegal nets not confiscated.
Fish potentially worth sh1.7m sold at sh1,000