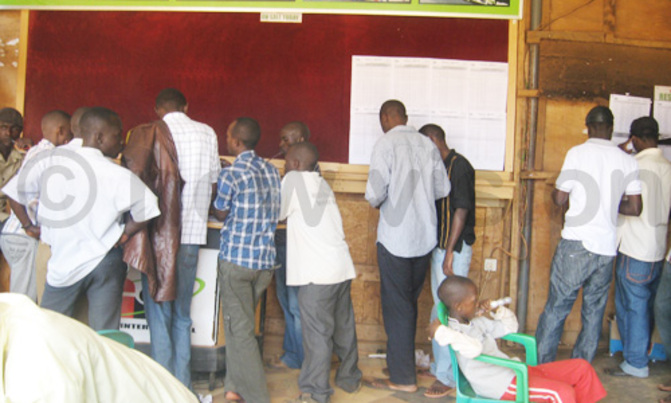 A number of illegal companies like Big Bet, Soccer Bet, Bet4, Alpha Bet and World Sports Bet, have been closed, while those operating illegally have willingly applied to formalize operations
By Alfred Wandera
GAMBLING is just one way of using free time for enjoyment and not a means of fighting poverty, National Lotteries Board chairman, Manzi Tumubweine has warned.
Gambling is the wagering of money or something of material value on an event with an uncertain outcome with the primary intent of winning additional money or material goods. It requires consideration, chance and prize.
Tumubweine, addressing a press conference at Media Centre in Kampala, said unemployment has pushed many youth to betting, to which they have resorted as a means of earning a living.
"Gaming is not a solution to poverty. It's a means of leisure. Although the problem in our society currently is mass unemployment, you cannot make money where money is not," said Tumubweine.
He said the gambling industry in Uganda is continuously growing, evidenced by the increased number of new operators with a diverse range of games. He added that currently, there are over 1000 gambling centres in the country.
Tumubweine said compliance to sector rules has improved slightly with most of the companies operating legally and recording fair tax compliance figures.
He said revenue collections have grown, with an average collection of sh3.5b per quarter. 
"If collections trends remain constant, the annual target of shs11b will be surpassed by sh3b. Compliance to licensing regulations and other sector rules have improved with over 40 companies being licensed last year and 32 companies applying this year," said Tumubweine.
He added that a number of illegal companies like Big Bet, Soccer Bet, Bet4, Alpha Bet and World Sports Bet, have been closed, while those operating illegally have willingly applied to the Board to formalize operations.
However, Tumubweine said in spite of the growing compliance trends, there are still some illegal operators.
"These operators are bound to destroy the legitimacy of the industry as they engage in a number of illegal activities including the engaging of minors in gambling. The Board is therefore embarking on a countrywide enforcement exercise to close such operations and also call on the public to shun them, thereby putting them out of business," said Tumubweine.
He said most operators are under-declaring the number of branches and by doing so, they deny government due revenue.
"A countrywide closure of all undeclared branches and review of license of operators engaging in such is to commence in February 2015. This is based on the recently concluded countrywide branch verification exercise," said Tumubweine.
Some of the guidelines Tumubweine outlined to control the gambling industry include casinos and gaming houses not being allowed to operate less than 400 metres from churches, markets, mosques and government offices.  He said curb luring the public into gambling activities.
The regulations also require operators to deposit a sh500m security bond for paying anyone denied payment. Agents are also required to pay sh10m in annual licences.
"If one does not comply with the regulations, they will not be allowed to operate a gambling company. If you can't raise the amount, get out of business. This is to help improve the gaming industry," explained Tumubweine.
Youth urged to avoid gambling