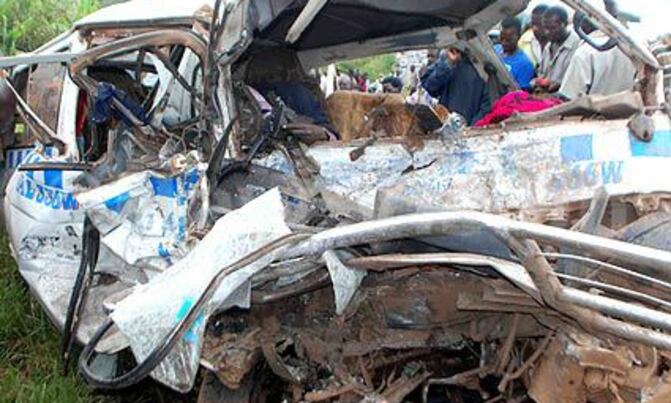 Ten members of the same family Saturday afternoon died in a road accident at Busula-Kibisi Village along the Luweero - Gulu Highway
By Vision Reporter
Ten members of the same family Saturday afternoon died in a road accident at Busula-Kibisi Village in Luweero along the  Kampala - Gulu Highway.
The family members were traveling in a commuter taxi headed for last funeral rites when their vehicle got a head on collision with a speeding Land Cruiser Prado registration number UAD 179W, that was headed to Gulu.
true
The Pajero whose driver tried to overtake a line of vehicles and plunged into a commuter taxi, killing 8 members of the same family on spot
Singer Stecia Mayanja visibly shocked by what she saw at the accident scene
Eight of the deceased died on spot, while the two that were critically injured and rushed to Njovu health center died there.
Hassan Ssekalema, a Savannah regional traffic officer, said the cause of the accident was reckless driving by the driver of the Pajero.
Residents grieve for the deceased who perished in the accident
One of the survivors at the health center
The driver of the Pajero Frank Amanya
 He said the driver of the vehicle tried to overtake a number of vehicles but failed. He said beer bottles were found in the vehicle.
Relatives at the home where the deceased were going to attend last funeral rites
A policeman carries the body of a child who died in the accident while relatives grieve for their loved ones (above)
Shocked onlookers said they had not seen anything like that in a long while. Fire brigade police had to cut the mangled commuter taxi to get out the bodies of the deceased.
Luweero accident claims family of 10