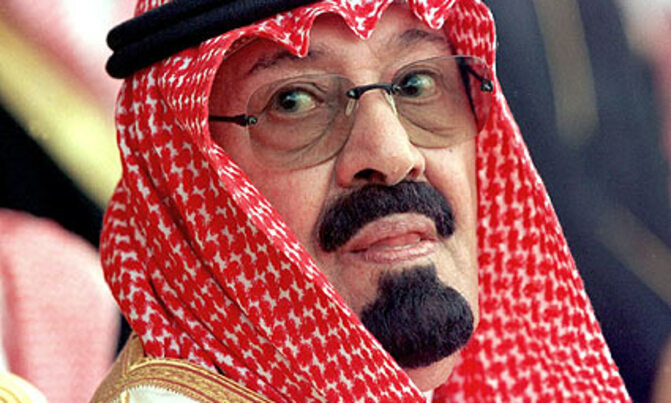 Saudi Arabia''s King Abdullah bin Abdulaziz died early Friday and has been replaced by his brother Crown Prince Salman.

RIYADH - Saudi Arabia's King Abdullah bin Abdulaziz died on Friday and was replaced by Crown Prince Salman, the OPEC-kingpin's royal court said in a statement.

The late monarch's half brother Moqren was named crown prince, according to the statement.

King Abdullah, believed to be around 90 years old, was hospitalised in December suffering from pneumonia and had been breathing with the aid of a tube.

He died on Friday "at 1:00 am (2200 GMT)" and would be buried later in the day following afternoon prayers, said the statement.

In recent years, his advanced age and poor health had raised concerns about the future leadership of one of the world's key oil producers.
 
true
After his death King Abdullah was replaced by his brother Salman

Abdullah's half-brother Salman, 79, was named crown prince in June 2012 following the death of Prince Nayef bin Abdulaziz.

Salman had been representing the king at most recent public events because of the monarch's poor health.

In March 2014, King Abdullah named his half-brother Prince Moqren as a second crown prince, in an unprecedented move aimed at smoothing succession hurdles.

Moqren, who was born in 1945, is the youngest of Abdulaziz's sons.

Since the death in 1952 of King Abdulaziz al-Saud, the founder of Saudi Arabia, the throne has systematically passed from one of his sons to another.

But many of them are old or have died. The former crown princes Sultan and Nayef died in 2011 and 2012 respectively.

AFP

March 20, 2001: Saudi Crown Prince Abdullah bin Abdul Aziz (R) walking with Palestinian Authority President Yasser Arafat (L) prior to their meeting in Jeddah.

 

August 2, 2005: The then newly-anointed Saudi King Abdullah attending the funeral of his half-brother, the late King Fahd, at the Imam Turki bin Abdullah mosque in Riyadh.
 

October 30, 2007: King Abdullah of Saudi Arabia reviews a Guard of Honour with Britain's Prince Philip (Centre background) in Horse Guards Parade in London, during a State visit.
 

February 11, 2007: Russian President Vladimir Putin and Saudi King Abdullah during an official welcoming ceremony at the airport in Riyadh.
 

November 14, 2008: King Abdullah being greeted by then US President George W. Bush on the North Portico of the White House in Washington, DC, prior to a dinner with leaders attending the Summit on Financial Markets.
 

June 3, 2009: US President Barack Obama shaking hands with King Abdullah bin Abdul Aziz al-Saud after he was presented with the King Abdul Aziz Order of Merit during a bilateral meeting at the king's ranch in al-Janadriya in the outskirts of Riyadh.
 

June 27, 2014: King Abdullah conferring with US Secretary of State John Kerry at the King's private residence in the Red Sea city of Jeddah.
Saudi Arabia: King Abdallah dies aged 90