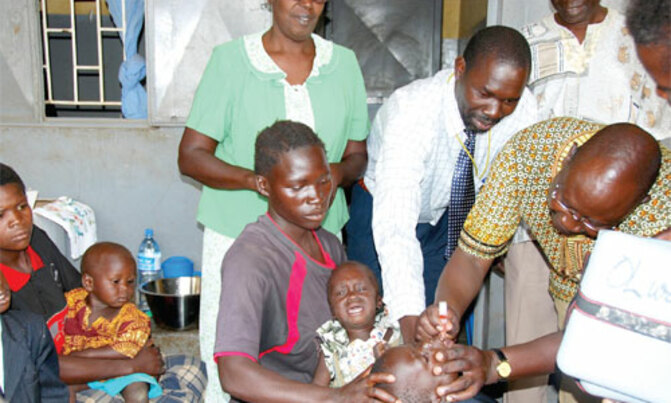 Five years ago, I advised Hon Dr. Stephen Malinga (RIP) and Hon. Dr Otim Otiam Otala as custodians of health, on the looming polio outbreak and they did not listen. As a result nine children in Amuru and Pader districts were crippled by polio for the rest of their lives.
By William Baguma Mbabazi
Five years ago, I advised Hon Dr. Stephen Malinga (RIP) and Hon. Dr Otim Otiam Otala as custodians of health, on the looming polio outbreak and they did not listen. As a result nine children in Amuru and Pader districts were crippled by polio for the rest of their lives.
The pain encountered in the detailed case investigation of the first affected child (Epid number UGA-AMU-AMU-09-035) forced me to go public (See Daily Monitor of March 3, 2009). What followed is history but still affects the delivery of imunisation services in Uganda.

With these memories still fresh in my mind, I fear that history is about to repeat itself with the fresh leadership at the Ministry of Health watching.
I am raising a red flag for all Ugandans and especially to the parents with children under five years to take on the responsibility of preventing the looming outbreaks of vaccine preventable diseases. These numbers will double by
Today, all immunisation experts that dared look at the profile for vaccine preventable diseases risk in the country will agree that measles and polio outbreaks are looming.

By December 31, 2012, a cumulative 630,454 children of two years and below had missed immunisation totally or were partially immunised (not completed their infant vaccination series).

These numbers will double by the end of June 2013 due to the persistent stock outs of vaccines in the districts and health facilities. By that time, the cumulative number of unimmunised and partially immunised will have surpassed the critical numbers needed to sustain the outbreak if there was any seeding infection.
Experiences from polio eradication and more recently measles elimination has shown that virus seeding can occur from anywhere in the world, without any prior warnings, provided you have adequate numbers of un- or under-immunised populations.

From March 21 to 23, I travelled to Uganda and stared at the vaccine stock outs in Kampala and Wakiso districts. At Kampala District Vaccine Store (DVS), there were 35,600 and 3,940 usable doses of measles and tetanus vaccines respectively. This meant that out of eight vaccine preventable diseases, Kampala had only access to vaccines against two diseases. In Wakiso, there were stock outs of all vaccines except tetanus vaccines.
With such a sorry state of vaccine supply, I attempted to describe the causes of such massive stock outs to as many immunisation partners as possible. The system causes of the stock outs were listed as:

Lack of programme control on vaccine supply to the districts. Unlike all other countries in Africa, only Uganda has the responsibility of vaccine logistics separated from immunisation programme management.
The last country that tried such a vaccine supply chain management system was Tanzania, but quickly reversed the decision after observing similar vaccine stock outs. The puzzle remaining is, where did Uganda get the evidence to support such a management decision to move vaccine logistics to the National Medical Stores (NMS)?

The vaccine supplies made to the district vaccine stores by the NMS was erratic, varying from two weeks to two months, occurred at dates unknown to the staff and not tailored to the needs expressed in requests made by the district staff. My visit confirmed that Kampala received vaccines on December 3, 2012, January 22, 2013 and February 14, 2013. This means there were seven weeks between the December and January supplies.
The period shortened to three weeks between January and February. However, it was then six weeks before Kampala DVS received another vaccine supply. This irregular and adhoc vaccine supply periods can make vaccine forecasting extremely difficult even for the most sophisticated logisticians.

There were delays in responding to vaccine requests made by the district vaccine stores to the NMS. For example, the vaccine request made by Kampala DVS on March 7, 2013 that clearly articulated zero balance for BCG (vaccine and diluents), OPV (Vaccine and droppers), DTP-HepB-Hib, all injection devices and gas, had not been honoured or responded to by the date of the visit, two weeks after it was made.

There was observed rationing of number of doses supplied to Kampala and Wakiso districts against their requests since October 2012. Never once were the vaccines requested honoured for the quantities they ordered.
For example, Kampala DVS requested for 40,000 DTP-HepB-Hib doses on February 6, 2013, but were supplied with 10,000 doses a week after. Further analysis of such rationing could only confirm that there were vaccine stock outs even at the Central Vaccine Store in Entebbe. Stock counts provided by NMS on March 1, showed that there were stock outs of pentavalent (DTP-HepB-Hib) vaccine.
There was less than a month's supply of TB vaccines (and their diluents), polio vaccine (and its droppers) and tetanus vaccines. Why a country could run low on vaccine products that were in most instances provided by Global Alliance for Vaccine and Immunisation through UNICEF, was only puzzling.

Vaccine ordering is done way past the critical stock levels. For example, all vaccine requests made since October 2012 indicate that the DVS was at zero balance for at least one vacine on all the requests seen.
The explanation given for this anomaly is that the DVS was used to a monthly telephone/radio call from the national programme in which they would update their stock balances before a supply was made by Uganda National Expanded Programme for Immunisation (UNEPI). Such are signs that transition from UNEPI to NMS was not properly managed.

And when there were vaccine stock outs, district health officers were constrained on reporting them. District health officers did not want to talk about the problem publicly, fearing that they might be persecuted.
All these facts have been shared in the community of experts that support the strengthening of immunisation systems in Uganda. The World Health Organisation, UNICEF and GAVI have been trying to solve this vaccine supply chain management nightmare in vain.

While the impasse hangs on, on April 23, Uganda hosted the African Vaccination Week launching event in Kamuli district. On April 27, the Government launched a new vaccine, referred to as pneumococcal conjugate vaccine (PCV), against pneumonia. These high profile functions took place amidst rampant stock-outs of the traditional vaccines.
Even more surprising is that the PCV vaccine has been launched when Uganda has enough supplies for only five out of 112 districts.
For a vaccine that was approved by GAVI board in December 2010, this can only be due to failure of the country to prepare to receive and handle this new product.

I have the following advice for my fellow country men and women. The risk of polio, whooping cough and measles outbreaks is no longer years, but months away. All worthy parents must take the responsibility of protecting their children beforehand. You can remove your child from the line of risk to these crippling diseases by:

Cross checking your child's vaccination status to ensure that they completed their infant series. It requires five visits to complete the series and thus enjoy the full benefits of immunisation.
If your child completed the infant series, they will only be unsafe if your neighbours did not complete theirs, bringing the disease to you. Remember, in epidemic settings, even the vaccinated might be challenged to get the disease.

If you cannot find the relevant vaccine at the public health facility, it is better to take your child to a private hospital than to leave them at a risk of getting a crippling disease. Unfortunately these hospitals are not many.

Those living near well-served countries like Kenya, Rwanda and Tanzania may take their children across the border. South Sudan will not have Hepatitis B vaccines, but they surely will provide you with polio, whooping cough and measles vaccines, for which the risk is highest.

In the meantime, we all need to go to Psalms 91 in the Bible or Al-Kahf 18: 26 ("Al-Muhaimin") in the Quran, for divine help.

The writer is a medical expert

Mothers with their babies wait for immunisation at Layibi-Techo health center III in Gulu on Friday. They went away without their babies being vaccinated due to shortage of vaccines
Gulu mothers lament over vaccine shortage
BY CHRIS OCOWUN
Jennifer Acayo, 24, rides a bicycle for about 1km on every visit to Layibi-techo health center III for her two-months-old baby to get vaccinated, but for two consecutive visits to the health facility now, Acayo has been turned away by the nurses due to absence of vaccines for the babies. Acayo, a mother of three children, resides at Abole former IDP camp in Koro sub-county, Gulu district.

"Today (Friday) is the second time I am coming to the health centre to vaccinate my baby against polio, whooping cough, tetanus, diphtheria, hepatitis B and influenza type B and the nurse told me and other mothers that there are no vaccines for our babies. I first came on April 29, and went back unattended to. Today I came back and still got no treatment," she said.

Acayo said her baby has only been vaccinated once against TB. According to the immunisation book that she has, at six weeks, a child is supposed to be vaccinated against five different killer diseases such as diphtheria, tetanus, whooping cough, hepatitis B and Influenza type B. However, the vaccines are not available.

"I spent a lot of time riding a a bicycle from Abole to come here for my child to be vaccinated against these killer diseases.

Because I value the health of my child, I always make sure I reach the health facility early for my baby to be vaccinated," she narrated. "The nurses tell us that for a child to be healthy, we should make sure we bring our babies for vaccinations without skipping until the end. It is disappointing when we bring our babies and fail to get vaccines," she remarks.

After failing to get the vacines at Layibi-Techo health centre III, Acayo rode with her baby to Lakwatomer health centre II, where she bounced again. Subsequently, she rode to Gulu Hospital where she finally got the vaccine. She appeals to the Government to always ensure a constant supply of vaccines for babies.

Nancy Apio, 20, with her first born who is three months old narrates that her baby got the first and second vaccinations against TB on February 27, 2013 and polio drop in the mouth on April 4, 2013, adding that the baby is scheduled to get vaccinated against diphtheria, tetanus, whooping cough, hepatitis B and influenza type B today (Sunday).

Apio who walked for about 10km from Ogony village in Patuda parish, Ongako sub-county to Layibi-Techo health facility on Friday expressed annoyance at the shortage of vaccines for their babies at every health facility.

"When I gave birth on February 15, 2013 from Lacor hospital, my child was not vaccinated because the hospital lacked vaccines. I went and vaccinated my child at Light-Ray health centre II at Obiya West village in Bardege division. And today, after walking this long distance, we are told there are no vaccines for our babies. What should we do now?" she asked.

She suggests that the Government should avail the health facilities with enough vaccines for their babies. After leaving Layibi-Techo health centre disappointed Apio headed to Light-Ray health centre to see whether she could access vaccines.

Another mother on the queue was Flavia Adoch, 18, a resident of Lacan-Kwite village in Layibi division. She was also turned away with her one-and-half months old baby for the DPT vaccine was not available.

The nurses maintain that it is important that the babies complete all the dozes of the vaccines as scheduled so that they grow up healthily. But there is general shortage of vaccines for babies countrywide.

IGG probes vaccine shortage
By Taddeo Bwembale
The Inspector General of Government, Irene Mulyagonja, is investigating the procurement and delivery of vaccines for immunizing children. The investigation follows reports of vaccine shortage countrywide, exposing hundreds of thousands to the risk of getting polio and measles.
The shortage follows a change in the procurement system. Whereas in the past the vaccines were imported and managed by the Uganda National Expanded Programme on Immunisation (UNEPI), since last year the importation and delivery were shifted to the National Medical Stores (NMS) amid protests from a number of technocrats.

The health ministry's permanent secretary, Dr Asuman Lukwago, said the ministry had written to the IGG seeking an 'audit' of the programme and establish its impact on vaccine supply.

"Over the last few months, our assessment shows the programme has not been handled well. This has  led to a supply shortage and the IGG is evaluating the programme," Lukwago said.

The spokesperson of the inspectorate, Ali Munira said the IGG had received numerous cases related to the handling of the immunisation programme.

"There have been numerous complaints brought to the attention of the IGG about the declining immunisation coverage," Munira said, although she could not disclose the nature of the cases.Several districts countrywide are grappling with a shortage of vaccines and other supplies, putting children at risk of contracting immunisable diseases.

Lukwago said the new policy was introduced without wider consultations or studies to back it, forcing many skilled people to abandon the programme.

"Vaccines are temperature sensitive, but in many areas cold chains are not properly maintained, leading to wastage," he stated.

Uganda has one vaccine store comprising four cold rooms and one freezer room, and a total of 2,605 vaccine fridges spread countrywide.

Moses Kamabare, the head of the NMS, declined to comment on the matter, saying he would send a press statement.

Health experts have been sharply divided over who should handle the immunisation programme.

The row comes at a time when Uganda is fighting to scale up its immunisation coverage which has dropped drastically since the 1990s.
 
Children in danger as vaccines run out