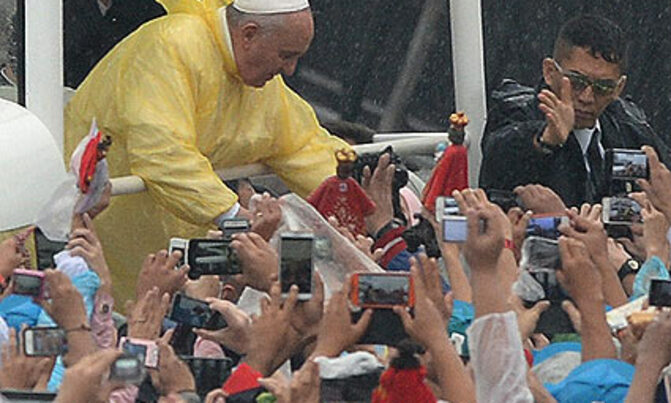 Millions of singing, cheering Catholics choke the streets of the Philippine capital to hear Pope Francis celebrate mass.

MANILA - Millions of singing, cheering Catholics choked the streets of the Philippine capital on Sunday to hear Pope Francis celebrate mass, ignoring blustery weather in one of the world's biggest outpourings of papal devotion.

A tropical storm that killed one papal volunteer forced the 78-year-old pontiff to cut short his visit to a typhoon-devastated island on Saturday, and rain fell consistently in Manila in the hours before the mass.

But Filipinos are famous for practising a passionate brand of Catholicism, and millions descended on Manila's streets to create a joyous atmosphere that defied the gloomy skies.

"We are devotees of the pope," Bernie Nacario, 53, told AFP as he stood amid a torrent of people with his wife and two young children, hoping to reach the park where the pontiff will say mass.

"The pope is an instrument of the Lord and if you are able to communicate with him, it is just like talking to God himself."
 
true
Pope Francis greets people and blesses their religious icons as he arrives to celebrate a mass at a park in Manila

As groups of friends sang nearby and other people burst into spontaneous cheers, Nacario said he was a long-time arthritis sufferer, but today his pain had disappeared.

"It is as if the Lord has cured my ailment."

Ahead of the mass at a giant bayside park, where organisers are preparing for a record-breaking crowd of up to six million, the pope had an emotional encounter with former street children.

Glyzelle Palomar, a 12-year-old taken in by a church charity, wept as she asked how God could allow children to descend into lives of prostitution and drug addiction.

The pope enfolded her in his arms, and discarded his prepared speech as he reverted to his native Spanish to deliver an impromptu and heartfelt response.

"She is the only one who has put a question for which there is no answer and she wasn't even able to express it in words but in tears," he told those gathered at a Catholic university in Manila.
 

Record turnout?

After he left, Pope Francis thrilled crowds as he began making his way along a motorcade route to the park in a "popemobile" styled after the Philippines' iconic mini-bus "jeepneys".

The pontiff, dressed in a plastic yellow disposable poncho, waved and smiled to cheering crowds that were 20-people deep. The popemobile stopped repeatedly so he could lean over barriers and kiss babies.

While there were no immediate official estimates of the crowd, aerial footage broadcast on television showed masses of people surrounding the park and nearby areas.

If the turnout is as big as expected, it would surpass the previous record for a papal gathering of five million during a mass by John Paul II at the same venue in 1995.

The pope's five-day visit to the Philippines, which began on Thursday, followed two days in Sri Lanka.

It is his second trip to Asia in five months, in a nod to the growing importance of the region to the Catholic Church as it faces declining support in Europe and the United States.

It is also the fourth papal visit to the Philippines, the Catholic Church's benchmark in Asia, with 80 percent of the former Spanish colony followers of the faith.
 

Catholic nuns eat as they gather to wait in a park for a mass to be celebrated by Pope Francis

Rapturous receptions throughout the pope's Philippine journey, including millions crowding his motorcade routes in Manila, have cemented the nation's status as the Church's Asian role model.

May Dupaya, 41, stood on Sunday afternoon with a black plastic bag to shield her from the rain, after lending her raincoat to her mother.

"I am prepared to get wet for Pope Francis. I'm prepared to get sick for Francis," Dupaya told AFP as her 18-year-old daughter huddled next to her in a plastic poncho.

Danger

Philippine authorities have undertaken one of their biggest security operations ever to protect the pope, with nearly 40,000 soldiers and police deployed for Sunday's event.

"This is a sea of faith we are dealing with," acting national chief Leonardo Espina told reporters as he outlined the challenges.

And not everything has gone as planned.
 

The pope said the main reason for visiting the Philippines was to meet survivors of Super Typhoon Haiyan, the strongest storm ever recorded on land which claimed more than 7,350 lives in November, 2013.

He flew on Saturday morning from Manila to Leyte island, ground zero for the typhoon, for a planned full day in communities where homes were flattened by monster winds and tsunami-like storm surges.

But, with Tropical Storm Mekkhala descending on the region, he was forced to abruptly cut short his visit and fly back to Manila.

"I apologise to you all. I'm sad about this, truly saddened," the pontiff told thousands of people who had gathered at one church shortly before he raced back to airport.

Just 30 minutes after his flight left, a plane carrying top aides of President Benigno Aquino skidded off the same runway as it was buffeted by strong side winds while trying to take off. No-one was seriously injured.

Earlier in the day, the storm's winds tore down scaffolding at the venue where the pope said mass, killing a woman who was working as a volunteer with the organising committee.

Still, the crowd of 200,000 typhoon survivors who turned out in heavy rain were overjoyed the pontiff had braved the dangerous weather to see them.

"Long live the pope," the crowd chanted as he arrived in Tacloban, the capital of Leyte and one of the worst-hit cities.

AFP
 
Millions gather for pope in stormy Philippines