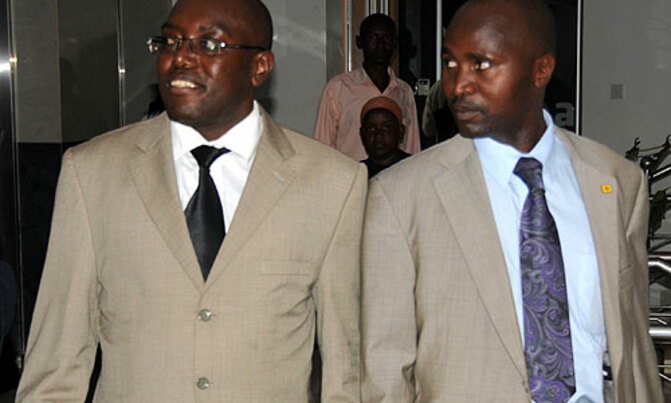 Fear gripped three MPs recently expelled from NRM, as they camped at the Constitutional Court in Kampala, following a tip off that the party had hatched a clandestine move to evict them.
By Andante Okanya

Fear gripped three MPs recently expelled from the National Resistance, as they camped at the Constitutional Court in Kampala, following a tip off that the party had hatched a clandestine move to evict them, pending the determination of a petition challenging Parliament Speaker Rebecca Kadaga's ruling.

The MPs are Theodore Ssekikubo (Lwemiyaga County), Barnabas Tinkasimire (Buyaga west) and Wilfred Niwagaba (Ndorwa East) Thursday camped at the court and vowed to protest any such eviction.

The purported eviction move stemmed from a Constitutional petition filed on Monday by Kibuku County MP Saleh Kamba and another party supporter Marym Agasha, contending that Kadaga's ruling over the expelled MPs stay in Parliament, contravenes the Constitution. The petitioners want Kadaga's ruling quashed, arguing that the quartet are strangers in Parliament.

The petitioners contend that Kadaga's ruling is inconsistent with the Constitution, since the expelled rebel's current status is anonymous, and not provided for in the Constitution.

Accompanied by retired Supreme Court judge George Kanyeihamba, and another lawyer Nicholas Opiyo, the MPs met registrar Erias Kisawuzi in his office, to seek clarification on whether court had scheduled to hear an application for an interim injunction barring them from accessing Parliament.

The MPs said they were tipped that the application was to be heard with only one party represented, which is legally termed as 'ex-parte'.

Kanyeihamba requested Kisawuzi to inform the affected MPs, saying such an ex-parte move would be an injustice since the case is of an unprecedented nature.

But Kisawuzi said he had not been given any directives by the acting head of the court Justice Stephen Kavuma. He however promised immediately notify them on any directives given.

The MPs vowed to camp at the court, saying they would scuttle any moves to lock them out of a matter that directly affects them.

Ssekikubo wondered why such an interim application had been filed against them, yet the Constitutional petition by Kamba lists the Attorney General as the respondent. He said they would request the court to include them as co-respondents, as they have a stake in the matter.

"In the main petition, we are not listed as the respondent. But in the interim application, we are listed as respondents.We will, and cannot accept such scheming," Ssekikubo said.

Tinkasimire and Niwagaba described it as "treachery of the highest order",  saying such a move would cause embarrassment to party leader President  Yoweri Museveni who is revered as a champion of rule of law.

 
Expelled rebel MPs in eviction scare