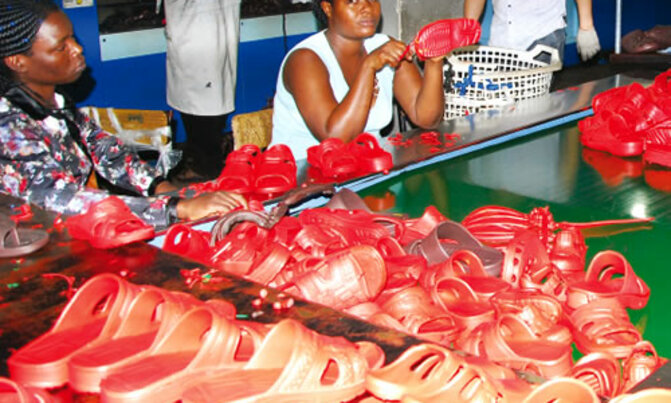 As waste from Kampala gets to Kiteezi, not everyone complains about the smell that engulfs the neighbouring villages.
Until World Environment Day, June 5, in a campaign, Save Lake Victoria, Vision Group media platforms is running investigative articles, programmes and commentaries highlighting the irresponsible human activities threatening the world's largest fresh water lake.
By Gerald Tenywa
The term 'stinking rich' is getting its true meaning at Lusanja village near Kiteezi dumping ground.

As waste from Kampala gets to Kiteezi, not everyone complains about the smell that engulfs the neighbouring villages.

Instead of shunning Kiteezi, located 14km north of Kampala, Irene Kyobe, has been attracted to the mountainous smelly waste.

Kyobe is one of the many people who have discovered gold in the piles of plastic waste.

"It is seen by most people as a curse, but to us, it is a blessing," says Kyobe, adding that it has rekindled her life.

"The money from plastic waste has helped me buy land and build a house. My children also attend private schools."

Kyobe added that she used to live at Mpererwe on the Kampala-Gayaza road until she gave up selling used clothes and took up trading in plastics.

"I have bought two pieces of land to house my business and home at Lusanja."

Kyobe and others may have setout to make a living but are saving Lake Victoria tonnes of garbage that could choke it.

Not only has waste changed the lives of people like Kyobe, but it is also giving recyclers a valuable raw material.

"The investors turn plastic into pipes for water or electricity," says Kyobe, adding that a new plastic bag recycling factory has opened on Kampala-Gayaza road.
 
Others changing the face of plastic recycling are Chinese investors camped at Kiteezi. They export shredded plastic bottles to China where they are turned into warm clothing such as coats and shirts.

Like Kyobe, the two Chinese investors have bought land in the neighbourhood of Kiteezi.

"Plastics sell like a hot cake," says Kyobe, adding that she does not take more than half an hour without either buying or selling plastics.

Previously, the uncollected plastic waste was left to clog drainage channels in most parts of Kampala. When it rains, the running water carries the bulk of waste, including plastic materials into Murchison Bay, also referred to as the mouth of Lake Victoria.

Also, recycling plastic reduces the litter and danger it poses to the lake, says Dr. Sawula Musoke, the deputy executive director of the National Environment Management Authority (NEMA).

But Musoke notes that capacity of the investors engaged in collecting and recycling plastic is weak.

"Why is it that we still have a lot of plastic materials littering the environment when we have all these recycling industries?"

How plastic trade is organised at Kiteezi

Every day, collectors, commonly known as scavengers, from Kiteezi and neighbouring villages turn into treasure hunters searching for whatever valuable their hands can land on.

According to Dr. James Semuwemba, the Kampala Capital City Authority (KCCA) head of planning and environmental services, there are 381 scavengers. At the dumping site, the 'human scavengers' compete with scavenging birds such as marabou storks.

Along Mpererwe-Buwambo road, off Kampala-Gayaza road, is where the scavengers sell the recovered plastics.

"We have about 10 stores where dealers buy plastic waste," says Batulumawo Kabunga, a councillor in Kiteezi. He adds that the dealers then sell the plastic waste to the recycling plants.

A woman sorting shredded plastic bags for recycling. Trading in plastic waste is a booming business in Kiteezi.

Recycling caught up in controversy

Dr. Tom Okurut, the NEMA executive director, says recycling waste is good news to those opposed to banning plastic bags.

Government policy is to ban plastic materials of 100 microns and below. But the ban has been shelved due to mixed signals from stakeholders.

"What waste recycling consumes is so little compared to what is going into the environment," notes Okurut.

He also observed that system of recycling used is condemning scavengers to stay on waste dumping pits.

"Why should we encourage people to live on rubbish pits? People are exposed to many health hazards," he adds.

"My view is that if we can use papers that are biodegradable, we should forget about plastic bags."

Dr. Aryamanya Mugisha, the former executive director of NEMA agrees with Okurut. He says the population lacks discipline to ensure that plastic bags do not turn into hazardous material. "
Uganda is an agricultural country, but we are sacrificing our soil and lakes for plastics that benefit a few people," says Mugisha."In my opinion, banning plastics is the way forward."

Recyclers take a step into the future

Previously opposed to the gospel of reducing, recycling and re-using plastics, investors have started accepting the responsibility of cleaning up the environment in Kampala.

"We are not big players, but we are doing some work on the ground. There is a lot of potential in recycling that will also help to bring down the cost of production said Naim Sabra, the managing director of Pipeline Design Foam, a company recycling plastic bags.

He added that they are building another waste recycling plant at Kabonyoro on Gayaza-Zirobwe road.

Currently, the group is recycling waste at Luzira on the shores of Lake Victoria.

"We get waste from Kinawataka and Kiteezi," he said, adding that they make plastic shoes and cups from the waste.

Only 1% of waste is recovered at Kiteezi

According to research by the World Bank, KCCA collects 1,000 tonnes of waste every day. Out of this, 5% is plastic bags. The study also points out that the scavengers collect about 0.8% of the waste for recycling. The researchers say the most common plastics are bottles and waste bags.

This could be the beginning of the long journey into the world of recycling waste. But for it to be sustainable, it is necessary to enforce the ban on flimsy (light) plastic bags, create awareness and encourage sorting of thicker plastic waste at households before it gets to dumping sites such as Kiteezi.
Garbage dealers save L.Victoria from plastics