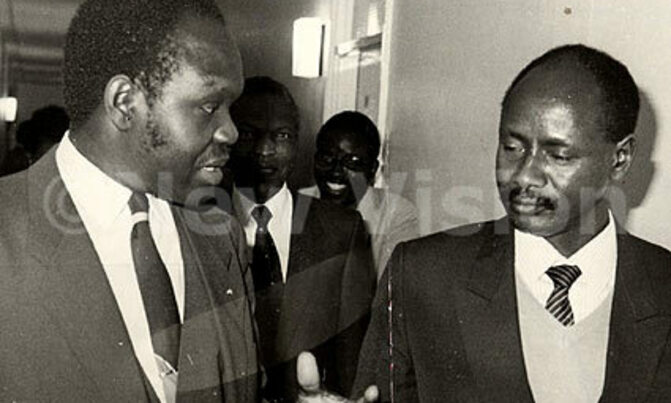 If it had not been for a fatal accident 13 years ago, Gad Wilson Toko would have clocked 72 years on January 1.

By Moses Walubiri

If it had not been for the grisly accident that snuffed out his life 13 years ago, Gad Wilson Toko would have clocked 72 years on January 1.

Described by many who crossed his path as soft-spoken, Toko was Uganda's vice-president during the short-lived Tito Okello military junta in 1985.

Born to Joshua Adebo and Priscilla Buzilu, in Paranga village in Maracha district (formerly a county in Arua district).

The pioneer aviator was an alumni of Sir Samuel Baker School in Gulu district before training as an aeronautic engineer in 1963.

But soon, Toko upgraded to flying, a passion he cherished. By then, flying was a big thing and it was a no go area for blacks," Toko reminisced years later in an interview with New Vision.

After rigorous training, which only four Ugandans completed, Toko became the first Ugandan to fly solo in a Russian MiG fighter plane.

As Uganda's first post-independence government began the process of establishing the country's first air force, Toko's skills came in handy, always leading teams that assembled MiG fighters that were always imported in crates.

In 1967, Toko formed part of a team of officers sent to Gulu to set up a squadron of MiG fighter planes imported from Russia.

He later went for further training at the Royal Air Force College, Bracknell, UK in preparation for a command posting in Uganda's air force.

Amin's coup of January 1971 found Toko as the commander of Uganda's fledgling air force.

But Toko soon ran into trouble with Idi Amin as the relationship between the two sons of West Nile rapidly deteriorated over his refusal to enlist 36 illiterate trailer drivers for training as air force pilots.

"They could not even write their names. They lacked the necessary qualifications, but Amin felt that we were against recruiting Muslims," Toko later reminisced on a decision that could easily have cost him his life.

But Amin, eager to pay him in kind for his 'insolence' ordered him to go for training in Egypt in 1972, months after he had just married his wife, Restetuta and sacked him before completing the course.

Toko's host was then Egypt's air force commander and future president, Hosni Mubarak.

It was during dinner with Mubarak and other Egyptian officers that Toko was informed of his sacking through a fax from Kampala.

In 1973, Toko was appointed Director General of the East Africa Airways, a position that he held until the East African Community collapsed four years later.

Soon, Toko joined hundreds of other Ugandans in exile, spending time in America, first as a researcher at the University of Pittsburg before becoming a lecturer at ACME school of aeronautics in Texas.

Life as an academic afforded him time to write his first book: Interventions in Uganda – The Power struggle and Soviet Involvement.

With Amin's ouster in April 1979, Toko joined a horde of Ugandan émigrés who returned home, serving as minister of water and lands in president Godfrey Binaisa's shortlived government.

He was soon appointed general manager of Uganda Airlines until July 1985 when Tito Okello appointed him his Vice President.

Years later, Toko said he was less excited about politics despite once being Uganda's vice-president. He said aviation was his passion.

At the time of the Okello coup that sent Dr. Milton Obote into his second exile, Toko was in Dubai on official duty as Uganda Airlines general manager. He only heard news about the coup in Kampala over BBC radio, before a one Francis Odida informed him on telephone about his appointment as vice-president.

"I could not fly back immediately. I consulted friends before taking up the post," Toko would recollect years later.

Although he was intent on holding the post on a short-term basis before returning to his passion (aviation), his time as vice-president turned out to be his greatest claim to prominence.

"I took up the office on condition that I would hold the office for one year and go back to Uganda Airlines management. My task was to bring the different fighting factions to peace and bring about power-sharing," Toko reminisced.

But the truce could not hold as fighting resumed between warring factions and as expected, Toko decried the failure to respect the peace deal.

"Uganda lost an opportunity to halt rebel wars that have plagued the country since then. There were powerhungry hyenas that misinformed Yoweri Museveni who was leading the NRA/M and Tito Okello," Toko said at the height of the Joseph Kony-led Lord's Resistance Army (LRA) insurgency in parts of the Acholi sub-region.
 
Wilson Toko: piooneer aviator, peacemaker